Folks, the bottom just fell out on you.

To be clear, the stage was set for this and if you didn't see the writing on the wall, well then I'm not sure what to tell you. Valuations are stretched the breaking point, political turmoil is lining up with Trump increasing the vitriol on Monday ahead of (another) shutdown deadline, debt limit jitters are back, the bond selloff has everyone worried, positioning is stretched, there are market structure issues that no one knows how to appraise (VIX ETP rebalance risk, the possibility of a systematic unwind), and on, and on.
Although stocks did manage to turn green after a rocky open, losses begin to accelerate in the afternoon. There are innumerable factoids to pull out of Monday's action, but one obvious point is that the S&P snapped the longest streak in history without a 5% pullback.
The index went negative for the year just after 3:10 in New York: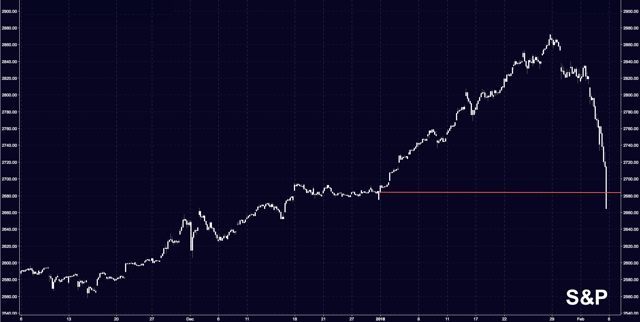 The Dow's YTD gains… gone around the same time.
Full wrap of the most incredible day in recent memory here: