Boy, I'll tell you what: you people are yanking money out of bond funds like there's no tomorrow.
Broadly speaking, the week through Valentine's Day saw the first simultaneous exodus from IG, HY, and EM bonds since the election.
Just kind of skipping straight to what people are most concerned about/focused on (because not everyone is "concerned" per se), LQD (the largest IG corporate bond ETF) has witnessed a mass exodus.
Last week, it lost some $2 billion, but the real shocker came on Wednesday when it hemorrhaged something like $922 million, the largest outflow in history: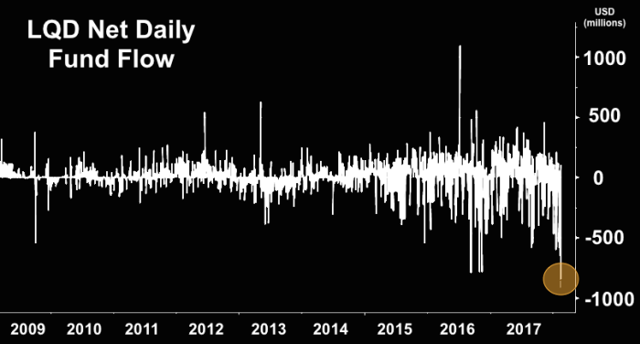 Full post here:
https://heisenbergreport.com/2018/02/16/what-the-hell-is-going-on-with-the-largest-ig-corporate-bond-etf/