Recently, the dollar's positive correlation with 10Y yields has been restored. Here's the 21-session correlation between the Bloomberg dollar index and nominal 10Y yields and reals: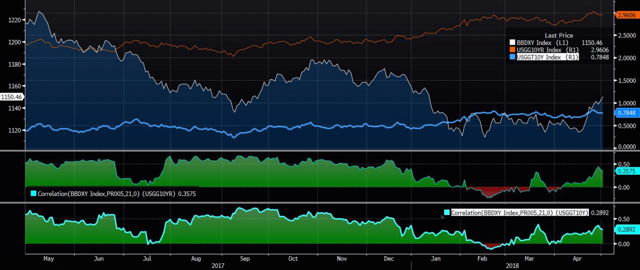 The resurgent greenback is coming off its best month since the election on the back of Fed expectations, rising short-end rates, and the restoration of the above-mentioned correlation with long-end yields.

What's the outlook? Well, that's hard to say, because while one would be tempted to suggest that favorable rate differentials and policy divergence (hawkish Fed versus cautious ECB and dovish BoJ) should continue to support the previously beleaguered greenback, the Trump administration has adopted a weak dollar policy by proxy and America's worsening fiscal stance paints a rather dour longer-term picture.
One thing we know for sure: a sustained bounce in the dollar will have ramifications for all manner of crowded trades because as Nomura's Charlie McElligott recently put it:
Nearly every consensual macro trade has an implicit short-dollar view built-into it. A dollar squeeze is a major risk to longs including emerging markets, crude oil, the Nasdaq, the euro, the yen and industrial metals.
As far as the return of the correlation with rates (mentioned here at the outset) is concerned, BofAML is out with a new piece that documents this development and posits some implications in the context of EURUSD.
More:
https://heisenbergreport.com/2018/05/01/take-note-this-will-have-profound-implications-for-everything-the-usd-touches/