More cash than ever before is sitting unproductive in the foreign income accounts of American corporate giants. As of mid 2015, more than $2 trillion was stashed overseas in an effort to skirt domestic corporate taxes. This has all been at the expense of the American economy. While the Nasdaq and Dow Jones have hit record highs, and equities have rallied significantly over the past 18 months, the American economy is stagnant and the Fed is struggling to find new ways of stimulating productivity. Firms have turned to using cheap debt to fund quickly accretive acquisitions rather than invest in developing new markets. America is falling behind.
(Stanley Druckenmiller's The End Game, Ira Sohn 2016)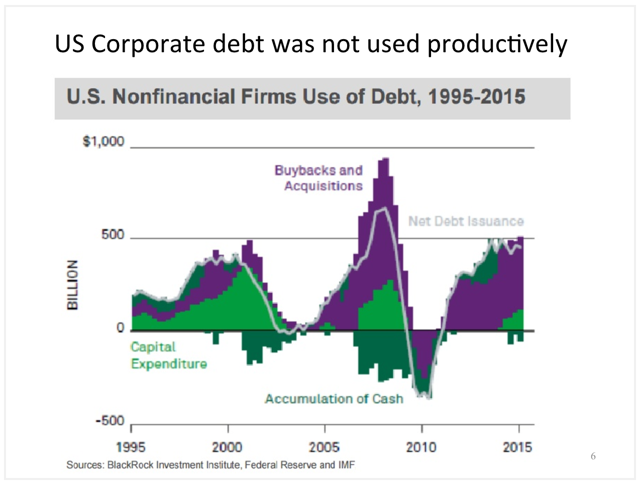 To put this problem in perspective, if Apple Inc. (NASDAQ:AAPL) were to spin-off its cash holdings (~$246 billion), the spun-off cash would be the 13th most valuable company in the S&P 500 (CNN Money). Apple is not alone, other tech giants like Google (NASDAQ:GOOG), Oracle (NYSE:ORCL), Microsoft (NASDAQ:MSFT), and Cisco Systems (NASDAQ:CSCO) have also added significantly to their foreign cash holdings each having well over $16 billion in foreign accounts as of 2015 (Bloomberg).
While Republicans in the house of representatives originally proposed a 10% corporate tax cut (from 35% to 25%), Trump upped the ante with a target tax rate of 15%. In response to the targets publicly set by Trump, Paul Ryan and house Republicans lowered their target to 20%. The sought cuts to corporate tax aim to achieve a tax rate of 15 - 20% (OZY.com). While this tax cut may not come to fruition for a while amid push-back from the public and house Democrats, it is quite conceivable that the Trump administration will be able to achieve significant tax cuts during its tenure.
What Does this Mean for Corporate Cash Overseas?
With a substantial fall in the corporate tax rate, it will be no longer profitable to keep cash overseas where it remains unproductive. This should spur an intense period of investment where these firms look for ways to allocate their newly repatriated cash reserves, essentially a $2 trillion cash injection into the U.S. economy. This will bring with it intense growth, especially in the technology space where much of these cash hoarding giants operate.
This in turn will but upwards pressure on inflation and credit yields. Increasing costs of debt will hopefully put greater pressure on corporate executives to seek more productive avenues of investment, developing new markets instead of falling back on M&A and share buy-backs.
I look to tech giants listed above to gain significantly in value over the next 24 to 36 months as they can once again seek internal sources of financing for growth projects and innovation.
This is meant to be a brief of my take on trends to watch in the tech space and the implications of Trump's tax policies on the massive reserves of cash overseas.
If you found this analysis interesting or at all helpful, please hit that FOLLOW button. Thanks for reading!
Disclosure: I/we have no positions in any stocks mentioned, and no plans to initiate any positions within the next 72 hours.
Additional disclosure: The analysis in this article is the opinion of the author and does not constitute investment advice. This is for educational purposes only.