Russian market was under pressure in the last two months. Most equities were down on US sanctions news flow. This sell-off in Russian equities may be used for buying excellent stocks with a discount. One of them is Lenta (VIE: LNTA; MCX: LNTA).
Lenta is the third largest and one of the fastest growing retailers in Russia. The company published 1H18 financial results on 29th of August. According to its management, Lenta has revised its own store opening plans for hypermarkets from 20 to 18 and for supermarkets from 50 to 40. Revenue growth and LFL sales in 2Q18 fell to 16,6% and 3,5%, respectively. But in general the company has shown strong operating and financial results:
Figure 1: Key operational results.

Source: Company's Data, Author's Calculations
According to the Central Bank of Russia, CPI in Russia in the first nine months amounted at 3,4% YoY. Taking into consideration this number, increase in LFL sales for the first half in 2018 by 3,5% looks hopeful for the company's prospects. This was mainly driven by customers' trading up when presented a breadth of assortment and range of fresh categories. As for other retailers, LFL ticket numbers cannot beat CPI. Also, Lenta's LFL numbers do not include data from stores, which were opened in 2018. Usually Lenta tries to open its hypermarkets and supermarkets at places where the company has limited presence and/or where competitor's stores have a bigger market share.
Figure 2: 1H 2018 vs 1H 2017 key financial results.
| | | | |
| --- | --- | --- | --- |
| | 1H2017 | 1H2018 | Change,% |
| Revenue, RUB mln | 163 531 | 193 220 | 18,2% |
| Gross profit, RUB mln | 35 534 | 42 319 | 19,1% |
| Gross margin, % | 21,7% | 21,9% | 0,2% |
| Adjusted EBITDAR, RUB mln | 17 601 | 19 986 | 13,6% |
| EBITDAR margin, % | 10,8% | 10,3% | -0,4% |
| Operating profit, RUB mln | 10 880 | 11 027 | 1,4% |
| Net profit, RUB mln | 4 492 | 5 161 | 14,9% |
| Net margin, % | 2,7% | 2,7% | - |
Source: Company's Data
Gross margin increase is related to improved purchasing terms and sourcing process. According to the company's data, supply-chain cost as % of sales increased 22 bps to 1,1% in 1H 2018 compared to 1H 2017. Net profit climbed to 11 RUB bn (1,4% more than in 1H 2017) due to decreased net interest expenses 14,8% to Rub 4.6bn largely due to significantly lower cost of debt – the weighted-average effective interest rate decreased 187bps from 10.71% in 1H 2017 to 8.84% in 1H 2018 through the combined effects of improvements in the terms and conditions of major long-term loan facilities, debt repayments, refinancing and continuing reductions in MosPrime rates. In general, financial data confirms Lenta's status as one of the fastest-growing retail chain in Russia.
Figure 3. Free Cash Flow prediction

Source: Company's Data, Author's Calculations
Good operational results were not supported with good cash flow numbers in 1H18. It was connected with the fact that the company had to pile additional inventories for new openings. In my opinion, there is no need for an additional increase of inventories in the second half of the current year. Large negative amount of FCFO is mainly related to openings of new stores. Company owns more than 80% of its retailing property. In contrast to its competitors, Lenta builds stores from the scratch or buys existing buildings, while other Russian consumer staples sector's players prefer to rent trade areas.
Valuation
Figure 4: DCF highlights.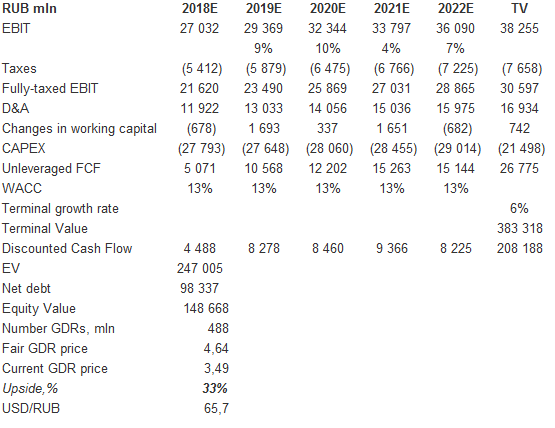 Source: Author's DCF Model
According to the author's model, the company has 33% upside. The author used 13% WACC as a discounting measure and 6% terminal growth rate because of the conservative view on the Russian market prospects. Author's conservative view is mainly related to possible US and EU sanctions, which may affect the company by reducing the purchasing ability of Russians.
Figure 5: Relatives Valuation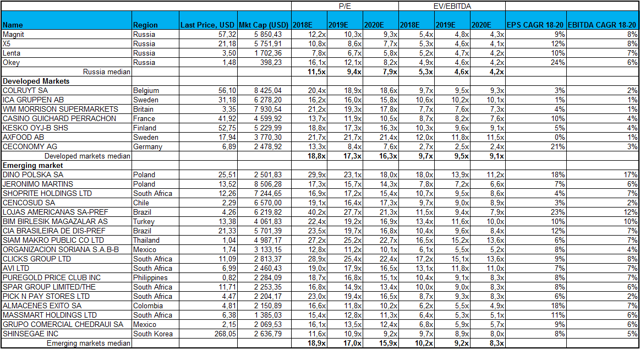 Source: Bloomberg, Author's Calculations
Lenta trades at 5,2x EV/EBITDA and 7,8x P/E multiples for 2018E, on author's calculations. Current Net Debt/EBITDA multiple is 2,6x with the following reduction to 2,0x in 2020, although the acceptable level of Net Debt/EBITDA multiple is 3,5x in Russia. Low Net Debt/EBITDA multiple may allow the company to quickly raise finance for M&A deal if such opportunity will appears in retail sector in Russia (There are some potential targets for Lenta but author estimates probability of deal as low due to both sophisticated regulatory stuff from Federal Antimonopoly Service and disappointing financial results of potential targets).
Figure 6: Scatterplot of EM and DM peers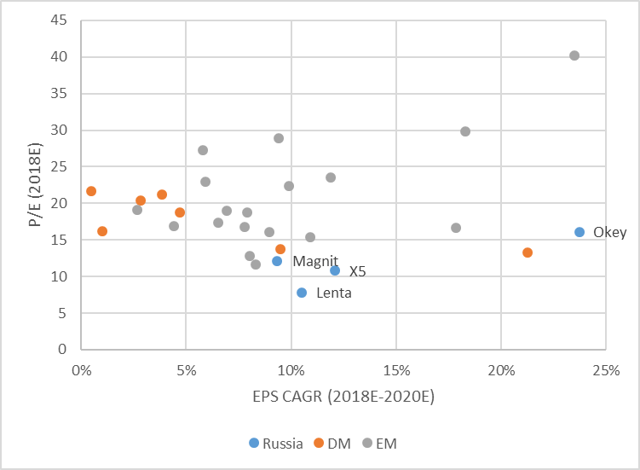 Source: Author's Сalculation
Although Lenta trades in-line with Russian peers, it has huge discount compare to its emerging markets analogs. Overall, Russian food retailers trade at one-third multiples of their global emerging markets peers, including those in Poland and Turkey. I suppose this discount will fly with geopolitical tensions, which were surrounding Russian market last couple of months.
Lenta's profitability ratio also looks attractive. Even company's ROE is declining it still remains double digit. All retailers except X5 Retail Group decreased their ROE numbers. During next three years ROE numbers will slightly decline to 16.7% from current 19,1%. But Lenta will still show the second best result among Russian public retailers.
Figure 7: ROE Comparison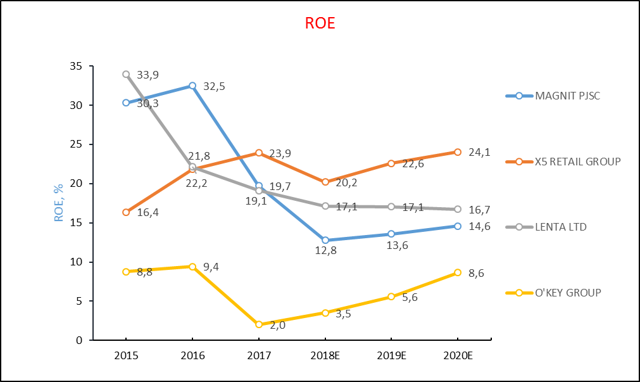 Source: Bloomberg
Lenta's ROIC has been showing positive dynamic since 2015 and will grow to 19,4% in 2020, according to Bloomberg data. This growth is possible due to company's new approach to investment projects. Starting from 2H 18 Lenta will except only projects with IRR equals not less than 20%. Lenta's WACC do not exceed 13%, so with current and future ROIC numbers company will create additional value.
Figure 8: ROIC Comparison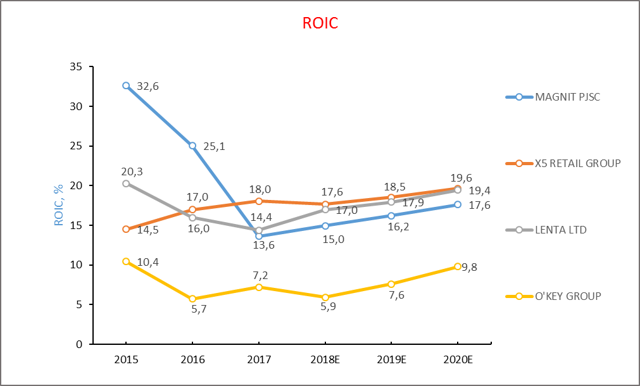 Source: Bloomberg
Net income and EBITDA CAGRs are the best among Russian retailers (O'key group is out of the scope due to effect of little base relative to net income).
Figure 9: Net Income and EBITDA CAGRs Comparison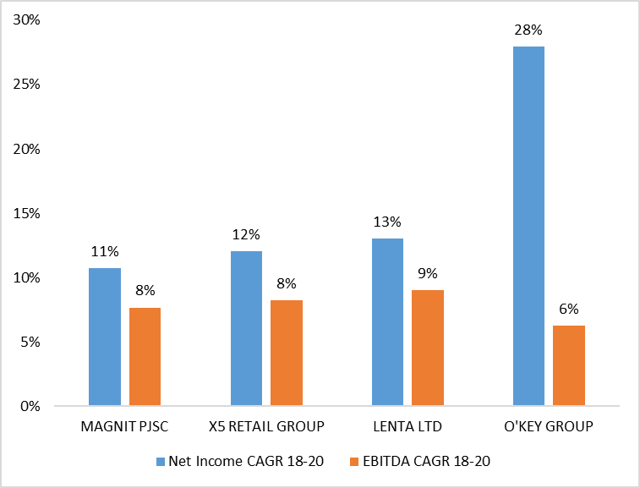 Source: Author's Calculations
Because of such strong CAGR numbers we may expect the same results in company's income and cash flow statements.
Figure 10: Cash Conversation Cycle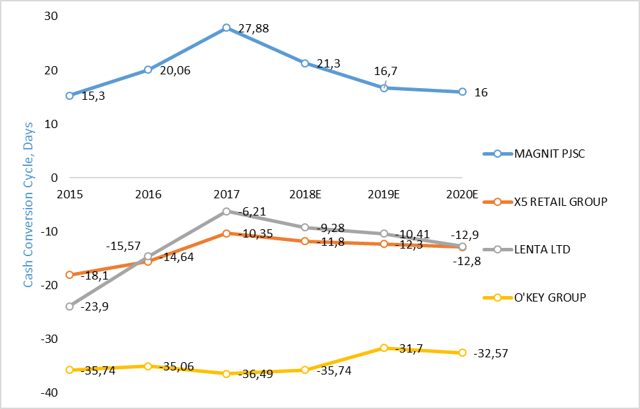 Source: Bloomberg, Author's Calculations
One of the most efficient indicator for retailers is cash conversation cycle. Lenta's numbers look acceptable, but last three year's ccc number goes closer to zero, however, as it was mentioned above the company agreed with suppliers on new purchasing terms and, in my opinion, it will lead to improved cash conversation cycle in the next three years. According to author's calculations, during the next three years ccc will increase to -12,9 days from current -6,21 and will become almost equal to X5's numbers.
Despite described above things, Lenta's YTD return is -40%, but the main drop was in July and August (almost 20%). July- August slump was connected with Anti-Russia sanctions from the USA, which had an effect on the whole Russian market (RTSI index was down by 13% during the same period).However recovery of the Russian market has started and Lenta with other retails have a room for growth.
Figure 11: Share price performance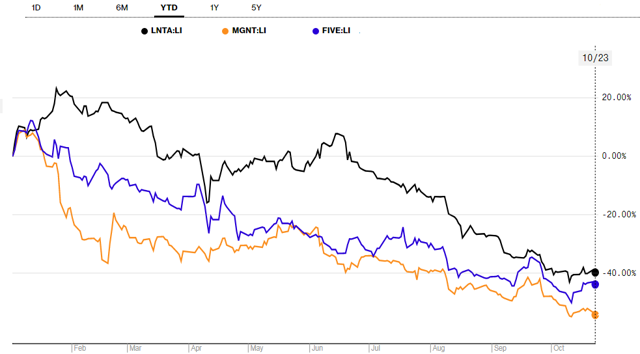 Source: Bloomberg
Potential dividends
I expect that strong cash flow may allow the company to start paying dividends in 2019 fiscal. Russian retailers do not have strict dividend policy. Making decision about dividends, the Board of Directors usually takes into consideration the amount of net income and sets a percent of net income which will be paid out as dividend. According to Bloomberg consensus, Lenta's estimated EPS for 2019 year is 34,42 RUB.
Table 1: Hypothetical Dividend Calculations
| | | | |
| --- | --- | --- | --- |
| EPS 2019 Bloomberg Consensus | Hypothetical Payout Ratio | Hypothetical Annual Dividend | Hypothetical Yield |
| 34,42 | 10% | 3,44 | 1,48% |
| 34,42 | 20% | 6,88 | 2,95% |
| 34,42 | 30% | 10,33 | 4,43% |
| 34,42 | 40% | 13,77 | 5,91% |
| 34,42 | 50% | 17,21 | 7,39% |
| 34,42 | 60% | 20,65 | 8,86% |
Source: Author's Calculations
According to Bloomberg, the dividend yield estimations for major Russian retailers X5 Retail Group and Magnit are 5,5% and 4,2% respectively. To be in-line with competitors, payout ratio should be in range between 30% and 40%.
Figure 12: EPS Growth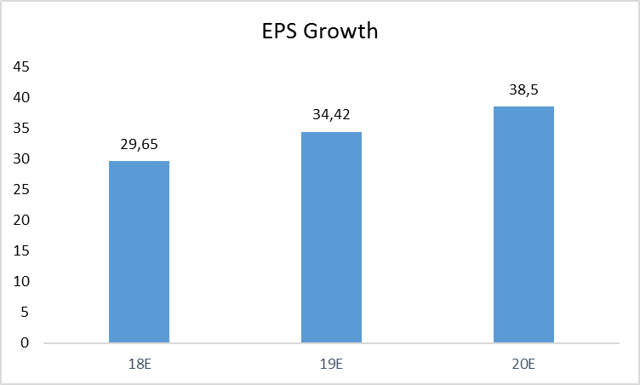 Source: Bloomberg
Average growth in the last three years is 12%. If company decides to pay dividends, EPS growth will allow it to increase dividend even if the company does not increase payout ratio. Also the tail wind for Russian domestic companies is high oil prices. During nine months in 2018 oil prices soared to around 20% and continues to stay at 3 years height. This fact should increase Russian individual's consumption and retailers will be the main beneficiaries of that consumption.
Risks
Downside risks include greater cannibalization from growth; competition eating into sales densities and margin; adverse movements in working capital: increasing outflows for retaining the company's top management and also a new portion of sanctions.
Another potential risk is so called «Magnit» risk. The second Russian retailer Magnit has hired Olga Naumova as executive director. Prior her joining the Magnit O. Naumova was holding position at X5 Retail Group as Head of discounters. Mrs. Naumova has recommended herself as a strong professional who can energize Magnit's team and set up very efficient process across all operations. Anyway, competitive environment between retailers could deteriorate.
Conclusion:
Taking into consideration the company's financial and operating data and also DCF model described above, I believe that Lenta LTD remains one of the most attractive stock in Russian consumer staples sector. Dissipating in geopolitical uncertainty will put the whole Russian market up. Current numbers can guarantee double digit yield in US dollars over the next 12 months.
Disclosure: I/we have no positions in any stocks mentioned, and no plans to initiate any positions within the next 72 hours.
I wrote this article myself, and it expresses my own opinions. I am not receiving compensation for it (other than from Seeking Alpha). I have no business relationship with any company whose stock is mentioned in this article.