First a description of the company:
"Hostess is one of the largest packaged food companies focused on developing, manufacturing, marketing, selling and distributing fresh baked sweet goods in the United States. The brand's history dates back to 1919, when the Hostess CupCake was introduced to the public, followed by Twinkies® in 1930. Today, Hostess produces a variety of new and classic treats including Ding Dongs®, Ho Hos®, Donettes® and Fruit Pies, in addition to Twinkies® and CupCakes."
The stock has appreciated and I think there are good reasons to believe it will continue to appreciate, as management adds value over time through paying down debt, accretive acquisitions and introduction of new products.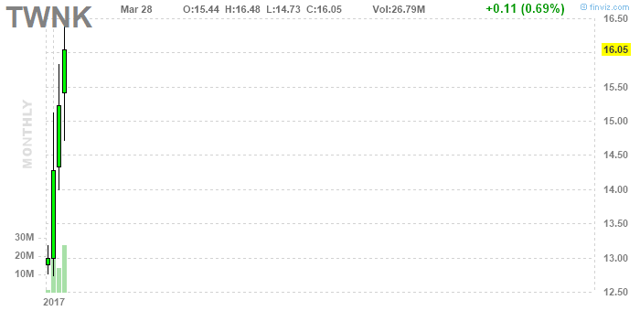 To appreciate the bullish case, it's worth looking at Hostess' Brands' first earnings release. Hostess released their quarterly and annual results on March 14, 2017. Pro-forma Full Year 2016 Net Revenues increased by 17.2% to $728 million vs. 2016. The company has guided to $781 million of revenues for 2017, and adjusted EBITDA of $235 million. The company has net debt of $972 million.
What makes this an attractive business to be invested in is as follows:
1) Hostess has juicy gross margins at 45%+ for the overall company. And these margins are stable. That alone should pique interest, since it means - if combined with a low CAPEX packaged goods company - has the potential for significant shareholder value accretion. The high and stable gross margins suggest a premium product that consumers are willing to pay a little extra for due to the brand. Operating expenses come in around 15% of revenues, implying that operating margins will hit 30% - very healthy. Combined with low debt costs of 5% (interest costs of $51 million on debt of $1 billion), there is a very good chance Hostess will be able to pay down debt, thereby accruing value to equity holders.
2) Hostess has potential for organic growth by introduction of new products. In the last quarter, organic growth (excluding Superior Cakes acquisition) was to the tune of 15%. New product introductions included Suzy Q's and Hostess Sweet Shop Brownies. More to come here in all likelihood, which is a big positive for a brand like Hostess.
3) Smart acquisitions suggests such as that of Superior Cakes suggests that management has an eye towards generating shareholder value. This is a big positive, because as debt is paid down, management will continue to compound shareholder value. This could turn into a compounder..
4) The stable margin and high free cash flow generation of the business is conducive to maintaining high leverage. While the multiple is not dirt cheap (EV of 3.5b over EBITDA of $235 million, implying 15X), there is a good chance management will be able to compound shareholder value here, so this is buying a great business at a decent price. This also means that Hostess could become an acquisition target for a larger packaged food company looking to acquire a solid brand with durable margins and growth potential.
5) CAPEX is low at $33 million, which is conducive to returning funds to shareholder over time, vs. having to spend money maintaining the current status quo.
There is one big negative: Healthy living is in, while fatty foods are out. I think this will likely put a cap on Hostess' ability to grow the business into a multi-billion juggernaut, but - right now - it is small and nimble enough right now for this not to weigh heavily on their ability to generate profitable growth. There is a lot of room to grow revenues from current levels of sub-$1 billion.