Nike has built a brand bigger than the sport stars across the globe. Through time Nike has revolutionized the sports apparel game. Picking up stars like Michael Jordan, Lebron James, Cristiano Ronaldo, Tiger Woods, and many more, the giant dominates just about every sport. Nike's stock is a similar feat.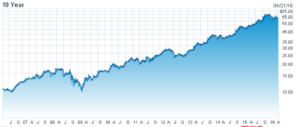 10yr Chart of NKE
A reliable blue-chip company, this stock still has room to grow and hence, my #1 pick in the 2016 stock pick draft.
2016 will be a year full of changes and innovations amongst the company. Nike plans to unveil more athlete branded apparel and footwear than 2015. Doing so will help to build the brand and drive sales. Additionally the company is looking to develop more products with innovative health benefits. Such products could include shoes aimed to aid your posture and shirts designed to keep the body at ease during intense workouts. The company also plans to enact campaigns to further drive sales in Women's clothing. The company plans to beat last years 15% sales increase in female apparel.
This upcoming summer will be a key advantage to the retailer. As the 2016 Summer Olympics take place in Brazil, Nike along with it's competitors will be looking to make the most out of the world wide sporting event. Said companies often use the event as a world wide marketing opportunity by endorsing select athletes or countries to wear their apparel and accessories.
Fundamentally speaking, Nike has an impressive ROIC (return on invested capital) of over 24% YTD. This was especially foreseen when they announced a 2 for 1 stock split last December. Today is the day to watch, as Nike will reveal their quarter earnings just after the closing bell today. Likely to beat analyst estimates, this stock is prepped for another explosive year in 2016.
Want to read more? Check out my personal blog at ateenonwallstreet.com
Disclosure: I am/we are long NKE.
Additional disclosure: I do not offer investment advice. The opinions expressed are strictly just opinions and I do not advise the purchase or sale of any securities. Invest at your own will and after putting forth your own research.