Target: Moscow Stock Exchange (MICEX(MOEX.ME))
Company type: high growth, dividend stock
52 Week range: 65-115 RUR
Market: developing countries, Russia
Description & General information
Moscow Stock Exchange (MOEX) is a Russia-based integrated stock exchange that provides electronic trade organization, clearing and settlements on trades, depository and information services. The Company provides trading and settlement services in such segments of the financial market as foreign exchange (NYSE:FX) market, federal bonds market, market of derivative financial instruments, cash equities market, corporate and regional fixed income market, commodities market, as well as market for state and municipal orders.
MOEX is one of the youngest Russian TMT-companies that performed IPO back in 2013 and perhaps since then it has already become one of the most profitable stocks in the history of Russian equity market. Look at Figure 2, it shows comparison of MOEX's total shareholders return (TSR) to total historical return (including dividends) for Russian companies.
Figure 1. MOEX & market cumulative returns comparison (excluding dividends)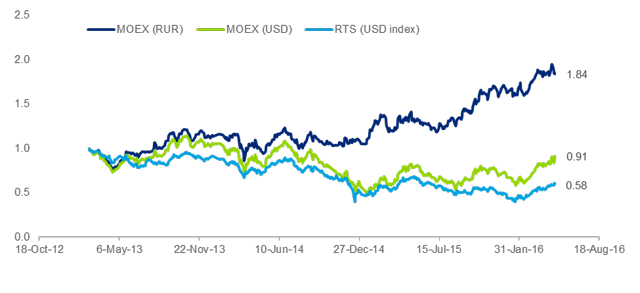 Source: Moscow Stock Exchange, FF analysis
Note: RTS is Russian stock market indicator denominated in US dollars.
Figure 2. MOEX & market yearly total shareholder returns (TSR)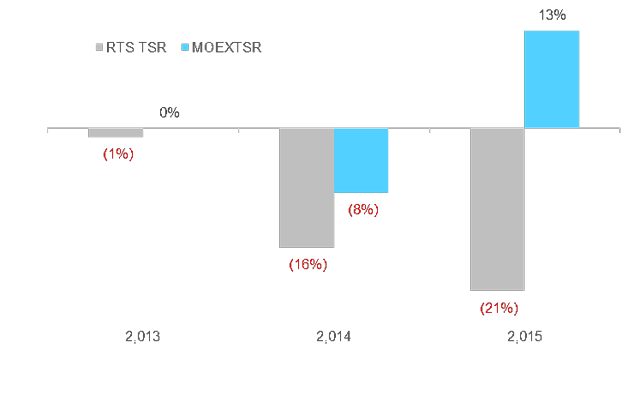 Source: Moscow Stock Exchange, FF analysis
So let us answer the simple question: is this company still worth buying?
Board of Members and key shareholders
For me this is one of the most important factors because it is no matter how big a company is or how it performed in the past - if the management is not good enough you cannot expect anything positive. In case of MOEX you shall be satisfied since current management is the same as it was back in 2013 and all the results that this company achieved in the past are on their shoulders.
Current chairmen is Alexi Kudrin - the former Finance Minister of the Russian Federation. In 2010 he was declared by Euromoney as «Finance Minister of the year» so I really treat him as somebody who knows how to manage company.
It should be noted that company has the highest level of free-float (57%) that I consider as I a good mark because usually companies with higher levels of free-float are less volatile and more preferable for institutional investors.
Figure 3. Shareholders structure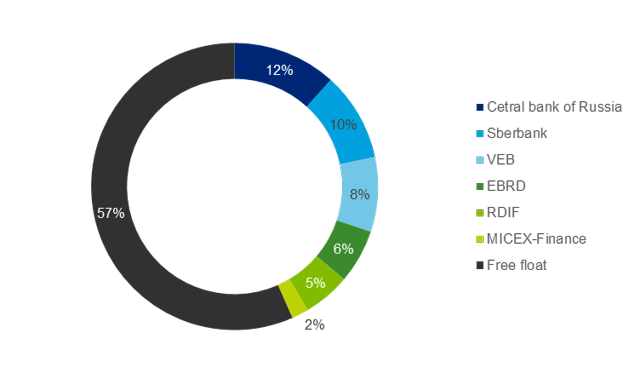 Source: MOEX's 2015 annual report, FF analysis
Key drivers for adding company into portfolio
Please note that all financials are denominated in USD terms, also we point out that during 2013-2015 RUR has significantly devaluated - from 32 RUR/USD in 2013 down to 61 RUR/USD in 2015. So results in national currency looks even much better than those stated below in this report.
Sustainable growth. Since 2006, company's operating income has grown by more than 8 times in RUR and almost 4 times in USD terms. And what is more important there are many reasons for further growth, such as privatization program that will be held during 2016-2018, expected decrease of interest rates that should increase usage of public debt, expected growth of retail/private participants.
This growth is not only about absolute measures but also about margin and return on invested capital, which have grown for 9% and 17% respectively.
Figure 4. Key financials (mln USD)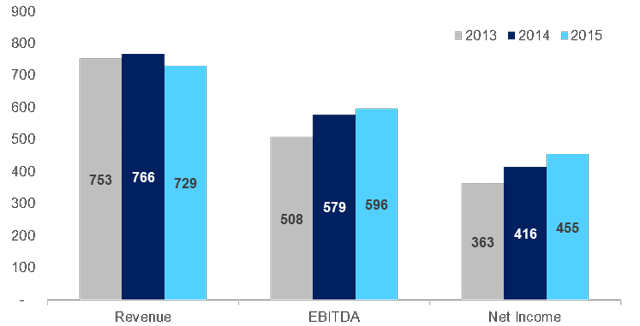 Source: Morningstar, FF analysis
Figure 5. Profitability and margin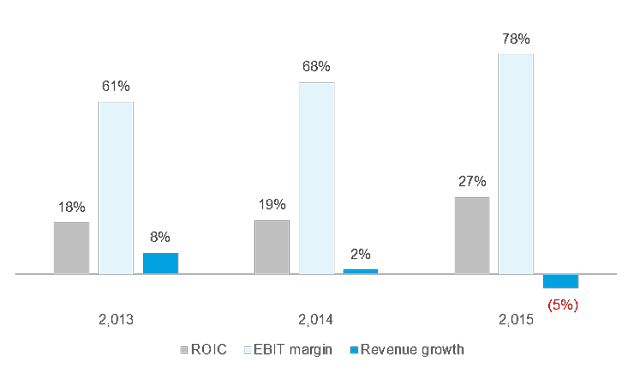 Source: Morningstar, FF analysis
Individual investment accounts and lunch of new instruments. Due to growth of population exposure to securities markets number of active retail accounts has raised by more than 170%. Moreover, as you can see, there is big potential for further extension.
Figure 6. Exposure to securities market, and bank deposits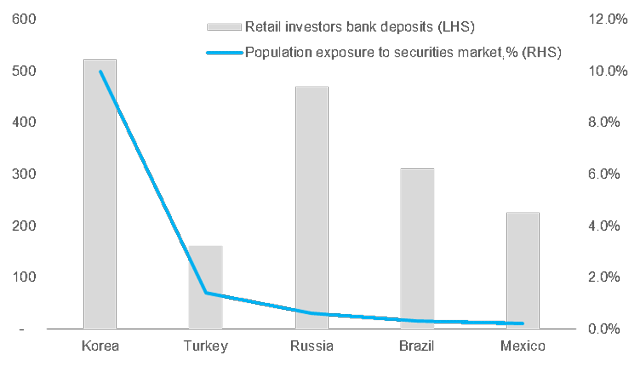 Source: MOEX's IR report, FF analysis
In 2015, MOEX announced that company is going to offer a new product - individual investment accounts that will give investors tax breaks on their profits derived from securities they will hold for more than 3 years. Since 2015, there were opened more than 88 k new accounts and even more accounts are expected to be opened in 2016-2018.
Taking into account historical rates of growth, potential for further extension and ability of management provide customers with high quality demandable products we expect that MOEX will successfully increase its market share.
New dividend policy. By the end of 2015, company announced that new payout floor is 55% of net profit. Under otherwise equal conditions, it will increase dividend yields up to 7-10%.
No debt. MOEX is highly cash and value generated business continued to operate with zero debt.
High upside. Comparable valuation shows that there is significant devaluation of MOEX relatively to companies of the same sector and potential upside can reach up to 50%. What we really appreciate is that MOEX undervalued not only in terms of its earnings but also in terms of growth - PEG ration is two times higher relatively to companies of the comparable universe.
Figure 7. Comparable valuation analysis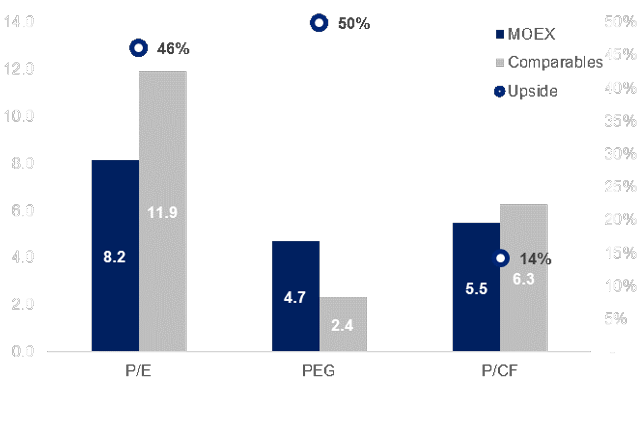 Source: Bloomberg, Thompson One, FF analysis
Note: comparable universe includes the following companies: Sberbank (MICEX:SBRF), Dubai Financial Market (DFM), Australia Securities Exchange (NYSE:ASX) and other.
Conclusion
Although we have no position in MOEX we are convinced that it is an attractive investment which you should consider adding to your portfolio.
In addition, we note that according to our own analysis we do not expect any further drop in oil prices -in our opinion short term prices would tend to be traded not lower then 40-50 USD/bbl so we do not expect any further devaluation of Russian national currency.
Supporting Documents
Disclosure: I/we have no positions in any stocks mentioned, and no plans to initiate any positions within the next 72 hours.
I wrote this article myself, and it expresses my own opinions. I am not receiving compensation for it (other than from Seeking Alpha). I have no business relationship with any company whose stock is mentioned in this article.