ULTA Beauty-Happy Wife Happy Life
Please Note: Blog posts are not selected, edited or screened by Seeking Alpha editors.
Summary
ULTA has the secret sauce that women want & that isn't going away overnight.
Missed expectations on the latest earnings report has caused shares to drop 40% creating an opportunity for returns that rival SAAS & cloud names.
Want to excite your wife? Buy shares of ULTA.
Ulta Beauty has been one of the best stories in retail over the past few years. It is the leading retailer in the country in the cosmetics and beauty space. However, that stock lost 40% after it reported its second-quarter earnings.
The problem appears to be the overall cosmetics category, which is slowing down as a whole rather than an issue specific to (NASDAQ:ULTA). On the conference call the CEO Mary Dillon said:
  Over the past several years, we've seen strong growth in cosmetics driven by new rituals and application techniques like considering and brow styling and innovative new product formats like Liquid Lip, Palette and Minis. This innovation resulted a new makeup routines requiring new products, which drove strong incremental growth. The most recent cycle of innovation is just not driven those behaviors, resulting in a soft cycle for the cosmetics category in the US. As innovation and newness price the market has not driven the expected growth. 
From my view, I am seeing (NASDAQ:ULTA) bags in my home on a very regular basis. Sometimes the three generations of women in my life, wife, daughter & mother-in-law make trips to (NASDAQ:ULTA) together, making a day of it and having a blast. I end up a tad poorer from these outings. 
I consider that an investment in my future, if there's one relationship trope that actually holds true it has to be "Happy wife, happy life." 
So yes, I was a little surprised when (NASDAQ:ULTA) shares reacted so violently losing $100 the day after earnings & over $10 more the next five trading sessions. 
 I asked the women in my life what is the attraction to ULTA? 
My wife & daughter explain to me going to (NASD:ULTA) is an experience. One that they can't get from buying online at (NASD:AMZN). They go and the makeup artist executes the perfect look & masterfully shows them the tricks and tips.
My daughter says "they have everything, every brand & its just fun"."You learn how to make yourself look good," says my wife. I was amazed at the brand loyalty they were showing me. They actually lit up when they spoke of this paradise. I admit my earhole closed when they started talking about the Kardashian's & the new line of product coming soon to (NASD:ULTA). Something about the word Kardashian always makes my earhole close, weird. Interested to know if others have this condition or am I the only one with this awful affliction.
In a nutshell, my resident make-up experts assure me this slowdown is only temporary. New products & new trends are on the way. We don't need a new trend every three months they say. Interesting opinions, is this why some studies show women are better investors than men? They have more patience maybe?
I have wanted to own shares of this name for a while now. In reading the comment sections of the post-earnings (NASD:ULTA) articles here on Seeking Alpha I am not the only one. It appears many have been waiting to buy this one. 
Is ULTA a buy here?
It is for me. (NASD:ULTA) is down almost 40% from its high and around 20% YTD. All it is going to take is a continuation of this bottoming pattern and we should see a nice bounce as institutional money comes into this name. They have the capital to deploy and (NASD:ULTA) is as good a bet as any I can see right now. I think it offers traders a shot a decent bounce here soon enough & long term investors an entry in a company that is the leader in the space.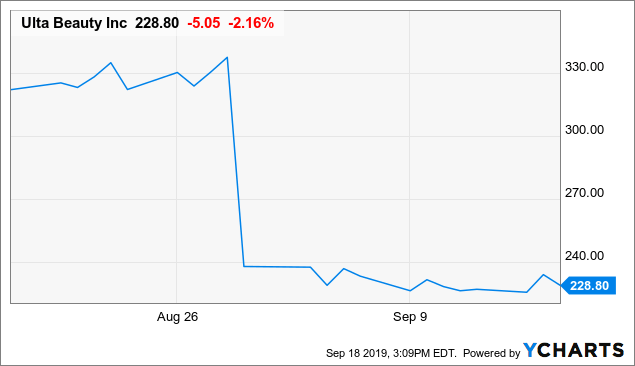 I bought a decent amount at $226 and will add. I will sell half on a decent bounce. I am prepared to buy more if it breaks down further.
I think at least some managers are going to get back to basics and look to deploy capital in perceived value. Thus causing some demand in (NASD:ULTA) shares. From my view, at the moment there just isn't a ton of names that I see I am willing to place big bets on. Am I the only person in this dilemma?
SAAS & cloud names like (NASD:AYX) (NASD:SHOP) (NASD:COUP) are an option with their recent pullbacks. Some of these stocks are down 20%-30% from recent highs. These names became the FANG for 2019 without the media fanfare & those that participated have done very well.  
Are these names done with the repricing exercise is the question. 
(NASD:SHOP) is still up an impressive 105% YTD while (NASD:AYX) is up 98% and (NASD:COUP) is up 75%. While I am bullish many in this space it is hard for this author to see a repeat of this magnitude the next 12 months. Plus the fact that I already have exposure, maybe too much exposure in this space.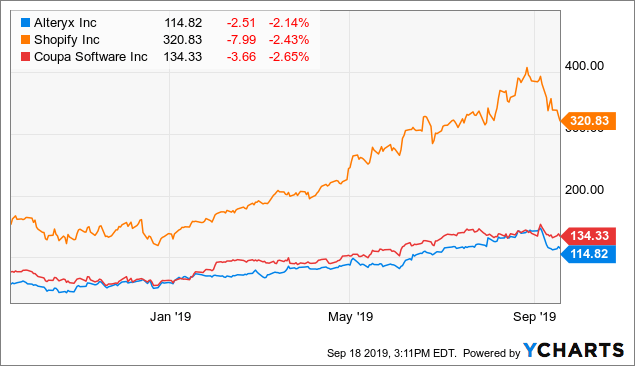 This brings me back to (NASD:ULTA) and why I think it is a decent bet in this $225-$235 area.
It is a bet that women would rather keep having the in-store experience rather than buying online. A trend that the women in my life say is far from over and isn't going away anytime soon.
Plus the fact my wife & daughter are pumped about this play and it has given us something to talk about, thus bringing the family unit closer. My wife loves that, and you know what they say,
a happy wife is a happy life.  
.
Analyst's Disclosure: I am/we are long $ULTA $AYX.
I wrote this article myself, and it expresses my own opinions. I am not receiving compensation for it (other than from Seeking Alpha). I have no business relationship with any company whose stock is mentioned in this article.
Seeking Alpha's Disclosure: Past performance is no guarantee of future results. No recommendation or advice is being given as to whether any investment is suitable for a particular investor. Any views or opinions expressed above may not reflect those of Seeking Alpha as a whole. Seeking Alpha is not a licensed securities dealer, broker or US investment adviser or investment bank. Our analysts are third party authors that include both professional investors and individual investors who may not be licensed or certified by any institute or regulatory body.