Long Term SaaS Industry Margin Study
Summary
Sample of SaaS operating models forecast long term margin improvements of 29%-35%.
Forecasted margin improvement driven most by sales and marketing leverage.
Sample targets long-term operating margins of 27-28% - achieving this level of profitability is key in assessing today's high revenue multiples.
Long term margin targets have equivalent predictive value to current revenue growth rates.
We wanted to share a brief analysis of long term operating margin targets across the SaaS sector.
Over time we've encountered a number of SaaS executive teams presenting seemingly impossible margin expansion forecasts:
"With some solid operating leverage, we're going from negative twenty-two percent today to thirty-five percent long-term."
As the arguable bellwether of the SaaS industry, Salesforce.com (NYSE:CRM) has provided a long-term adjusted operating margin target of 30%. This framework, with particular sensitivities around growth rates, has been important in providing a long-term context to justify CRM's decade plus of growth investments and trading multiple despite limited profitability at a $7 billion plus revenue run-rate.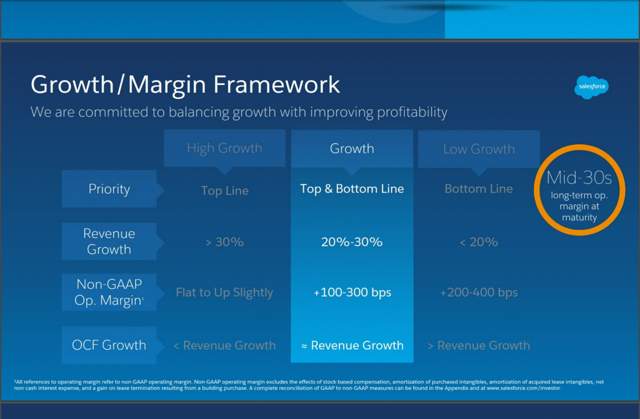 The question for the SaaS industry - including CRM - as a whole remains "Are long-term margins achievable to justify today's high revenue multiples?"
Our rough analysis sought to provide directional answers to these questions:
"What EBITDA multiple are we really paying?"
Current SaaS revenue multiples are quite high (average of ~4.6x EV/16E revenue with some in the ~7x to 9x range per BVP's Cloud Index) and hard to stomach at first glance.
A simple illustration of a fictional SaaS equity is instructive:
Current enterprise value of $1.0 billion on $180 million of revenue (5.6x) with negative 20% EBITDA margins. Seems insane to any value investor.
Imagine that this SaaS company grows revenue at a 5 year CAGR of 27.5% with operating margins improving to 30%.
Your effective multiple at today's enterprise value becomes 5.5x target year EBITDA. Quite attractive for a recurring revenue business with high margins growing cash flow at over 30% per annum. This would also equate to a PEG ratio substantially below 1.0x.
"Are these forecasts anywhere near industry benchmarks?"
We wanted to have some basic framework when looking at any individual SaaS security in terms of long term achievable margins and the context of margin improvement forecasts.
"Does long term margin guidance have any predictive value today? Should we look at this just as much as revenue growth?"
The answers could cause us to include longer term factors in our current investment decisions.
Data Set Overview and Caveats:
The long-term operating margins analyzed are derived from SaaS companies that clearly disclose a long-term financial framework in their public investor communications and presentations.
This data set does not include operating margin targets sourced from investment bank research reports or verbal indications from management teams on conference calls / analyst days. Simply, we are working from slide presentations only. This produces a limited data set based primarily on a somewhat arbitrary investor relations and communications decision.
Each company included will have a different definition of "long term." For example, Veeva (NYSE:VEEV) explicitly references 2020 targets and Ellie Mae (NYSE:ELLI) presents their forecasts specifically at a $400 million revenue level. Other companies in the data set are completely silent on when or at what level these margins could be achieved.
Moreover, margins are presented consistent with company definitions of adjusted operating margins. Adjustments for each company can vary, particularly in terms of the amount of stock based compensation expense added back.
Long Term Target Margin Expansion
SaaS companies in our sample forecast a 29% to 35% increase in long-term operating margins: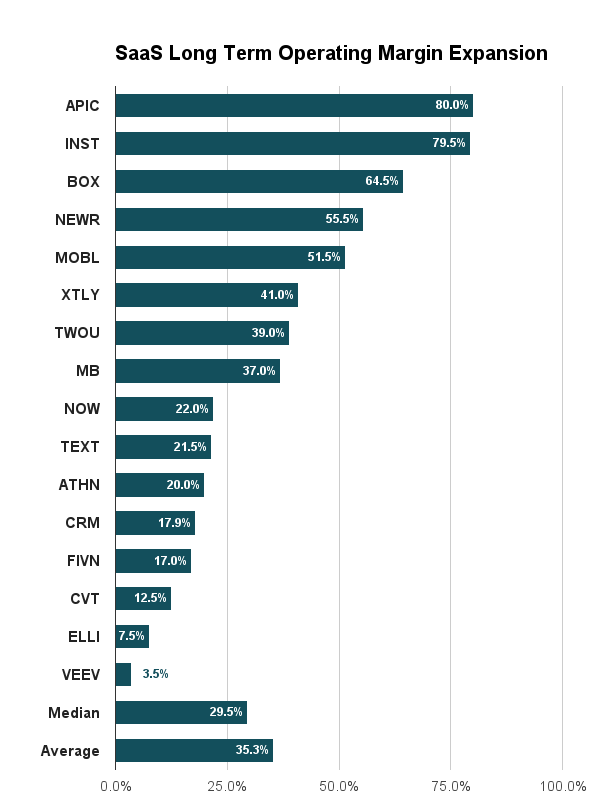 Sources of Operating Leverage
Leveraging sales and marketing expense is by far the largest source of margin improvement in our sample with a median increase of 17.5%. Notably, 4 companies forecast over a 30% sales margin improvement (Apigee, Box, Instructure and New Relic).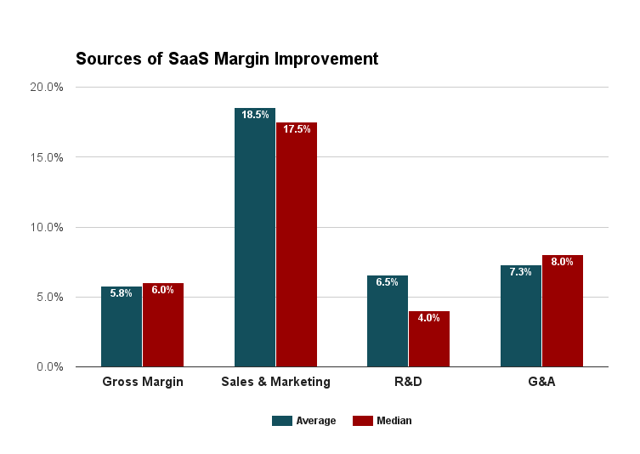 Increases across the other income statement lines are relatively consistent. Of note, several vertically focused SaaS forecast an increase in R&D investment (Cvent, Ellie Mae, Veeva).
Target Long Term Margins
Among our sample companies, target margins average 27% at maturity.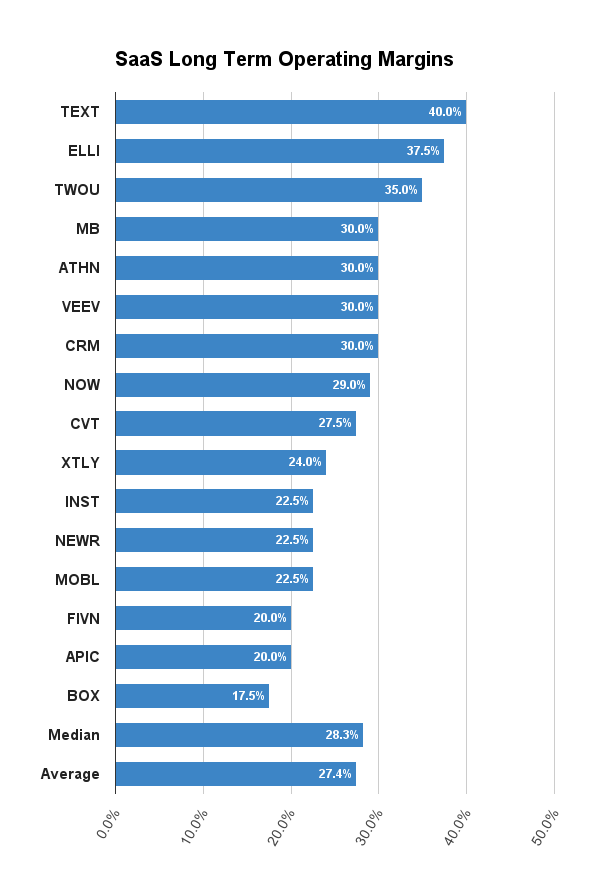 Predictive Value
Our recent write-up on Xactly highlighted the correlation between near term revenue growth and SaaS EV / forward revenue multiples. Consistent with the perception that SaaS companies primarily trade on revenue growth, our sample yielded an R-Squared of +0.33.
All of the margin factors analyzed somewhat surprisingly produced similar R-squares to the revenue growth analysis:
Current Profitability: R-Square of +0.355 - an intuitive conclusion that companies more profitable today are more valuable. 1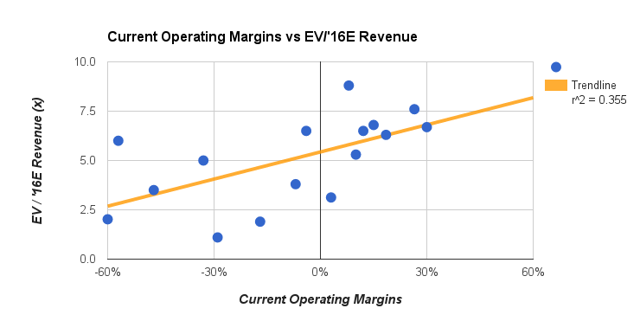 Increase in Operating Margin: R-Square of +0.295 - the trendline shows that companies forecasting very large increases in margins - which might not be attained - trade at lower current multiples.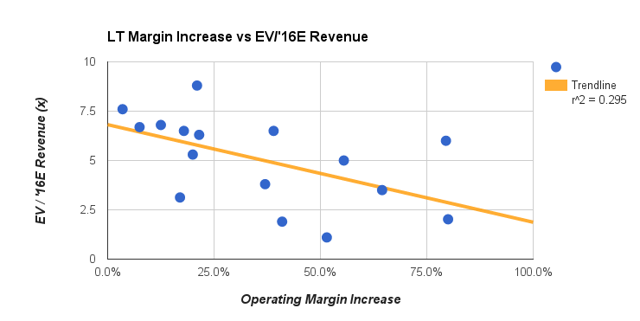 Long Term Margin Level: R-Square of +0.378. Again the trendline makes sense in that a business with higher potential margins will warrant a higher multiple.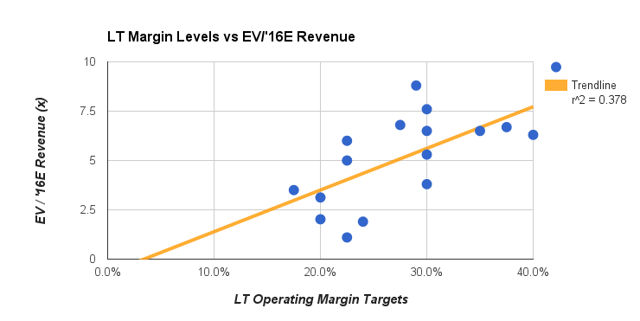 We can conclude that assessing SaaS long term operating models and margins has roughly the same predictive value as current revenue growth rates.
APPENDIX - COMPANY LONG TERM OPERATING MODELS
Apigee (NASDAQ:APIC)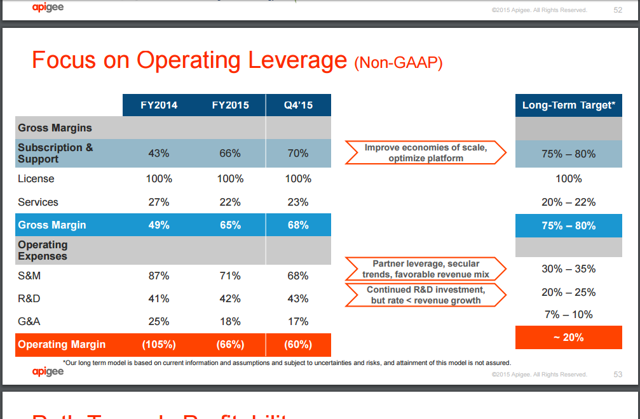 Athena Health (NASDAQ:ATHN)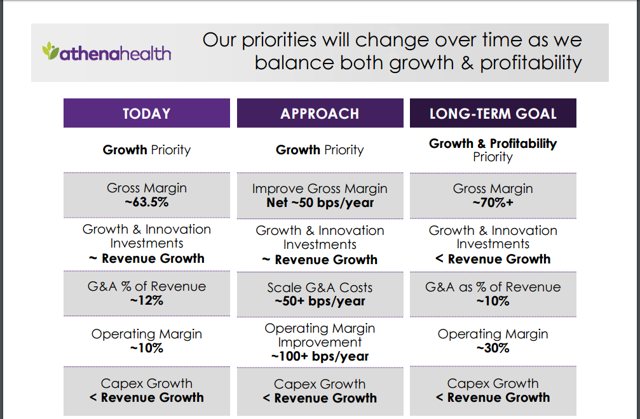 Box (NYSE:BOX)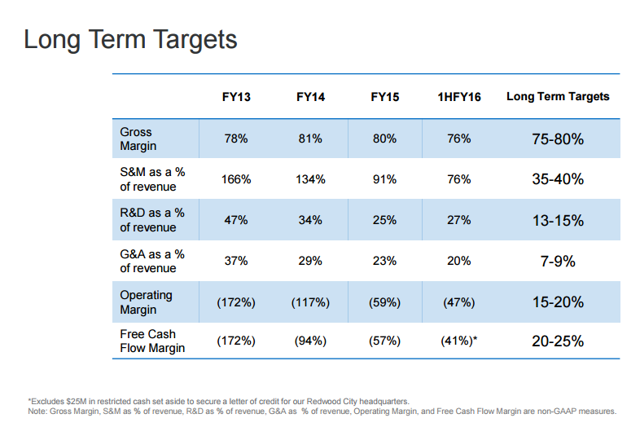 Cvent (NYSE:CVT)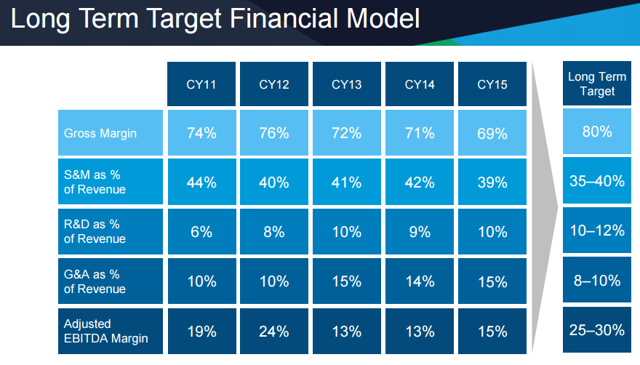 Ellie Mae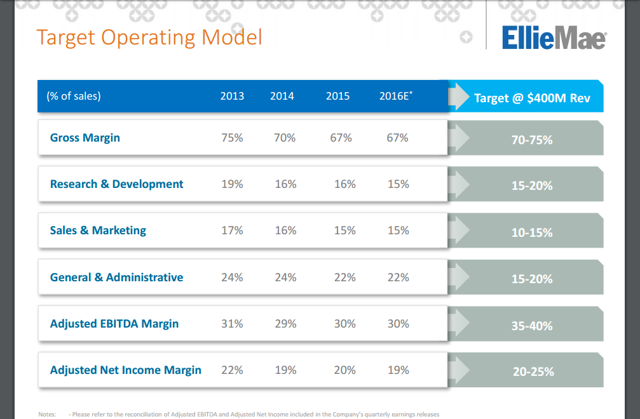 Five9 (NASDAQ:FIVN)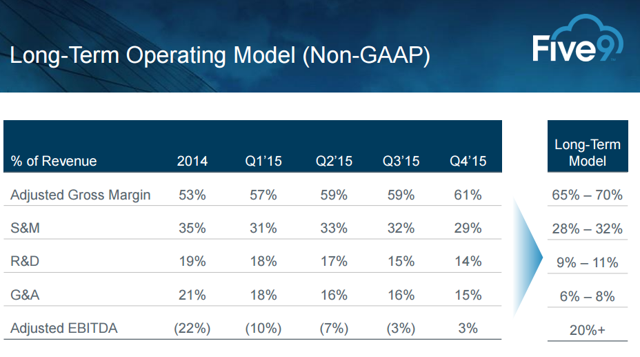 Instructure (NYSE:INST)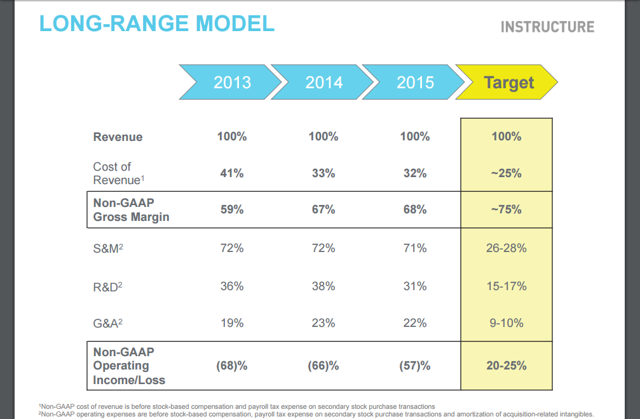 MindBody (NASDAQ:MB)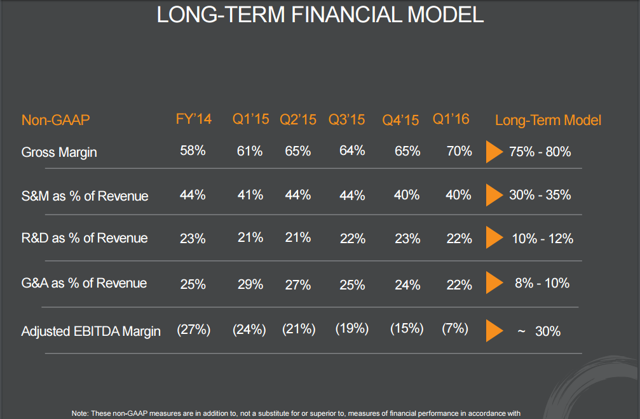 MobileIron (NASDAQ:MOBL)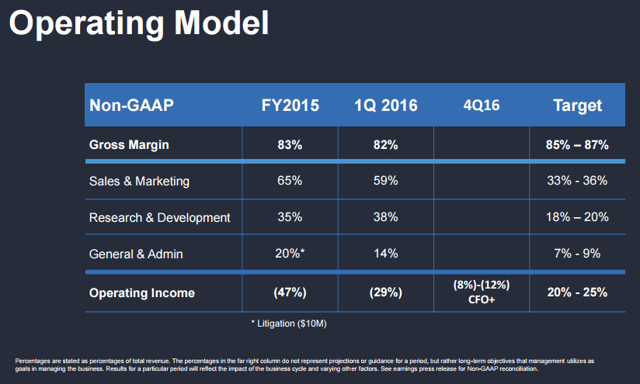 New Relic (NYSE:NEWR)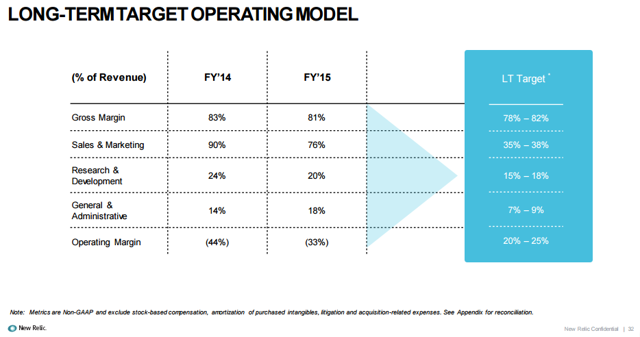 ServiceNow (NYSE:NOW)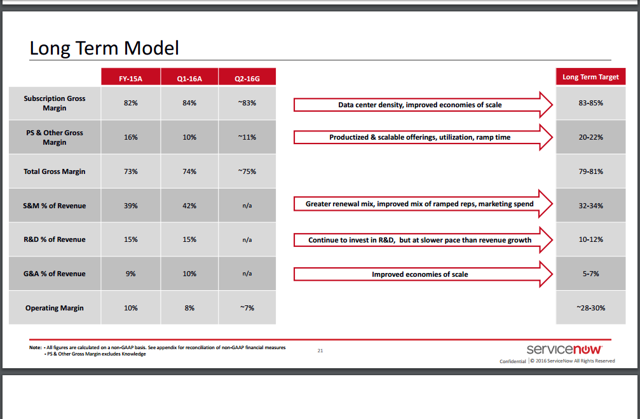 Textura (NYSE:TXTR)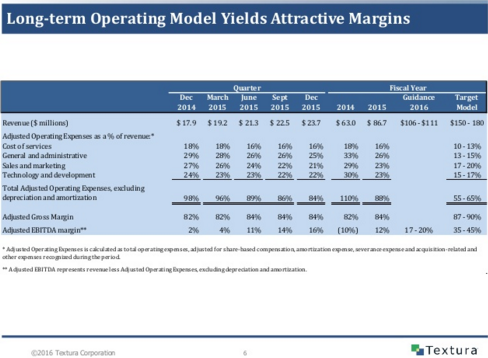 Veeva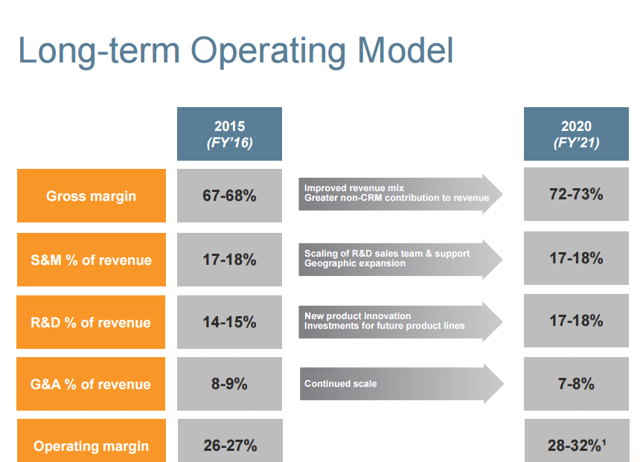 Xactly (NYSE:XTLY)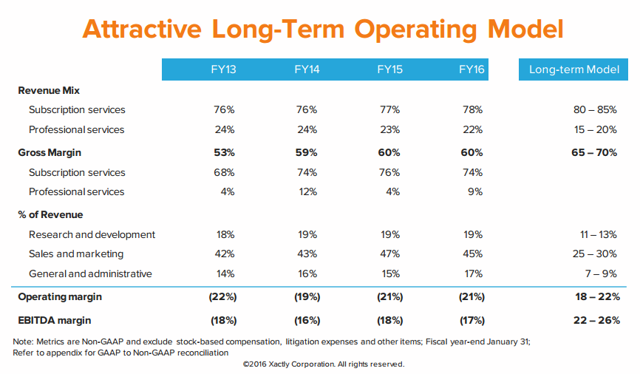 2U (NASDAQ:TWOU)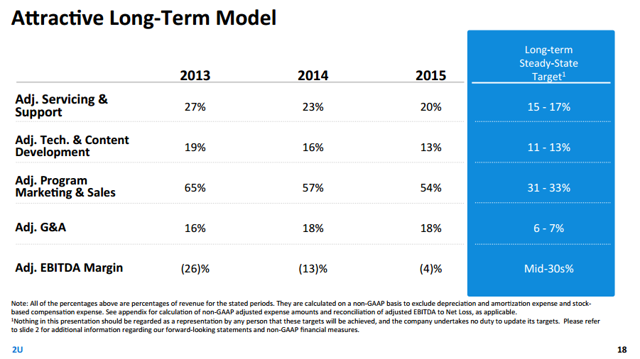 Footnote:
1. This was particularly true during the early 2016 SaaS downturn. Goldman Sachs research highlighted the degree to which profitable companies were able to maintain their multiples while the contraction for unprofitable companies was quite significant: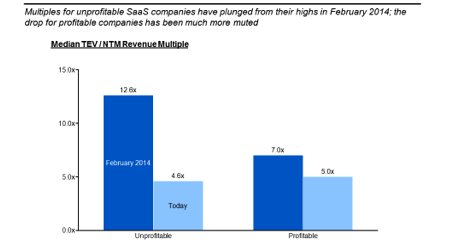 Disclosure: I am/we are long XTLY.
I wrote this article myself, and it expresses my own opinions. I am not receiving compensation for it (other than from Seeking Alpha). I have no business relationship with any company whose stock is mentioned in this article.