Central bankers hog the limelight this week with the Fed rate decision being the most important of all. Markets do not expect the Fed to move rates this week, but will monitor the event closely for any indication on the rate hike timing. The Fed will publish the interest rate "Dot chart" and economic projections along with the policy statement.
Following points are worth noting ahead of FOMC rate decision
Treasury yield curve has flattened due to rally in prices at long end of the curve
Long duration bond yields across the globe have nosedived.
Germany has negative yields on bonds up to 9-year maturity.
Junk bond sale is gathering pace as search for yield gathers pace.
Global growth is increasingly looking weak.Political landscape across Europe and US is looking difficult.
Investors are offloading risky assets due to Brexit fearsOil is now widely expected to have found a new normal level of $50/barrel
Safe havens like Gold and Yen are on the rise at a time when equities are at near record highs and central banks are suffering from exhaustion
Markets are having a hard time trusting the hawkish Fed speak
Rate hike odds collapse, November probability stands at 36%
As per CME fed funds futures data, the rate hike probability has nosedived following the release of a horribly weak May non-farm payrolls report.
| | |
| --- | --- |
| Fed meeting | Rate hike probability |
| June 15 | 2% |
| July 27 | 23% |
| September 21 | 37% |
| November 2 | 38% |
| December 14 | 59% |
From the above table it is quite clear markets do not see Fed moving rates before December. Meanwhile, Fed officials including Yellen have maintained that two more rate hike could happen in 2016. But markets have a hard time trusting the hawkish talk. Just two weeks before, markets were expecting Fed to move rates in July. CME data was putting a 60% probability of a rate hike in July before May non-farm payrolls release; a number now seen for December.
Focus is on whether July rate hike is on the table or off the table
In our opinion, July rate hike depends on the outcome of the EU-referendum and the US June payrolls report.
Pundits have repeatedly said that a 'Brexit' could trigger financial market instability across the globe. Fed's April minutes also carried an explicit commentary about the threat of Brexit. The fact that the referendum is scheduled next week (week after Brexit referendum) has convinced markets that the Fed would not move rates in June. Meanwhile, July rate hike bets have dropped below 50.00 as a result of Brexit fears, and the horrible May non-farm payrolls release.
Brexit is a threat and if Britons do vote in favor of leaving the EU, and possibly leading to financial market instability, we may bid adieu to the possibility of US rate hike in 2016.
On the other hand, the June payrolls report needs to be super strong on all fronts. Many in the markets called weak May employment number as a 'one-off' kind of a data event. However, it is worth noting that the May figure of 38K was the lowest since September 2010. Furthermore, the April figure was revised lower from 160K to 123K, and March was revised lower from +208,000 to +186,000. This implies that the job gains in March and April were 59K less than what was previously reported. The three-month average now stands at 116K.
The irony is that Brexit alone could derail Fed's policy tightening plans, however, a victory for a 'in' or a 'remain' vote alone may not be enough for the Fed to hike rates in July. If the Fed wants to hike rates in July, it would require a victory for the 'remain' vote, and a strong June non-farm payrolls & wage growth figure.
Payrolls are back under the scanner
The horrible May non-farm payrolls report has shifted focus back on the labor market. Note that off late the markets were giving less importance to the payrolls figure and more to the wage growth result. This is because the labor market strength was well know and markets were more interested to see a wage growth spike in response to the labor market tightening.
However, significant downward revisions to previous month's payrolls figure along with a weak May figure has put the focus back on labor market. Consequently, June non-farm payrolls report needs to beat estimates and highlight strong wage growth as well. Only after fulfilling these conditions will July become a live event.
Dot Chart and Economic projections
The markets would also keep an eye on economic projections and the famous 'Dot Plots' of the 'Dot Chart'. The Fed's Dot chart in December predicted four more rate hikes; a view which was later revised lower to two rate hikes in March. Further downward revision of interest rate dot chart would spell trouble for the USD bulls.
As far as economic projections are concerned, a slight upward revision in inflation forecasts (courtesy of the oil price rally) and downward revision in growth forecasts will not be surprising. Also expect Yellen to comment on a possible policy response if Brexit results in financial market instability. Any hint at negative rates and/or QE could weaken the US dollar.
Whether the Fed is hawkish or dovish depends on -
Fed's readiness to move rates in July or later if UK stays in EU
Fed's readiness to use different tools (rate cut, negative rates, QE) if Brexit triggers instability
How the central bank views the deterioration in the non-farm payrolls data
Interest rate Dot chart

Gold could test $1325 on a dovish Fed
Gold bulls are seen rejoicing as the negative interest rate environment across the advanced world, increasing global growth concerns, and political uncertainties is forcing investors to pour money into safe haven assets. All the above mentioned reasons also take the Fed away from the next rate hike, which is supportive for the metal.
Daily chart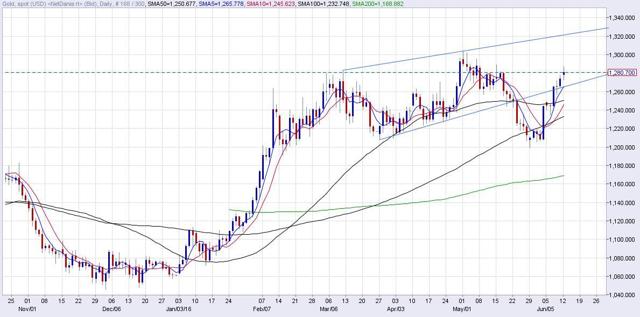 Source - Netstation, Netdania
Prices could easily test channel resistance seen around $1325, break above which would open doors for $1350 levels.
On the other hand, prices could fall back to $1240-1250 area if Fed cheers wage growth, drop in unemployment and downplays Brexit risk.
USD/JPY - Only hint of a rate hike could lift the pair
Markets feel that the Bank of Japan (BOJ) is stuck and there is very little the central bank can do to weaken the Yen. Moreover, bank's move to negative rates triggered an avalanche of Yen buying. Hence, there is very little reason to believe that more BOJ stimulus would be well received. Risk aversion and the resulting unwinding of carry trades are pushing Yen higher as well. Hence, we view that the only factor that could push USD/JPY pair higher is a hint of a Fed rate hike. If the Fed falls anything short of this, we expect the channel support seen around 102.00 levels to be under pressure.
Daily Chart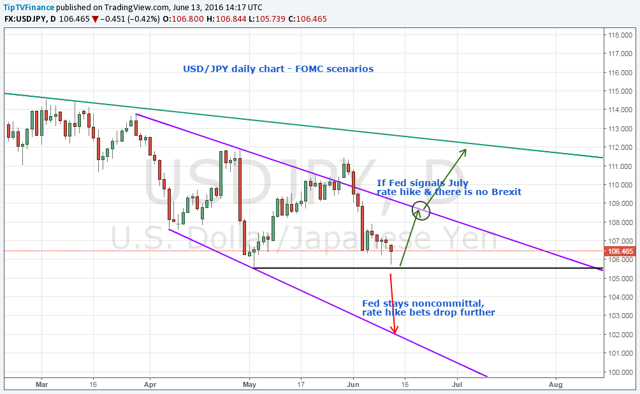 Source - Tradingview.com
To Conclude -
Fed is likely to stay non-committal this week and Yellen is likely to talk about policy responses to Brexit. Yellen is also to be questioned on whether the Fed intends to move interest rates in July if the UK stays in the EU. Her response to EU-Referendum risk is likely to influence July rate hike bets.
The Fed would likely avoid lifting rates in July on a disappointing June payrolls data even if the UK chooses to stay in the EU. Other factors which affected the Fed have largely improved compared to what was seen in December.
Resilient stock markets - Till Friday, S&P 500 was just 0.5% away from record highs. Dow Jones is sitting comfortably above December 17 high of 17,791. This indicates the markets have absorbed a 25 basis point hike in December and could easily digest another 25 basis point move.
Oil rally - Oil was witnessing a massive sell-off heading into the December meeting. There were growing calls that oil could reach single digits. However, prices bottomed out in January/February and since then have doubled. The consensus now is that oil has found a new normal around $50/barrel. This is good news for the US Central Bank as stable oil around $50 would mean less risk of a oil driven deflationary crash.
US wage growth is on track to break records this decade - As per a Bloomberg report, the current decade is on track to be the best one for wage growth on record. Moreover, wage growth figures were the only bright spot in the May non-farm payrolls report. Experts believe the labor market tightening amid background of low oil prices is likely to translate into a more sustained wage price inflation ahead.
Manufacturing sector stays in recession. But do not forget that the sector was in recession back in December as well. However, Fed did moved rates at the time, and thus there is only a little scope for the manufacturing recession to be a reason for a Fed rate hike delay.
Disclosure: I/we have no positions in any stocks mentioned, and no plans to initiate any positions within the next 72 hours.