The days of talks are gone as the time has arrived for Britons to vote and make their presence felt at tomorrow's EU referendum.
Both camps - pro-EU and anti-EU - have done their bit in trying to tilt sentiment in their favor over the last few months. The scaremongering from the pro-EU camp has been so intense that intending to vote in favor of 'exit' has become a sort of anti-establishment thing.
In reality, no one really knows what would happen in case of a Brexit. There is no precedent for such an event, hence much of the scaremongering is 'smokes and mirrors ' rather than fact.
The Brexit saga is a success in a sense that it has pushed more important issues to the backburner. Those include the slowdown in China, manufacturing recession across the globe, banking sector issue across Europe.
In this article, we are not going to dive deep into the broader implications of Brexit, but shall limit our self to anticipating the possible effect of the outcome of the referendum on gold prices.
Gold drops ahead of referendum, markets pricing-in a 'Bremain'?
A sudden shift in the sentiment towards 'remain' vote as highlighted by the polls released over the weekend triggered a 'risk-on' rally in the markets.
UK's mining heavy FTSE100 rallied 250 points of Friday's closing level of 6021.90. The 10-year treasury yield, which responds positively to risk-on rallies, jumped from Friday's closing of 1.61% to 1.71% today. GBP/USD, which over the last few months became a barometer of Brexit fears, rallied almost 800 pips from the last week's low of 1.4013.
Gold daily chart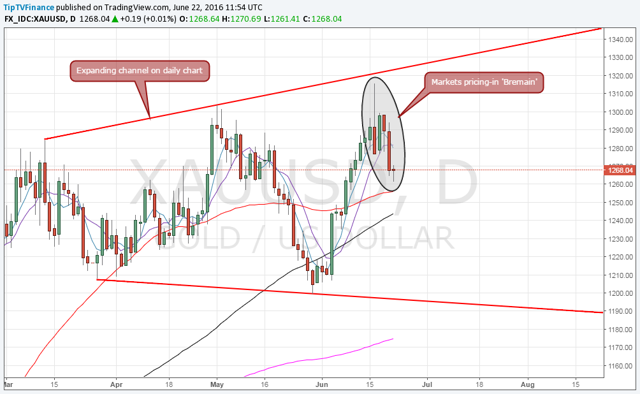 Source - www.tradingview.com
No wonder gold prices failed to take out weekly 200-MA resistance of $1313 and trimmed gains to trade near $1265 levels as of writing.
This clearly indicates that gold along with other markets considers 'Bremain' as a done deal and sees a very low probability of 'Brexit'.
Brexit would be a shocker, could send gold above weekly 200-MA
Brexit would be a shocker on two fronts - it would contradict polls and bookies (who are betting 3-1 in favor of Bremain) and markets, which are positioned for a Bremain.
The resulting risk-off in the markets could easily send gold above the weekly 200-MA level of $1311 by Friday's NY closing. Note that markets are betting on a 15% fall in Cable in case of Brexit. Taking that into account, a rise of $50-$60 in gold prices looks easy.
Moreover, the resulting financial market instability could also push Fed rate hike bets further out in 2017/or trigger speculation of a rate cut. As of now, CME data shows 53% probability of a rate hike in December.
| | |
| --- | --- |
| Fed meeting | Rate hike probability |
| 27 July | 11.9% |
| 21 Sep | 21.8% |
| 2 Nov | 29.8% |
| 14 Dec | 52.9% |
| 01 Feb | 54.8% |
Other central banks including the Bank of England may be forced to cut rates as well. This would only add fuel to the fire and push gold well above the weekly 200-MA level of $1313.
Gold - downside restricted on 'Bremain'
As discussed earlier, markets have already positioned themselves for Bremain. Hence, the downside could be limited; more so because Fed rate hike bets are unlikely to rise sharply, given there is still plenty of uncertainty ahead with respect to US economic data, US elections, situation in China.
Conclusion
Hourly chart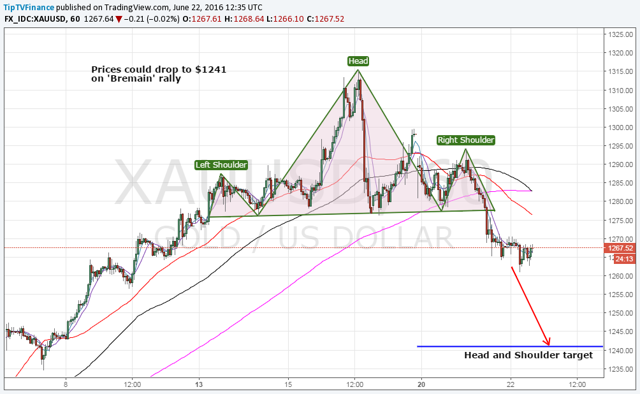 Daily chart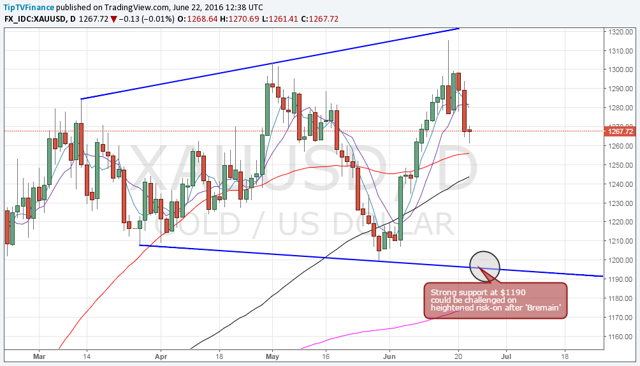 Source - tradingview.com
Potential for downside move on a 'remain' camp victory is limited - The hourly chart above shows a head and shoulder breakout. Prices could test the head and shoulder target level of $1246, which is very close to 100-DMA level of $1244. The support of the expanding channel seen on the daily chart comes around $1190. As long as the support stays intact, bulls have no reason to worry.
On a probable massive rally seen in case of Brexit, Gold could easily take out weekly 200-MA and also secure a break through the expanding channel resistance. Such a move would mean continuation of the rally from December lows and shall open up gates for further gains towards $1400 levels. Moreover, break through the channel resistance would also add credence to the breach of falling trend line seen earlier this month.
Weekly Chart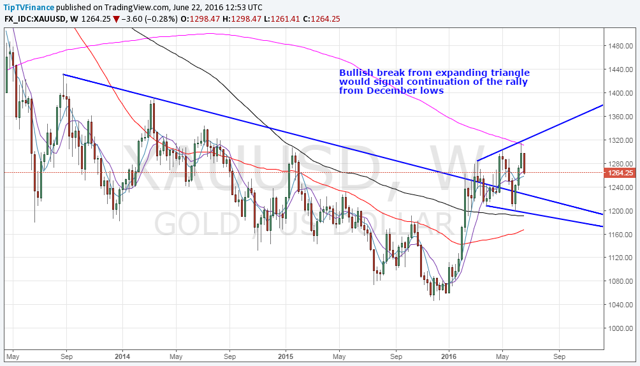 Source - tradingview.com
Disclosure: I/we have no positions in any stocks mentioned, and no plans to initiate any positions within the next 72 hours.
I wrote this article myself, and it expresses my own opinions. I am not receiving compensation for it (other than from Seeking Alpha). I have no business relationship with any company whose stock is mentioned in this article.