This is the continuation of the previous week market breadth analysis published at
https://seekingalpha.com/instablog/47498064-vicorka/4886609-market-breadth-report
For deeper and better understanding of the principles used in this analysis please refer to the tutorial at
http://www.marketvolume.com/advance_decline/highlowrangechartsimple.asp
In general Breadth analysis takes a look at the stocks listed in an index and based on this information evaluates this index trend's health (sentiment). Since index's price is calculated from the prices of its listed stocks, an index's trend directly depends on a trend of majority listed stocks. By knowing where the majority of the index's stocks are traded you may assume the most probable future index's trend development.
The S&P 500, DJI, Nasdaq 100, NYSE Composite and Russell 2000 did not made a lot over the past week. We may say that the market is basically where it was a week ago. On the other hand, when we take a look at the market Breadth data, we may see that the Bulls position is substantially improved. The strongest bullish improvement on the index Breadth charts could be seen on the NYSE Composite and Russell 2000 indexes. Right now, 61% of the NYSE Composite listed stocks are bullish - they are traded closer to their 52-week highs. Last time stronger Bullish NYSE Breadth data were seen at the end of November of 2014. On the Russell 2000 index we do nor see any more the dominance of the Bearish stocks as it was for the past 11 months. Now, we have 50% bullish stocks versus 50% bearish stock here - last time see in June of 2015. The breadth data on the Nasdaq 100, DJI and S&P 500 did not changed over the past week - the Bulls continued to be in charge here.
Strong Bullish sentiment improvement on the Russell 2000 and NYSE Composite indexes while the sentiment on the S&P 500, DJI and Nasdaq 100 remained unchanged reveals that the main focus of the bullish investors is in the small-cap companies listed in the Russell 2000 index. Big market Companies like AMZN, AAPL, MSFT, GOOG do not attract a lot of investors - these stocks did not lost a lot during the strong correction in September of 2015 and January 2016.). The investors are looking into the Russell 2000 stocks, such as JOY (made 24% over the past week), ICPT (pushed up 18 over the past week). CORS (advanced 16% in a week) and etc. The stocks which suffered strongest correction over the past one and half year may offer strongest possible recovery in %.
Overall based on the Breadth data we may say the sentiment is definitely bullish. Based on the market Breadth data we should not worry neither about a market crash nor about a recession at this time. When more than 60% of the NYSE Stocks are bullish it could be a to start thinking about the possibility of a new wave of a Bull market, at least for the small-cap stocks.
Charts #1-5: DJI, S&P 500, Nasdaq 100, Russell 2000 and NYSE Composite indexes High-low Breadth chart - green line at th bottom represents bullish stocks and red line represents bearish stocks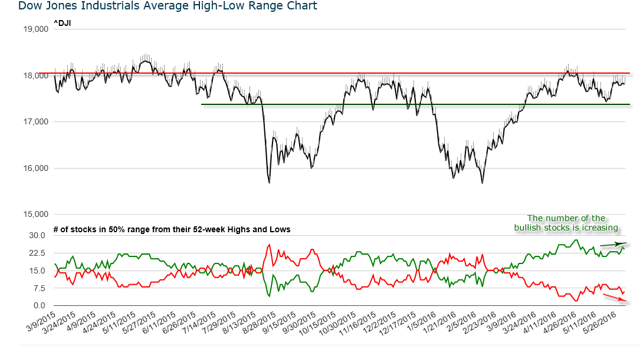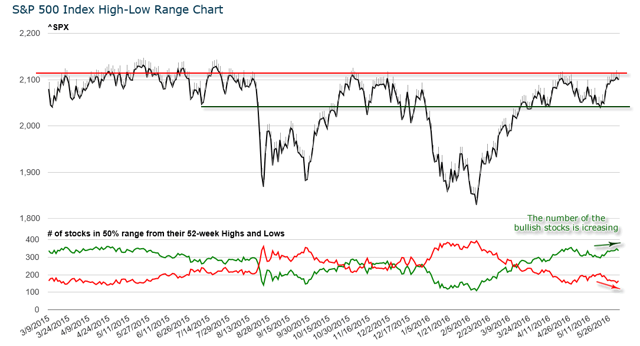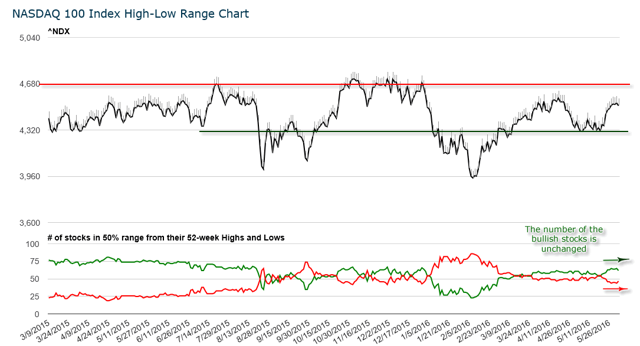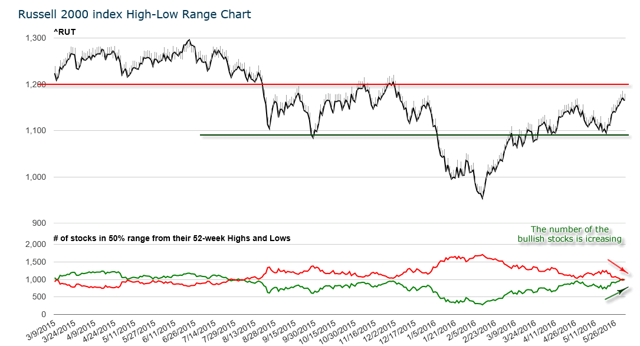 Source: http://www.marketvolume.com/quotes/highlowrangechart.asp?s=NYA