Following the Brexit votes results, it could be useful to take a look at the volume and price behavior during the Friday's strong decline.
Brexit market's decline was on heavy volume. We had 3.7 billion shares were traded on the S&P 500 index on that day. This is more then double of what was traded on the S&P 500 (1.8 billion shares) on Thursday (a day preceded the Brexit vote).
When we look at volume, we always have to remember that volume is a 2-side transaction. When we say Volume = 3.7 billion shares, we have to understand that it means the investors are in panic and they sold 3.7 billion shares across the S&P 500 stocks. However, at the same time, we have to remember that it also means that another group of investors bought those 3.7 billion shares. Now, the negative fact is hat we had a big number of selling in panic investors. Positive news is that we also had a big number of Bullish investors buying from them. The question is whether there are enough Bulls to satisfy selling pressure of the Bears and reverse the market. If yes then we may see a recovery. If, not, then we will see more negative trading. Over the next couple of trading session we will see more unfolding reaction on Brexit and we will see whether greed of Bulls is strong enough to beat the panic of the Bears.
At this point of time, by analyzing the S&P 500 (market) Friday's price/volume behavior (see te chart below) we may say that, after strongly negative opening, the big number (high volume) of Bulls attracted by strong decline came in and pushed the market (S&P 500) higher. However, these Bullish wave was short-lived only. In an hour, we saw decline in volume and we saw the Bears continued to push the price further down. Shortly before the market closed, we saw another strong wave (strong increase in volume and price move up) of the Bulls. However, this wave was short-lived only as well - the same as at the market open. At the market close (last 10 minutes), strong (even higher volume) bearish pressure pushed the S&P 500 back down. Based on this price/volume behavior we may say that, we have waves of the Bulls attracted by the current push down and these bullish traders could be quite strong to push price up. However, these waves of bullish traders are short-lived only. The Bearish traders are strong and their selling pressure is more stable than the pressure of the bullish traders and they are able to beat stronger but short-lived Bulls. If we continue to see such trader's behavior we should expect a negative week.
A negative week is not a bad thing. Continuation of the Friday's decline would mean higher volume - price would go lower, and lower priced stocks would attract more Bulls. Higher volume on strong price decline would mean huge number of Bulls are jumping in. More Bulls would mean, currently strong and stable Bears could become exhausted faster and they could be beaten by the Bulls faster. When I mention about increase in volume I mean it would be nice to see increase in volume above 4.5 billion shares per day on the S&P 500. This is in the range of what we had on August 24th of 2015 and January 20th of 2016 (the bottom of the last two corrections).
We should not be afraid of further market decline. What we should be afraid of is a drop in volume and further steady, not strong decline. That would mean the Bulls are giving up and they are waiting for far lower price to jump in. Strong bounce up next week wouldn't be a very good thing either. Should we see it, it would be a confirmation of Friday's price behavior and the same as on Friday's morning, we should expect it to be a short-lived only - it will bring just more volatility and more uncertainty.
Chart #1: S&P 500 index volume chart: 1 bar = 1 minute
the chart below)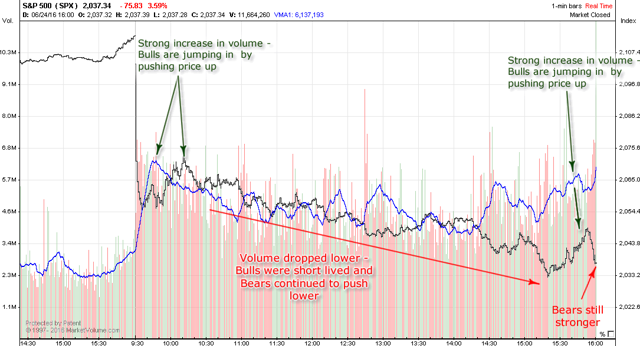 Chart courtesy of www.marketvolume.com
Disclosure: I/we have no positions in any stocks mentioned, and no plans to initiate any positions within the next 72 hours.