The Brexit Friday's decline brought some increase in volatility. The 14-day ATR (Average True Range) on the S&P 500 index was pushed above 1% (see the chart below).
Higher volatility was always associated with increased uncertainty and bearish sentiment. Down-trends are always more volatile than up-trends. High volatility was always a sign of a decline. When it comes to volatility on the S&P 500 index it could be used to define the overall U.S market rend. According to the study at
http://www.marketvolume.com/analysis/stockmarketcrashesvolatility.asp
14-day Absolute ATR is one of the Best volatility indicators to see the critical levels which would signal the high odds of coming recession and or market crash. Thus, 2% volatility (14-day ATR ) level on the S&P 500 index would be critical for expectation of a recession. Over the past year, the volatility was ywice dropping below this critical level - during the correction in August-September of 2015 and in January of 2016. However, despite, the Brexit's negative reaction we still far below the critical volatility levels when we may expect some radical changes in the stock market sentiment.
We still may see more market reaction on the Brexit event and coming week may still bring more volatility. However, at this time it could be far premature to consider that the Brexit decision will lead the US market into a recession. Only when we see volatility (14-day ATR) climbing above 1.3% on the S&P 500 index, only then we may be worried about a strong correction like we had in September 2015 and January of 2016. Only when we see volatility (14-day ATR) climbing above 2% on the S&P 500 index, only then we could be worrying about the possibility of a recession or a stock market crash. Until then we have to monitor the volatility to see the further market reaction to the Brexit coming news.
Chart #1: S&P 500 index and 14-day Absolute ATR chart: 1 bar = 1 day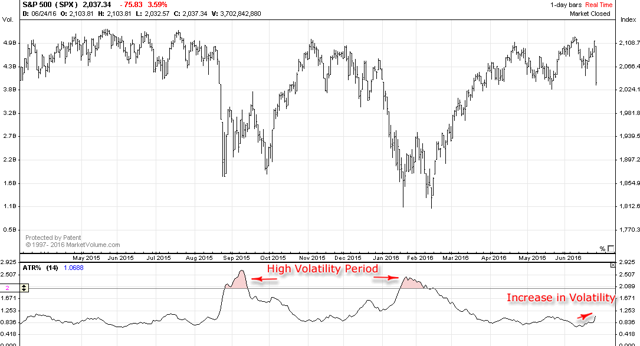 Chart courtesy of www.marketvolume.com
Disclosure: I/we have no positions in any stocks mentioned, and no plans to initiate any positions within the next 72 hours.