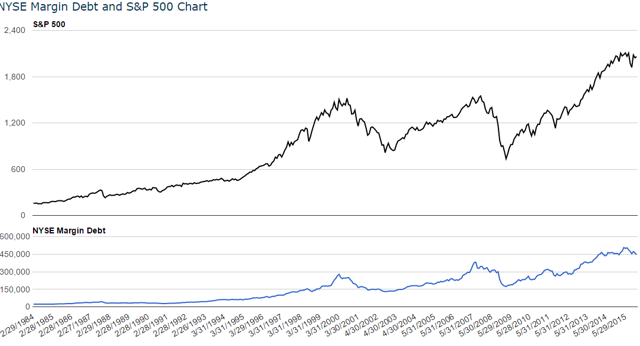 Data source: http://www.nyxdata.com/nysedata/asp/factbook/viewer_edition.asp?mode=tables&key=50&category=8
Chart source: http://www.marketvolume.com/quotes/economic_report.asp?release=margin_debt
NYSE margin Debt rising in the Bull markets. Investors believe and they buy long on margin with expectation of higher profit.
The investors were increasingly buying on margin during the "internet Bubble" up to March of 2000. Starting from March of 2000 the investors who previously bought on margin started to close their margin positions (the investors started to leave the market). Then we had "Internet Bubble crash".
During 2003-2007 Bull market investors were coming back to the market and we had steady increase in the NYSE margin debt. It was up until July 2007. After that the NYSE margin debt started to decline - investors started closing their margin positions and leaving the market. Then, we had 2008 market crash.
During 2009-2015 Bull market, NYSE margin debt was rising again - investors were back and they were buying on margin. everything was positive until May of 2015. That is when NYSE margin debt started to decline - investors again started to close their positions - started to sell and leave.
From one side, nothing will predict future market trend with 100%. Whether you operate by fundamental or technical data, you assume that based on past behavior the market will continue to follow the patterns seen in the past. According to this chart we may assume that the market is in the recession since May of 2015. So far, we see that many investors are selling and leaving the market. However, while this chart shows that investors are selling, the indexes are still at their high points, which mean other investors are buying from them. However, these Bullish investors are not buying on margin. This suggest, that we still have a lot of the Bulls who still hold the market at the top, however, these Bulls are not strongly bullish believers, they are not willing to risk and buy on margin.
Disclosure: I/we have no positions in any stocks mentioned, and no plans to initiate any positions within the next 72 hours.