The past week brought us strong drop in volume and volatility. Summer-vacation season (August) is at the door and as it should be expect we are starting to see signs of low volume and low volatility trading.
It does not look like we have to be worried about anything after2-week strong after-Brexit rally. However, when we take a look at hourly index volume charts we may see strong increase in volume on July 20-21, 2016. This volume surge occurred at the top of the the current up-move and it is clearly defined on all indexes (except S&P 500). This volum surge looks very strong on hourly charts especially on the Nasdaq 100 index - see chart below.
Chart: Nasdaq 100 index volume chart - 1 bar = 1 hour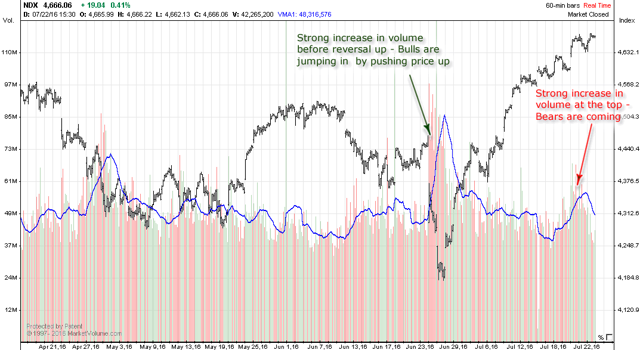 chart courtesy of http://www.marketvolume.com/charts/
This strong increase in volume on hourly index charts indicate that short-term Bears started to jump in. These short-term bears started to equalize the Bullish pressure on the market and we already may see the halting of up move and past week was mostly flat.
At this point of time, we do not know what attracted the short-term Bears to start selling. It could be the coming next week earning reports which includes Apple (NASDAQ:AAPL) stock which is traded down and has high whitening in many indexes. It could be a fact that Russell 2000, Nasdaq 100 and NYSE Composite indexes came close to their all history highs (strong resistance level). Or maybe short-term Bulls who bought at the bottom of Brexit Vote event decided to fix profit. It could all of the above or it could be something else. We do not know the cause of this increase in volume on hourly index chart - we can only speculate about it. What we knowis that there is strong increase in action seen on hourly charts. The only explanation to that is that that the bears are coming in and they are increasing their pressure - that is why we have a volume surge. You may go deeper into interpretation of volume surges as why this is a signs of the Bears coming to the market at
http://www.marketvolume.com/advance_decline/overbought_oversold.asp
Such increase in Bears activity (volume surge to the price up-move) may lead to a small (at least) reversal down next week. Still, the volatility is at very low level and we do cannot expect any strong reversal. Even the next week brings us a correctional move down, because of the low volatility level, most likely we will see the Bulls (who missed post-Brexit rally) jumping in and pushing indexes back to the current top levels.
Disclosure: I/we have no positions in any stocks mentioned, and no plans to initiate any positions within the next 72 hours.