Second time since 2010, the Apple (NASDAQ:AAPL) stock opened up and closed higher on the date of the iPnone release. First time it was in 2011 when the iPhone 4s released. Second time was today. The main difference is that on October 14th of 2011 (release of iPhone 4s) the stock opened with 2.05% gap up and then continued to rally up by closing the trading session 3.33% up. Today, during the iPhone 7 release, the stock opened 0.16% up and it ended 0.65% up. Not a strong, but still, it moved up.
On the AAPL stock chart below you may see the development of today's event.
Chart #1 AAPL stock chart (1 bar = 1 minute)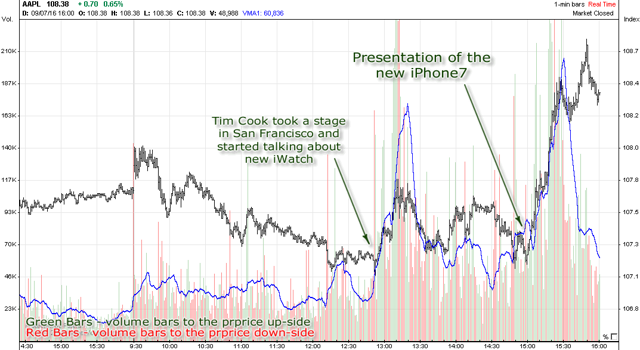 source: www.marketvolume.com
The AAPL stock started today's trading session slightly up - impatient "Apple loyalist" entered the market on the positive note.
Without any trouble (no changes in average volume), the Bears pushed the stock lower - continuation of yesterday's decline.
Closer to 13:00, as soon as Tim Cook took a stage in San Francisco and started the new iWatch 2 presentation, the stock started to rally up.
Then the talked turned to Nintendo and other stuff and the Bears pushed the stock down into the negative territory again.
As soon as new iPhone 7 presentation started (around 15:00) another rally pushed the stock into positive territory.
It is worth mentioning that both rallies up (after 13:00 and after 15:00) passed on extremely high volume (see chart above) when we compare to the average volume before it. That tells us that Apple's Bulls were very strong and jumped in with a full force. However, volume is 2-side transaction and for every buyer there is a seller. The Bears also started to satisfy the demand of the Apple's Bulls by dumping to them shares. The Bears were able to limit today's Apple's fans excitement to only 0.65% of stock's advance, however, they where not able to beat them. The good news is that Apple fans where able to push the AAPL stock up. The bad news is that it went on very high volume - while "Apple's loyalist" where pushing the AAPL stock up, other investors where actively dumping this stock.
Everybody understand that today's AAPL stock intraday rally (0.65% daily advance cannot be considered as a rally up) was not based on any sale numbers, earning numbers or any other fundamentals. Current intraday up-move is solely based on the hope that new iPhone features will attract a consumer and we will see better than expected iPhone 7 sale numbers in the future - that new iPhone 7 will help the AAPL stock to break up.
Over the next couple trading session we will see investors starting to digest the new iPhone 7 features by comparing them to iPhone 6s. We already may see something like :
"Apple's new $159 AirPods only run for five hours, so on a flight from the East Coast to San Francisco, they'll run out somewhere over Nevada."
Source: http://finance.yahoo.com/news/apple-just-demonstrated-why-people-hate-the-tech-industry-205324013.html
and there will be more.
End of his week and the next week could be very tough for the Apple. This company too big and iPhone is extremely popular. As the result, there will be a lot of talks and there will be a lot of digging, mostly from the professionals. As always, media will focus more of their attention on the negative stuff.
When the first iPhone hit a customer (pre-order starts on September 9th of with expectation to reach a customer on Sep 16th)
www.apple.com/shop/buy-iphone/iphone-7
we will have real customers reviews. We will know whether they like or they are disappointed in this upgrade. Again, media including YouTube will be flooded with new iPhone reviews. From that point the AAPL will be under an additional pressure. As always with a new products, there will be some bugs (at least in OS). The history shows that the AAPL stock was always under the negative pressure after a new iPhone release.
seekingalpha.com/instablog/47498064-vico...
The new iPhone 7 should not be an exception. The Apple company is bigger than it was before. "The bigger" and "more famous" always go in parallel with "more pressure" and "higher expectations".
If iPhone 7 is able to survive this after-release first pressure with minimum losses in the AAPL stock then, when 3Q earnings are released, we may expect positive and of a year for the AAPL stock. If we have a lot of negative reviewers which may affect sales, 3Q earnings and iPhone sale numbers may disappoint the investors and end of the year could be bad of the AAPL stock.
At the end we should remember, that Apple is big and strong company. Even if iPhone 7 brings disappointment and AAPL stocks declines strongly, from one side it is a good news as it will be an opportunity to invest into a great company at low.
Disclosure: I/we have no positions in any stocks mentioned, and no plans to initiate any positions within the next 72 hours.