As time goes by, more car maker giants are the entering electric vehicle market. There is still plenty of time for the Tesla to get as much as possible of the auto market shares under their wheels. With the announce of the new BMW model coming in 2020 the pressure is increasing.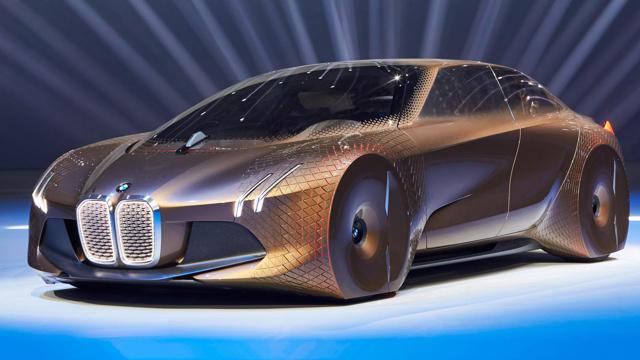 There is no doubt we will see growing car sales number in the Tesla 3Q earnings report today after the market closes. However, the main question the investors will be looking an answer for is when Tesla Company starts to deliver a profit and how Solar City will fit into the Tesla's business.
For more than 2 years the Tesla stocks is bouncing from the $190 support level. For more than six month the Tesla stock is in well defined down-trend (see the chart below). Will the stock break up from its' bearish mid-term trend or will it dive below the long-term support?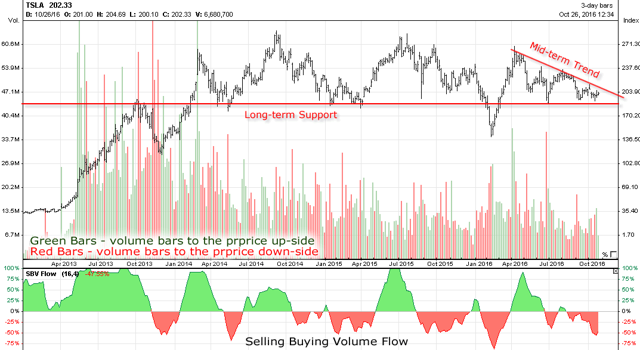 Chart courtesy of http://www.marketvolume.com/stocks/
As Q3 earning report could seem important, the reality is that it is important for a short-term traders. If you are long-term trader you have to look at the big (long-term) picture. This picture is very simple. Tesla is going to stay on the Market for a long time or it is a short-term company.
The answer is obvious and simple - Tesla is going to be around for a long time. Even in worst case scenario, it will be bought out. Tesla has the technologies, production and customers - something that many companies would be happy to acquire.
Even the TSLA stock has been moving mostly side-way over the past two years, from the 10-20 years time prospective, we are still at the beginning of the EV revolution and there is a lot of up-side in a long run.
The problem is that we are impatient - we want to see some profit now. However, even we see negative Tesla's earning report and its stocks crosses below its long-term support line, there are a lot of cash on the hands of investors who will be buying and who will reverse this stock up.
At the end, if you are going to retire in 20 years and you are have Tesla stock in your retirement plan, it does not really matter whether you bought stock at $150 or at $200. If you are a short-term player, you may try to play on the Tesla's volatility.
Disclosure: I/we have no positions in any stocks mentioned, and no plans to initiate any positions within the next 72 hours.