We may consider that Presidential market fewer is over. We have trading volume on the major US indexes returning to the pre-election levels. One of the most positive signals is that volatility goes down and so far we have not seen a strong down-move followed a strong volume surge on November 9-14, 2016 (see S&P 500 daily volume chart below).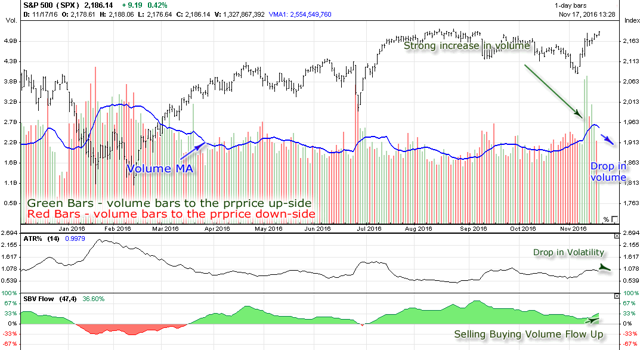 The drop in volatility and trading volume is clearer on the intraday charts (see the S&P 300 intraday 30-minutes volume chart below) and, if nothing negative comes around, it will be more visible on the daily charts in a couple of trading sessions.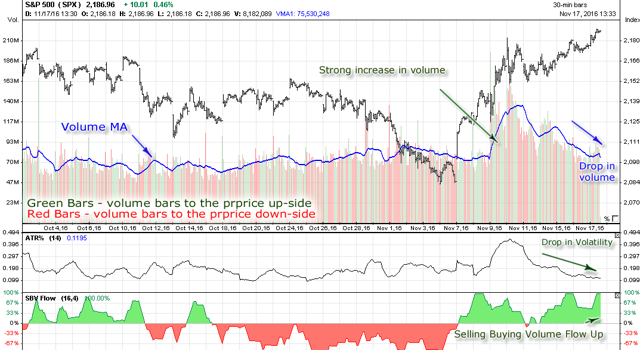 Charts courtesy of http://www.marketvolume.com/charts/
It does not mean we will not have a correctional reversal down. Most likely we will have, however, with dropping volatility, the odds are increasing that this will be a modest correction only. If the market manages keeping a positive momentum until Black Friday and Cyber Monday Sales, then, despite bad performance in September-October, we still may expect an end-of-year rally.
December's interest rate increase, is the only event which may possibly bring increase in volatility and cause more or less serious reversal down. However, inspired by pre-election Presidential promises, the investors may pay less attention to the increasing rates.
Disclosure: I/we have no positions in any stocks mentioned, and no plans to initiate any positions within the next 72 hours.