Apple (AAPL) one of the most favorable companies on the market. People like it, traders like it, market likes it. The AAPL stock has one of the highest weighting in the Nasdaq 100, DJI, S&P 500 and Russell 1000 indexes. Many portfolio managers have this stock in their arsenal. Despite the sluggish performance over the past two years, this stock is still have huge base of loyal investors who still believe in the "rising of the fallen star".
Can Apple stock recover from its bad performance and start to shine on the market or Apple's time is over and it will be just an ordinary stock? Below are some cons and pros to consider with respect to the Apple future:
Cons
For the past 5 years the Apple is following the other technology companies. It does not create anything new. It is not a leader in the technology industry any more.
With all due respect, the current company's management does not have a vision for the company's future. With loss of Steve Jobs the company lost it. The company may need new management, new leaders who can look into the future.
Most of the Apple profit relies heavily on the iPhone sales.
Apple company abandoned self driving car.
Apple does not want to move in the Microsoft Surface pro direction.
It does not look like Apple is rushing into a cloud business.
The company continue pursue the idea of closed environment (phone, computer, TV...). This is dying direction - customers like flexibility and freedom of choice - the Apple is still trying to lock a customer in limited environment.
Main focus of the company is around iPhone gadgets which are useless without iPhone: iWatch, earbuds and etc. It looks like the Apple is trying to squeeze everything possible from iPhone and does not move in a new direction.
Apple's products are quite expensive and depend on the average consumer's welfare greatly.
A part of Apple's profit depend on the overseas sales, with rising dollar, those sales could be hurt strongly, especially taking into account that a consumer may now find a descent Android device within $100 range.
New Government's desire to change all trade agreements may seriously jeopardize the Apple's overseas sales.
As of now, the Apple did not make any serious acquisitions. When the major market companies are trying to diversify and buy other businesses, the Apple company is just sitting on a pile of cash and watching.
Apple's stock buybacks strategy reached it's limit. The Apple stock has been already downgraded by Russell 1000. Further buybacks may hurt Apple's listing in other indexes.
Pros
Apple is a big company and it cannot be destroyed. Yes, AAPL stock may crash into a deep correction, however, the company cannot be "killed" easily.
Apple's products are high quality products - while it does not lead in innovations it still leads in the quality of its products.
Apple company has a lot of cash and it has intellectual and financial resources practically to do anything.
Apple is starting to work in the Virtual Reality direction - better later than never.
The company is starting to work in the Amazon Echo direction - better later than never.
The new Government's desire to cut tax rates for corporation which may increase the company profit.
Apple has a huge base of loyal customers. There is a big aura around Apple's products. Even Apple creates something worthless, it may sell it to its loyalist without a lot of troubles.
Apple has one of the best marketing team on the market. This team knows how and when to spread rumors and how to create a lot of noise around nothing.
While other companies buys each other, the Apple invest overseas (http://www.nytimes.com/2016/05/14/technology/apple-uber-didi-chuxing.html?_r=0) - with time these Apple's investments may pleasantly surprise everyone.
Even before the recent iPhone's release, there were alredy a lot of rumors around coming new iPhone in 2017 - it could be a surprise.
Below you may see the Apple stock 4-year chart.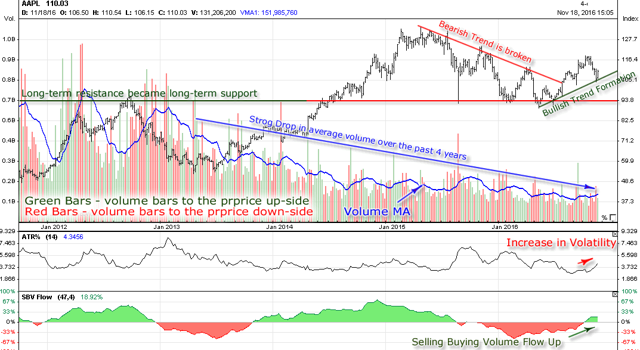 Chart courtesy of http://www.marketvolume.com
Again, the same as with general points, we have positive and negative signals in the AAPL technical analysis.
Positive
Mid-term bearish trend line was broken in July of 2016 - since tan the AAPL stock is above it.
The AAPL stock bounced strongly from its long-term $90-94 support which was long-term resistance prior 2014.
We may see the formation of a new Bullish trend.
We see positive money Flow on this index - Selling-Buying Volume Flow is moving up.
Negative
We see strong drop in average trading volume on the AAPL stock. Current AAPL stocks liquidity could be compare to this stock's liquidity 30 years ago. However, this stock still remain in the top 15 of the most traded stocks on the market:
http://www.marketvolume.com/stocks/mosttradedyear.asp
Drop in trading volume could be seen all across the market - it is mainly caused by the massive stock buybacks which lead to the drop in shares outstanding,
We see increasing volatility and increasing volatility was always a sign of uncertainty and it points to the increasing odds of decline.
As always, we have plusses and minuses. Bullish traders may find positive signals and Bearish traders may find negative signals.
The reality will depend a lot on the overall market sentiment. If the market starts new Bullish trend, overall bullish mood will push the investors to focus on the Apple's positive signals. If the market continues to move side-way or it starts to decline, the Apple's investors will focus on the negative signals.