Black Friday and Cyber Monday are over. Yes, we still have Cyber week and Black Friday week extensions, however, we already my see some results.
The same time last year, we already had reports of amazing sales numbers - this year everybody are silent. This is not a quarterly reports and the companies are not required to release their Black Friday and Cyber Monday sales numbers. However, we know, when the numbers are good and when the numbers are amazing, the companies are screaming about it on every corners by trying to attract the investors to push their stocks higher. Not this year. We do not hear a lot from Amazon (NASDAQ:AMZN), Apple (NASDAQ:AAPL) and other companies. Thanksgiving sales season is not as good as it was a year ago and it looks like the companies are not willing to focus the investors' attention on it.
Most likely, what we get is the statements that sales were not as good as a year ago but they beat the expectation (as always expectations are lowered). However, we know that if Thanksgiving sale season does not deliver any good numbers, we may expect forth quarter earnings reports to be not very "pleasant" as well. The FED's rate increase is also knocking the door.
At the same time, the investors encouraged by the future changes (if made by the new Government) would benefit greatly corporations' profits and we may see the investors ignoring negative news and negative numbers by focusing more on positive stuff (one of the Bull market's characteristics).
The post-Presidential Election rally started to lose its momentum.. We do not have any correction yet, however, the S&P 500 does not move up either: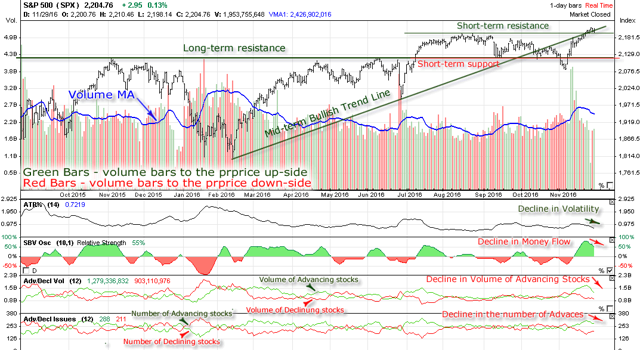 Chart courtesy of http://www.marketvolume.com/quotes/?s=advancedecline
As of now we see following signs on the S&P 500 index
Decline in money flow - see Selling Buying Volume Flow on the chart above.
Decline in volume of advancing stocks - see advancing and declining volume on the chart above.
Decline in the number of Advancing stocks (Advances) - see Advances and Declines on the chart above.
It may look disturbing, however, the volatility declines as well and this is a sign of calm and confident investors.
It is normal to have the rally up halted at some point - it cannot go forever - and it looks like we are facing it. We may see side-way range trading. We may even see a shallow correction down. However, low volatility and long-term Breadth data (see report at https://seekingalpha.com/instablog/47498064-vicorka/4936707-market-breadth-weekly-update) suggest strong dominance of the long-term bullish sentiment and if we see any weakness we should not expect it to be strong at this moment.
Disclosure: I/we have no positions in any stocks mentioned, and no plans to initiate any positions within the next 72 hours.