The past week was negative. Lead by the technology sector the stock market had a modest correction - the Nasdaq 100 index suffered 2.68% loss over the week. On the other hand, the DJI index moved 0.11% up by the end of the week.
When we look at the Breadth data on the major indexes, we see following changes in the market sentiment:
71% of the S&P 500 index listed stocks are bullish (3% lower than as a week ago);
80% of the DJI index listed stocks are bullish (3% lower than as a week ago);
72% of the Nasdaq 100 index listed stocks are bullish (6% lower than as a week ago);
73% of the Russell 2000 index listed stocks are bullish (3% lower than as a week ago);
64% of the NYSE index listed stocks are bullish (2% lower than a week ago).
Source: http://www.marketvolume.com/quotes/highlowrangechart.asp
Note: Bullish stocks are stocks traded closer to their 52-week highs and bearish stocks are stocks traded closer to their 52-week low.
We see that the past week brought some weakness into the Breadth sentiment, however, the longer-term Bulls remains strong. The weakest sentiment is on the NYSE Composite index, still, 64% of the NYSE stocks are bullish and this means Bullish market Breadth sentiment.
The Bullish longer-term sentiment does not mean we will see bullish trading next week. In order to estimate the odds of bullish trading next week, we have to take a look at the lower time-frames. As of now, we have following Breadth numbers with respect to the S&P 500 listed stocks traded relatively to their Moving Averages:
291 stocks are above their 200-day SMAs - 40 less than a week ago,
268 stocks are above their 120-day SMAs - 30 less than a week ago,
297 stocks are above their 50-day SMAs - 41 less than a week ago,
285 stocks are above their 20-day SMAs - 99 less than a week ago.
On all timeframes we see more than half of the S&P 500 stocks traded above their Moving Averages - the Bulls are in charge on all timeframes. The Breadth data point the higher odds of having a positive week.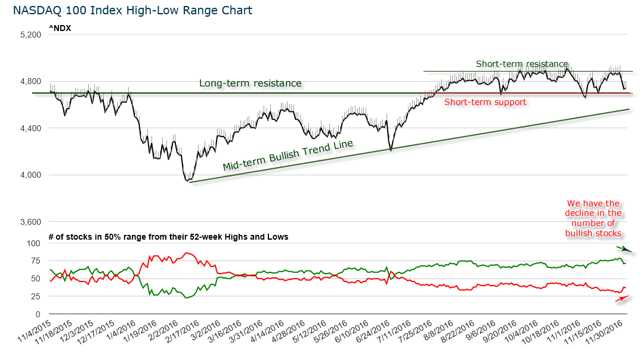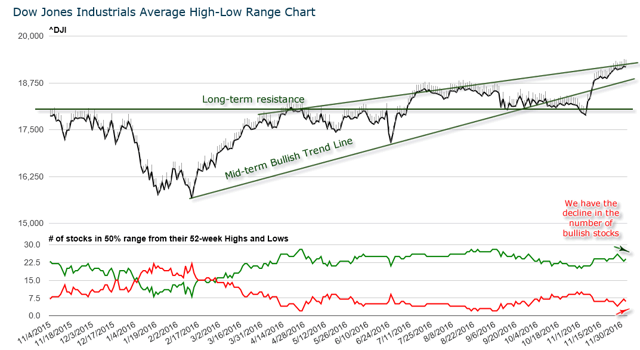 charts courtesy of www.marketvolume.com/advance_decline/
Despite positive Breadth data,we are facing the FED's rate increase decision in coming weeks. Many investors expect the market to react negatively on that event. Also, the Black Friday and Cyber week sales are over and we did not have many encouraging sales numbers so far. Even we are facing the Christmas sale season, there are news that may push the market down. However, so far, we see the investors focusing more on the positive stuff. Under such sentiment, coming changes under the new Government may overshadow all negative market news and so far, the Breadth data confirm that such possibility is real.
When we check volume data, we see overall decrease in average trading volume. However, we witnessed strong volume surge on November 29-30th of 2016 during the market decline and this is good. This is normal volume behavior during the Bullish trend - when price declines, Bulls attracted by price drop are running into the market. These Bulls are eager to buy and they do not want to wait for a deeper decline - they fight the Bears and they generate strong volume surge. From this bearish volume surge we know that there are a lot of Bulls who is just waiting for right moment to start buying.
Under such volume behaviousr, even the indexes continue to decline next week under coming FED's rate increase influence, any further decline will attract more Bulls and we will see stronger volume surge and we will have a reversal up. Price cannot decline deep down when the Bulls are eager to start buying on any shallow correction down.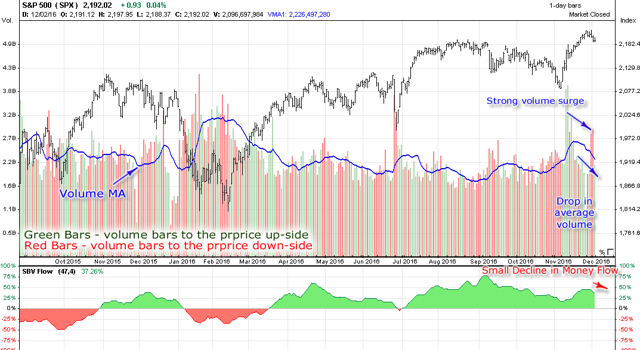 With respect to volatility - we see further decline. The 14-day ATR (Average True Range) on the S&P 500 dropped to 0.55%. This is strongest signal in the favor of the long-term Bulls. Such low volatility is a sign of a long-term Bullish sentiment and any move down should be considered just as a correction within longer-term Bullish trend.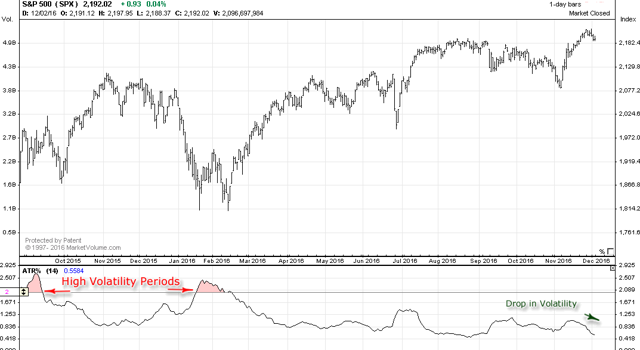 charts from: www.marketvolume.com/charts/
Despite negative trading past week, long-term Breadth data and volatility data continue to indicate the dominance of the Long-term Bullish sentiment. Volume and short-term Breadth data favors the Bulls also by suggesting the good odds of having a recovery from a shallow correction we just had.
Disclosure: I/we have no positions in any stocks mentioned, and no plans to initiate any positions within the next 72 hours.