Holiday season started. Only couple of days left until Christmas and then New Year.
2015 Holiday season went on low and relatively high volatility. We also had decline in money flow in December of 2015 - see the SBV (Selling Buying Volume) Flow on the S&P 500 volume chart below.
This Holiday season market is different. We already see a decrease in trading volume and drop in volatility. We also have positive increasing money flow - see the chart below.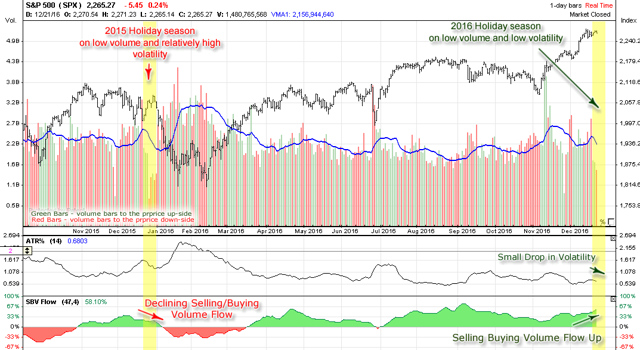 Chart courtesy of http://www.marketvolume.com/
Most likely, due to the low volatility and low volume we will not see a lot of action until January 2nd of 2017. The post presidential election rally is broken and it is difficult to expect any strong moves during those several days left until the end of the year.
The bullish more aggressive investors inspired by the election of Mr. Trump already entered their positions and they are waiting. There could be more inspired by Mr. Trump bullish traders, however not now. Bullish conservative investors could be waiting until the end of January of 2017 to see whether there are any moves toward pre-election promises.
November/December Mr. Trump's rally wasbased on the hopes of tax cuts and regulations easing - this would be beneficial to the corporations and it would increase the corporations' earnings. However, we have to understand that at this moment, this is just a hope. It is not going to happen tomorrow. We certainly will have nothing in December. Respectfully, 4th quarter earnings and 2016 year earnings most likely will not differ from 3rd quarter results - which were not very positive.
Tax cuts and regulations easing, most likely, we will not come it in the 1st quarter of 2017 either. Respectfully will not have increasing expectations for the 1st quarter as well. That is why more conservative Bullish investors could be waiting until the end of January of 2017. There is a lot to consider. From one side we have a hope for tax cuts and regulations easing. From other side, we already had FED's rate increase and more of it coming in 2017. There are also other points:
Inflation.
Low commodity prices.
Government Bonds are trading at high.
We have been promised another 3 interest rate hikes.
We may not see a lot of positive 4th quarter earning reports.
Stock are already high priced and there will be question how far up can they go.
Renegotiating of trade agreements may damage those corporations that heavily depend on export.
Tax cuts may lead to higher Government debt, higher budget deficit and etc.
As you see, there is a lot of factors to consider, especially in the coming months. However, despite all the negative factors, from the chart we see positive money flow. We also see that there are a lot of Bulls and they are eager to jump and start buying. Most likely we will see side-way range trading the rest of 2016 year. If in January of 2017 we see a correction due to uncertainty from any of the above factors, the Bulls will jump in and will hold the market from a strong decline.
Disclosure: I/we have no positions in any stocks mentioned, and no plans to initiate any positions within the next 72 hours.