By looking at volume on the major US indexes (S&P 500, Nasdaq 100, DJI, Russell 2000 and NYSE Composite) we do not see a lot of action. The indexes are flat and
volume is flat on the Russell 2000 index,
small increase in average daily volume on the Nasdaq 100, S&P 500 and NYSE Composite,
volume surge on the DJI index on Friday January 20, 2017.
Signs of weakness could be seen on the Russell 2000 index. Here, we have negative Money Flow and during past week we had higher volume on negative days. This point to higher negative pressure. However, so far, the Russell 2000 suffered a modest decline over the past 2 weeks. Yes, bearish pressure is stronger on this index, however, the Bears are not very strong. It more look like the short-term traders are taking profit after a strong up-run in November 2017.
The sentiment is different on the other market indexes. We had modest increase in volume on the DJI index caused by 2.18% decline on the General Electric (NYSE:GE) stock on 1/20/2017. For the DJI index it was an isolated event. Ony GE stock declined strongly on that day. There were another two negative stocks Wal-Mart (NYSE:WM) and American Express (NYSE:AXP), however, the rest of the DJI stocks were positive and DJI index was positive as well:
http://www.marketvolume.com/heatmap/stocks.asp?s=DJI
From one side, such increase in DJI volume is a negative point. From the other side, since this is an isolated incident and the GE stock decline did not generated any hesitations in other stocks, we may consider that this is overall a bullish signal. This event show us that the we have corrections on the single stocks, yet, on the background of overall positive sentiment, these isolated corrections do not bring a lot of damage to the market - they are not even able to push the indexes down.
The S&P 500 index volume also displays a small increase in trading volume suggesting that the investors are coming back to the market. We also see increase in trading volume on positive days when compared to volume on negative days. This is a positive sign suggesting an increase in Bullish pressure. On the other hand NYSE composite index, show increase in volume on negative days which suggest an increase in Bearish pressure.
Overall, when we look at volume behavior on market indexes, we see an increase in odds of having a correctional move down. However, the bearish short-term signals are weak and long-term Bulls are strong. Also, we have very low volatility. Furthermore, should we see any decline during the coming week, most likely, it will be a shallow decline - retesting the lows set on December 30, 2016.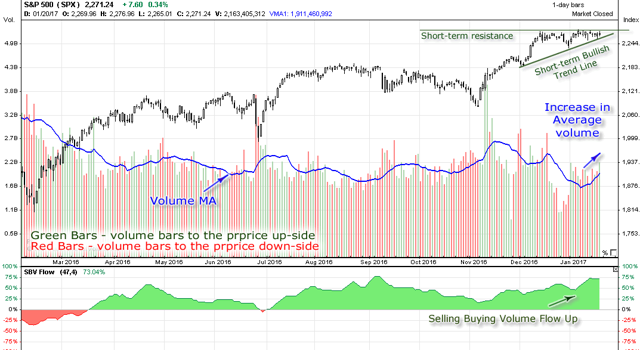 Chart courtesy of http://www.marketvolume.com/chart/
Disclosure: I/we have no positions in any stocks mentioned, and no plans to initiate any positions within the next 72 hours.