Despite a shallow decline past, week did not add a lot to volatility. The S&P 500 14-day ATR moved by 0.06% to 0.63% by the end of this week only. Usually a decline pushes volatility up - not this time. The market remains to be calm.
On the other hand, past week's recovery brought us an increase in trading volume. This is where it becomes interesting. As a rule we see higher volume during correctional moves down, now we witnessed higher volume during the recovery.
This is not t the first time. On January 24-26, 2016, we also witnessed an increase in volume to the price up-side. By following the same pattern we may say that if volume starts to decline we may expect another move down.
To explain what is happening we have to take a look at the S&P 500 volume behavior (see the chart below) from supply-demand (bullish-bearish pressure) prospective:
1. The Bulls are strong and they want to push price up.
2. However, as they pushed price up, the Bears increased their pressure - on January 24-26 and now on January 31 - February 3. As two forces collapsed, we got increase in volume.
3. First time, on January 27th, the Bulls yielded - we saw decline in volume and S&P 500 declined.
Such behavior usually witnessed when price up-move runs into a big concentration of stop-loss orders (January 24-26). In our case, it could be the orders of the previously bullish short-term traders who is willing to take profit (sell) after the November 2016 - January 2017 up-move. The concentration of these orders to sell is big enough to stop the Bullish pressure. As soon as the Bulls stepped back and price declined, we got decline in volume - as price dropped from the dangerous levels, selling orders were not triggered any more. After that, the Bears did not try to push price lower - the Bulls had no trouble to reverse the S&P 500 up on January 31st.
Now, the S&P 500 is back at the top. We have got increase in volume again - there are still a lot of selling pressure. We know that the Bulls are not willing to fight the Bears. They prefer to shake them off as they did it before (on January 24-31). The price may continue bouncing from the current short-term resistance until the Bulls see that there are no more Bears on their way up. Furthermore, should we see a decline in volume, we should expect another shallow, short-lived correction down.
Also, instead of the shaking the Bears off, the Bulls may decide to break through currently increased Bearish pressure (selling order of short-term traders). In this case we will see more increase in volume as S&P 500 breaks above the resistance. If it occur, there will be no force to stop the Bulls from pushing the price higher.
Overall, the market picture is optimistic. Apparently, whether we will have another shallow correction down or not, the Bulls are stronger and they will push price higher at the end.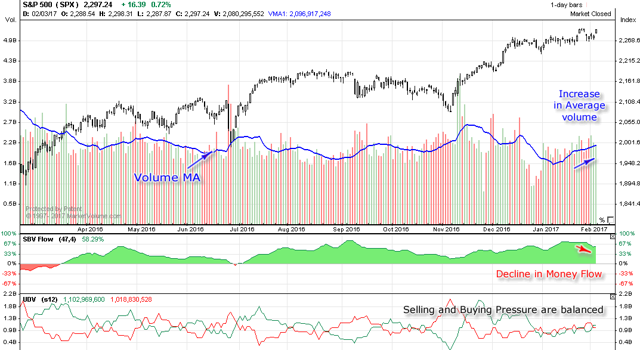 Chart courtesy of https://www.marketvolume.com/charts/
Disclosure: I/we have no positions in any stocks mentioned, and no plans to initiate any positions within the next 72 hours.