All eyes are on the coming FED's rates increase next week. We even see the weakness on the market because of that.
The reality is that we should not worry much about that. Below you may see the chart of historical FOMC rate changes and S&P 500 index back to 1998. Current FED's rates are still at their historical lows. The rates are still lower than they were at the bottom of the 2000-2003 stock market recession!!!
One of the requirements for the market to turn into a recession or dive into a crash is to have high rates when when borrowing is difficult. Until then, no matter how overbought market is, no matter how overpriced stocks are, no matter how many non-profitable bubble companies we have on the market, for as long as investors and corporations have the ability to borrow at low rate, the market will stay at the top.
Chart source: https://www.marketvolume.com/quotes/economic_report.asp?release=fomc_rate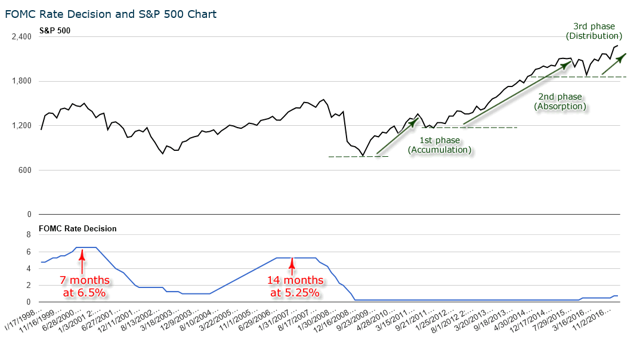 We could be in the last final stage of the Bullish market (according to the DOW theory). However there is still a along way to go. Only when FED's rates are around 3% and only when we see that FED stops rising rates - when they see further rate increase will crash the market - only then we may consider the end of the current, already 8-year Bull market.
Disclosure: I/we have no positions in any stocks mentioned, and no plans to initiate any positions within the next 72 hours.