This week was positive, however, the advance was small. However, there is one point worth attention. This week's advance brought increase in trading volume to market indexes (S&P 500, DJI, Nasdaq 100).
For two months, the indexes have been trading side-way. Prior to this week the main characteristic of this side-way range trading was increase in volume during price decline and decrease in volume during the price advance. This week, we saw a radical change in this behavior. This week, the market moved up and it moved up on increasing volume. It may not very notable on the daily index charts (see S&P 500 volume daily chart below), yet, it is evident if you check the intraday index volume charts (see DJI volume hourly chart below).
The most important point is that this increase in volume occurred when the indexes (S&P 500 and DJI) were at (bounced from) their 2-month support line. It tells as that a new wave of Bulls is coming to the market. We do not know what motivated these Bulls to start buying and to bring increase in volume, however, it looks like (based on level of volume increase), these Bulls may have the power to push the S&P 500 and DJI higher to the 2-month resistance level. This is the main factor which makes us believe in a Bullish week ahead of us.
Charts courtesy of https://www.marketvolume.com/vsa/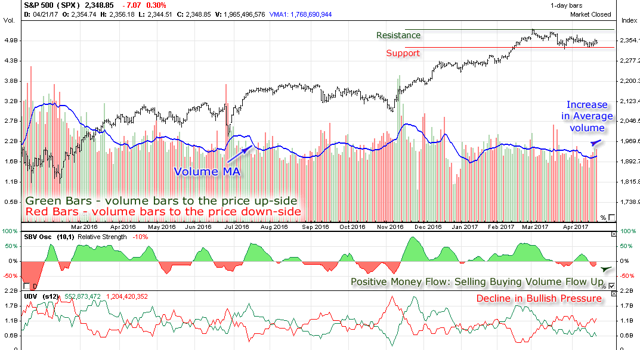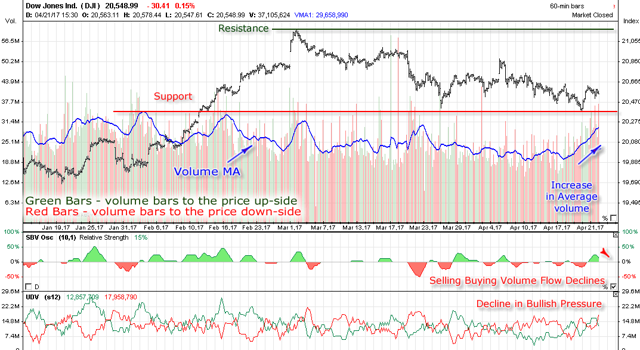 Disclosure: I/we have no positions in any stocks mentioned, and no plans to initiate any positions within the next 72 hours.