Nvidia (NVDA) is a great company and it made 36% so far this year. For several years this stock was performing great and may are exited about this stock. There is no doubt that this stock has a great future. With artificial intelligence breaking through the technology, the video recognition hardware and software will be in high demand for many years ahead. It is not just about self-driving cars. Slowly, step by step it will be infiltrated all across the technology and our everyday life.
While this stock could be a great choice for a long run, over the past month we witnessed some strong red days on this stock. The question is whether this stock still has a steam to continue this year rally, or it has to make a step back before going higher.
Some statistics:
This year this stock made 36%.
These 36% were made in May-June of 2017. Prior to that, this stock was moving side-way.
In 2016 NVDA stock made 223%,
In 2015 NVDA stock made 62%,
In 2014 NVDA stock made 28%,
In 2013 NVDA stock made 35%.
Looks like a great stock to invest, however, the last two month of strong up move brought up some questions about the possibility of stepping down.
More statistics for this stock from https://finance.yahoo.com/quote/NVDA/key-statistics?p=NVDA :
Diluted EPS: 2.98
PEG Ratio: 4.03
According to the Benjamin Graham formula, this stock's Intrinsic Value is around $70 per share. With current market price around $145 per share, this stock is considered as heavily overpriced (source: https://www.marketvolume.com/stocks/overpriced_bg.asp?s=NDX).
The fact that this stocks is overpriced does not mean it cannot continue to run up. For as long as there are investors willing to buy at the higher than offered by the market price, the stock may go up. Here, we come to the question whether this stock is overbought? Are there enough investors willing to buy NVDA stock and push it higher? To answer this question, we have to check trading volume:
Average trading volume on the NVDA stock over the past 2 months (May-June of 2017) was 23,642 K shares per day.
Average trading volume on the NVDA stock before that (January-April of 2017) was 15,673 K shares per day
We had 50% increase in trading volume over the past months.
Over the past 2 months, $147 B (volume x price) changed hands on this stock. This is close to the flow of the money ($162 B) on this stock over the entire 2016 year. Over the past 2 months, some investors dumped $147 B of NVDA stocks to other investors. This is huge selling pressure. Only investors who invested into this stock at least in early 2016 and who made more than 100% on this stock had the volume to dump such huge amount of shares.
At this point of time, we have two group of investors: first group is pocketing the profit (those who bought in 2016) and second group is buying at the top with a hope to pocket profit in the future. The problem is that the second group could become exhausted very soon. The first group on the other hand may grow - more investors who bought before, by looking at the current volatility may decide to fix a profit at the top.
By technical analysis criteria, because of the huge volume traded to the price up-side over the past 2 months, the NVDA stock is considered to be heavily overbought.
In summary, we have heavily overbought stock which is also is heavily overpriced at this moment. The logical output is to expect a deep slide down. The correction down should be strong enough to attract back those institutional investors who was dumping their NVDA investments over the past 2 months.
Chart courtesy of https://www.marketvolume.com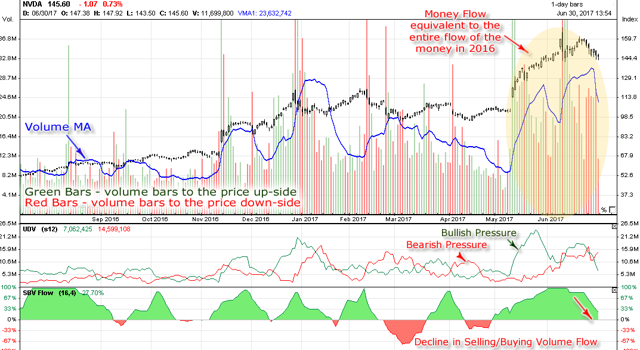 Disclosure: I/we have no positions in any stocks mentioned, and no plans to initiate any positions within the next 72 hours.