The perfect "Sell" signal (just in time) was generated by the SBV (Selling Buying Volume) Flow indicator today at the market open. After that, the S&P 500 index declined nice and strongly. It is the second time over the past two weeks as SBV Flow generated perfect bearish signals.

According to the Simple SBV trading system described at https://www.marketvolume.com/sbv/sbvflow15.asp, we have to wait when SBV Flow crosses above zero line to close a short trade and open a long trade. However, we understand that this system is oversimplified - it does not have a stop-loss strategy, it does not assume staying in cash and it does not incorporate other indicators or other analysis.

There are a few points difficult not to notice:
Despite summer-vacation season, we do not see decline in volume and decline in volatility. Today, the S&P 500 index was traded on high volume.
Today we saw extremely low Advance decline issues and Advance/Decline Volume readings on the S&P 500 index.
Today, the S&P 500 Advance/Decline volume ratio slid to 0.04 and Advance /Decline Issues Ratio declined to 0.05%. Last time such low Advance/Decline data were seen two and half years ago on 12/10/2014 (Source: https://www.marketvolume.com/advance_decline/midterm_uptrend_sp500.asp). Such extremely low Advance/Decline readings are very rare and they are usually recorded at the bottom of corrections, especially when they are accompanied by high bearish volume. This is considered as a strong signal that the bottom of the current correction is close.

Volume and Advance/decline indicators are not lagging but leading indicators. They predict coming reversals. When we see signals alerting about coming trend reversal, it allows us to reduce a lag on the other indicators and close short position (open long position) earlier on smaller lag. Taking this into account, we not have to wait when SBV Flow crosses above zero line to close current bearish signal, we may consider exiting current short position earlier when the first signs of a reversal are spotted.

S&P 500 Selling-Buying Volume Chart
Source: Simple Trading System - SBV - MarketVolume.com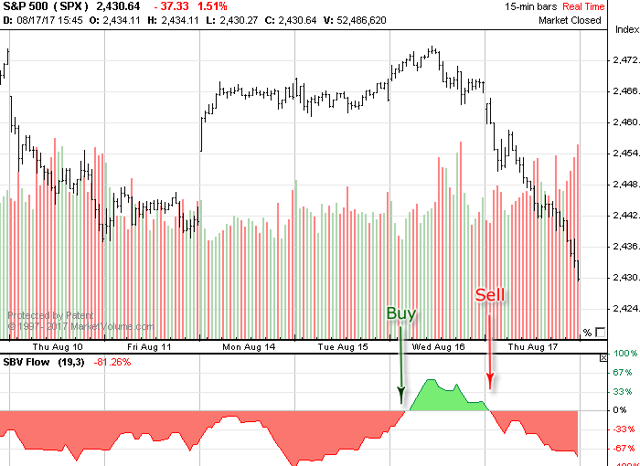 Disclosure: I/we have no positions in any stocks mentioned, and no plans to initiate any positions within the next 72 hours.