Market Morning Sentiment - May 24th
TRENDING: $IGN |$AAPL |$SPY |$CSCO |$SRPT
With the prospect of a Fed interest rate hike in June, investors sold off some of their yield-play stocks on Monday and utilities fell 1%. The Treasury yield curve also began to flatten as anticipation of a rate hike grows. Market Sentiment on the S&P500 SPY ETF points to more 'risk aversion' behavior among traders, which is likely to continue until uncertainty around the Fed rate decision is quelled.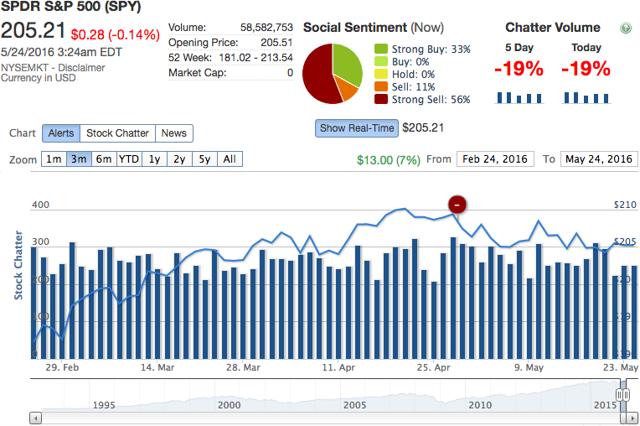 Influencer of the Day

SENTIMENT LEADER: $GALE
$GALE Social Sentiment and Chatter Volume
Strong Buy: 73%
Galena Biopharma ($GALE) secures $23.4m in debt-financing, presents positive data
$GALE is a biopharmaceutical company that focuses on the development and commercialization of targeted oncology therapeutics that address unmet medical needs. $GALE aims to prevent cancer recurrence in survivors by harnessing the power of the immune system and has multiple mid-to-late stage clinical assets. Its lead product candidate NeuVax™(nelipepimut-S) recently recorded its 70th qualifying disease free survival event in its phase 3 PRESENT clinical trial. An interim safety and utility analysis of the trial is expected at the end of Q2. Check out $GALE 1Q16 financial results and corporate update here.