Market Morning Sentiment - May 26th
TRENDING:$SRPT |$AAPL |$BABA |$SPY |$IGN
The S&P500, DJIA, and Nasdaq continued their gains from yesterday finishing up 0.70%, 0.82%, and 0.70% respectively with the financial (+1.0%) and technology (+0.7%) sectors leading the way. Of note today, the Department of Energy released positive stockpile data for crude oil and Greece received approval for its next bailout tranche. Market sentiment on the S&P500 continues to point to more downside and 'risk aversion' among investors with important decisions from the Fed, the UK EU referendum and US election all on the horizon.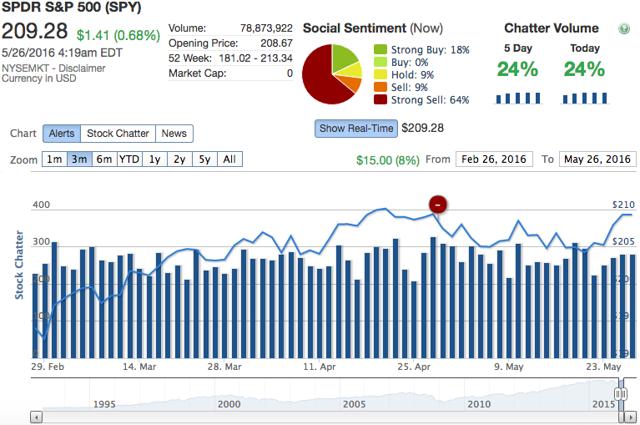 Influencer of the Day

FEATURED TOPIC
Bias Information and Trending News in Social Media
Over the past couple of weeks, Facebook ($FB) has been hit with allegations that its team responsible for the trending topics section routinely and deliberately suppressed conservative views. The trending topics section appears on the top right corner of the site and is some of the most valuable real estate on the entire Internet.
The trending topics section is currently selected by a combination of an algorithm that ranks the topics and a curator that chooses which topics to include. Gizmodo interviewed curators that worked for Facebook from mid-2014 to December 2015 and included their findings in a recent article. One unsettling finding was that "several former Facebook "news curators," as they were known internally, also told Gizmodo that they were instructed to artificially "inject" selected stories into the trending news module, even if they weren't popular enough to warrant inclusion-or in some cases weren't trending at all". Some of these injected stories would eventually become the number one trending topic. With over 1.5 billion monthly active users (167 million in USA alone) and growing, $FB has an incredible power to shape the news and influence what people are thinking and talking about.
$FB has, of course, denied these allegations and stated that it will revamp its trending topics feature to reduce bias risk. The fact that $FB, the largest social media company in the world, is still working to reduce bias risk leads one to wonder how much bias and noise is present in other social media outlets that aren't subject to the same scrutiny as $FB.
As more and more news is distributed and consumed through social media, it becomes increasingly important that topics aren't being manipulated. As a consumer and especially as an investor, it's imperative to filter out all the noise and get to the core message. This is exactly what StockSocial does with its innovative sentiment tools. StockSocial provides real-time alerts and insights into what new stories are breaking and which stocks are moving based on chatter volume and positive or negative sentiment trading outlook. No bias.
Disclosure: I/we have no positions in any stocks mentioned, and no plans to initiate any positions within the next 72 hours.