Minerva Neurosciences Inc. ($NERV) stock soars on clinical data
$NERV is a clinical stage biopharmaceutical company focused on the development of a portfolio of product candidates to treat central nervous system diseases. $NERV stock skyrocketed 233% following the release of positive trial results from its antidepressant drug candidate and schizophrenia treatment.
The results for its antidepressant drug MIN-117, proved its superiority over a placebo in treating major depressive disorder by a magnitude of difference of 0.23. This magnitude is in line with antidepressants currently on the market. CEO Luthringer stated that "these promising results, combined with the drug's distinctive pharmacology, lay the foundation to potentially address unmet needs not currently served by existing therapies in the treatment of mood disorders and other central nervous system indications."
$NERV product candidate for treating schizophrenia (MIN-101) also demonstrated a statistically significant benefit over a placebo for improving negative symptoms. There is currently no approved treatment for these negative symptoms, which include lack of motivation, lack of initiative and social withdrawal. Because these symptoms are common in brain degenerative disorders and other mental illnesses, MIN-101 may have potential to treat other indications as well.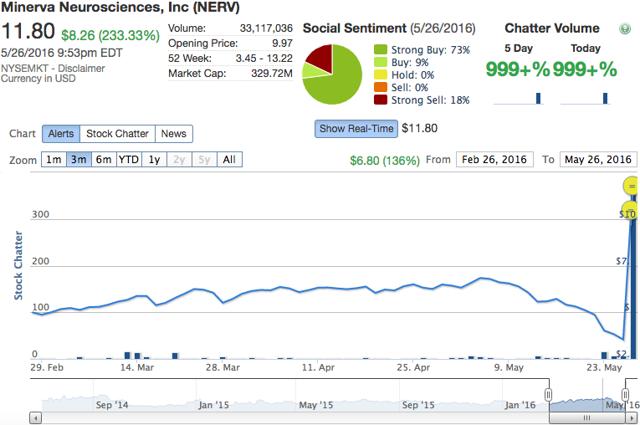 Disclosure: I/we have no positions in any stocks mentioned, and no plans to initiate any positions within the next 72 hours.