Market Morning Sentiment - May 27th
TRENDING:$BABA |$AAPL |$SRPT |$SPY |$NFLX
It was a mixed day for US equities but a strong day for Global equities as sentiment improved. Of note today, stocks and emerging markets rose while gold snapped a seven-day losing streak; the dollar finished up against most currencies, however the biggest gainer this week for major currencies was the British pound as polls showed growing support for the UK to remain in the EU. Data released today revealed that both durable goods and pending home sales increased by more than expected. With all the positive economic data, investor views are still mixed with regard to a Fed rate hike decision coming as early as June 2.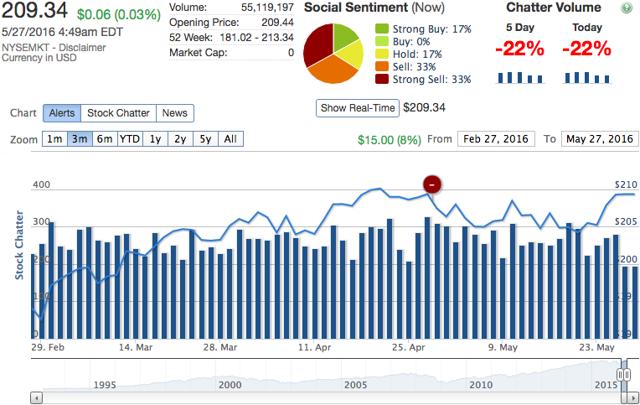 Influencer of the Day

FEATURED SENTIMENT LEADER:$TTNP
$TTNP Social Sentiment and Chatter Volume
54% Strong Buy
Titan Pharmaceuticals Receives FDA Approval of Probuphine for the Treatment of Opioid Dependence
$TTNP is a specialty pharmaceuticals company that develops therapeutics for select chronic diseases utilizing its innovative, long-term, continuous drug delivery platform, ProNeura. Its lead product candidate Probuphine, was given FDA approval on May 26 th for the maintenance treatment of opioid dependence. The first buprenorphine implant to be approved, Probuphine provides a constant low-level dose of buprenorphine for 6 months in patients that are already on low to moderate doses of other forms of buprenorphine. Meant to be used as part of a complete treatment program, Probuphine will ensure patients are getting the medicine they need to help deal with pain, withdrawal symptoms, and the desire to use. Read the full press release here.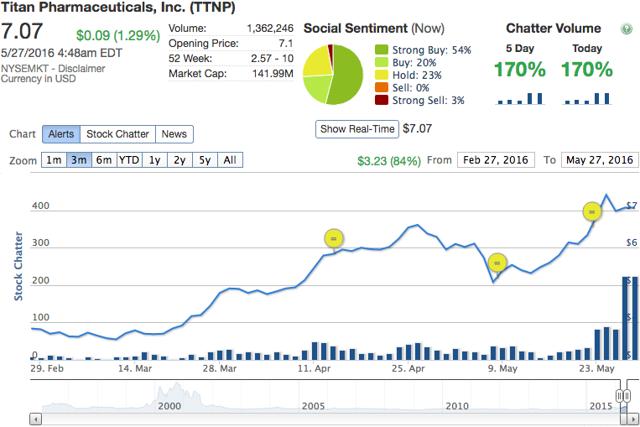 Weekly Review
Featured: Sarepta Therapeutics$SRPT
Sarepta Therapeutics was featured on our Monday edition as being a very volatile stock that could swing either way depending on the FDA's decision to approve or reject its lead product candidate Eterplirsen. Instead, the FDA announced that it would not be able to finish the New Drug Application review by the goal date of May 26 th, which investors took this as a positive signal. $SRPT is up almost 30% on the week.
Disclosure: I/we have no positions in any stocks mentioned, and no plans to initiate any positions within the next 72 hours.