Market Morning Sentiment - June 2nd
TRENDING:$GALE$MNKD$ONP$MSTX$IGN
US stocks started out June with thin gains as the S&P500, DJIA, and Nasdaq finished up 0.11%, .01%, and 0.08% respectively. Economic data revealed that US manufacturing expanded slightly in May while construction spending dropped 1.8%. As preparations for a rate hike continue, the spread between two year and 10-year Treasury yields narrowed to its tightest level since 2007.
Market sentiment on the S&P 500 remains low leading into todays OPEC meeting and Friday's release of US monthly jobs data, both of which could have a big impact on the markets.
With oil near $50 a barrel, OPEC will decide whether to reign in supply and institute a production ceiling. OPEC previously had a production ceiling of 30 million barrels a day, which it routinely exceeded until finally abolishing it in December.
The US monthly jobs report is seen as a key economic indicator that the Fed will be looking at when evaluating an interest rate hike. Positive data could increase the chances of a rate hike in June/July while negative data could delay the decision.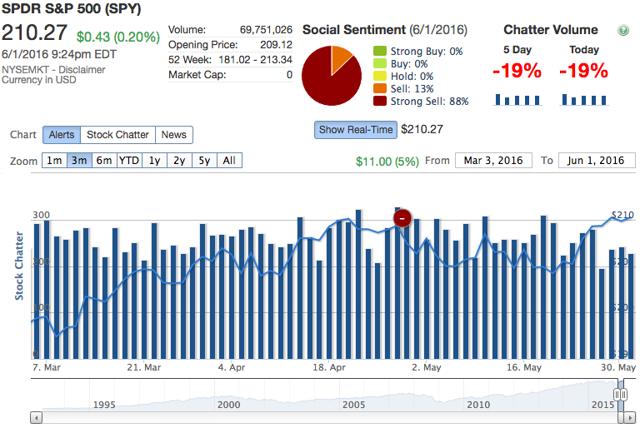 Influencer of the Day

FEATURED SENTIMENT LEADER: $GALE
$GALE Social Sentiment and Chatter Volume
71% Strong Buy
Galena Biopharma Receives Fast Track Designation for Neuvax TM PRESENT Clinical Trial
$GALE is dominating our positive and social sentiment volume indicators following news that the FDA designated its Neuvax TM treatment, combined with recombinant granulocyte macrophage-colony stimulating factor (GM-CSF), for Fast Track development. Many investors view the Fast Track designation as further validation of Neuvax TM potential as it is only given to drugs that show promise in treating a serious or life-threatening disease and address an unmet medical need. Designed to treat patients with early stage, node positive breast cancer with low to intermediate HER2 expression, Neuvax TM could see expedited review and approval from the FDA.
"Fast Track designation provides us with opportunities for frequent interactions with the FDA review team for our NeuVax development program in breast cancer, including the PRESENT trial, as we prepare our BLA for filing. As such, assuming a successful clinical readout in the PRESENT trial, we may be eligible for a rolling review. We look forward to collaborating closely with the FDA at this critical stage for NeuVax development" - Bijan Nejadnik, M.D.,
EVP and Chief Medical Officer of $GALE.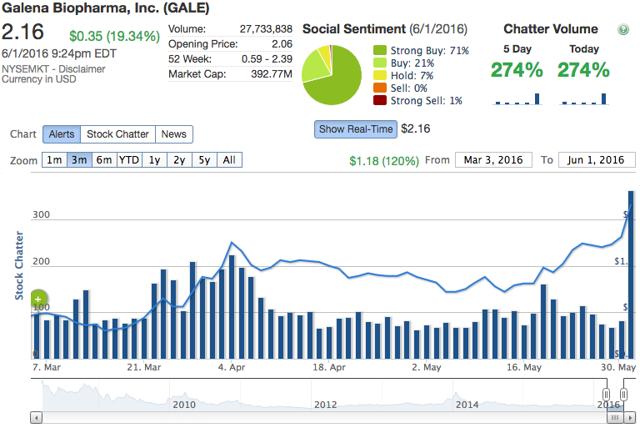 Disclosure: I/we have no positions in any stocks mentioned, and no plans to initiate any positions within the next 72 hours.