Market Morning Sentiment - June 7th
TRENDING:$IGN |$SRPT |$SPY |$AAPL |$CSCO
US stocks had a good day as the S&P500, DJIA, and Nasdaq finished up 0.49%, 0.64%, and 0.53% respectively. Boosted by gains in the energy space and rising oil prices, the S&P500 closed at its highest level so far in 2016.
In a prepared statement on Monday, Federal Reserve Chairwoman Janet Yellen downplayed the significance of the poor monthly jobs data released on Friday. Although Ms. Yellen believes the domestic economy is in relatively good shape, she referenced external factors including the Brexit and the challenges that China faces as it rebalances its economy as risks to the US. Despite Ms. Yellen's hawkish and hedged remarks, investors' expectations of the likelihood of a rate hike in June/July have fallen drastically since last week.
Market sentiment on the S&P500 has increased slightly but remains low.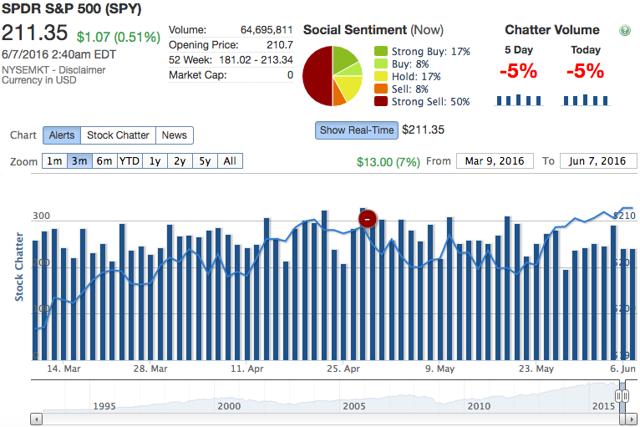 Influencer of the Day

FEATURED SENTIMENT LEADER:$HMNY
$HMNY Social Sentiment and Chatter Volume
67% Strong Buy
Helios and Matheson Analytics Announces Plan to Merge with Zone Technologies Inc.
Shares of $HMNY skyrocketed 550% Monday to a 9 year high following an announcement of a planned merger with Zone Technologies Inc. Synergies between $HMNY, a provider of integrated Big Data technology, advanced analytics and data visualization solutions to Fortune 500 companies, and Zone Technologies, creator of RedZone Maps, a GPS driven real-time crime and navigation map application, were front and center in Mondays announcement. $HMNY plans to leverage its artificial intelligence capabilities and deep learning and analytics expertise to enable RedZone Maps to expand its scope and crime mapping capabilities globally.
"Upon discovering Helios and Matheson's cutting edge capabilities in Big Data analytics and artificial intelligence, we saw the synergy immediately. I believe the combined company will be able to offer the most sophisticated and advanced technology in global crime mapping. Our mission is to enhance personal safety worldwide." - Ted Farnsworth, Founder and CEO of RedZone Maps
In its first week out of beta, RedZone Maps' application achieved fourth place in the App Store's navigation category behind Google and Waze. The pending merger is still subject to approval from the NASDAQ market.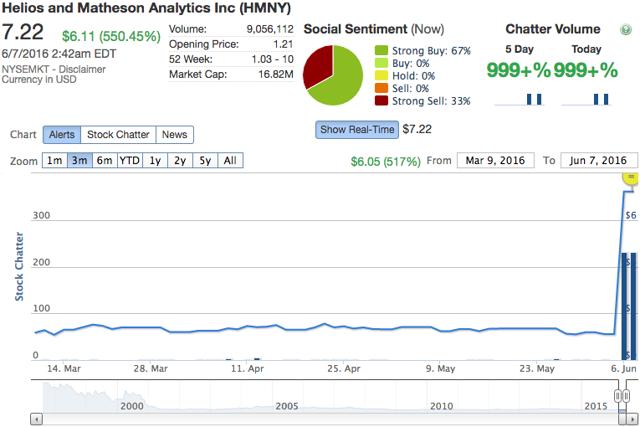 How Social Media is Predicting the Stock Market:

Disclosure: I/we have no positions in any stocks mentioned, and no plans to initiate any positions within the next 72 hours.