Market Morning Sentiment - June 8th
TRENDING:$VRX |$SRPT |$HMNY |$IGN |$SPY
The S&P500 and DJIA finished up 0.13% and 0.10% respectively, while the Nasdaq fell 0.14%. The energy sector pushed markets higher with oil holding above $50 per barrel whereas the healthcare and financial sectors pulled the market down as they led all decliners.
In a prepared statement on Monday, Federal Reserve Chairwoman Janet Yellen downplayed the significance of the poor monthly jobs data released on Friday. Although Ms. Yellen believes the domestic economy is in relatively good shape, she referenced external factors including the Brexit and the challenges that China faces as it rebalances its economy as risks to the US. That being said, the Fed Chairs comments have stoked risk appetite and she maintatined that further gradual increases are likely to be appropriate to satisfy the Fed's dual mandate. The unemployment rate declined by 0.3 percentage points in May and now sits at 4.7%.
Market sentiment on the S&P500 continues to point to more downside and risk aversion with the SPY, a fund that tracks the S&P500 rising on our negative sentiment indicators.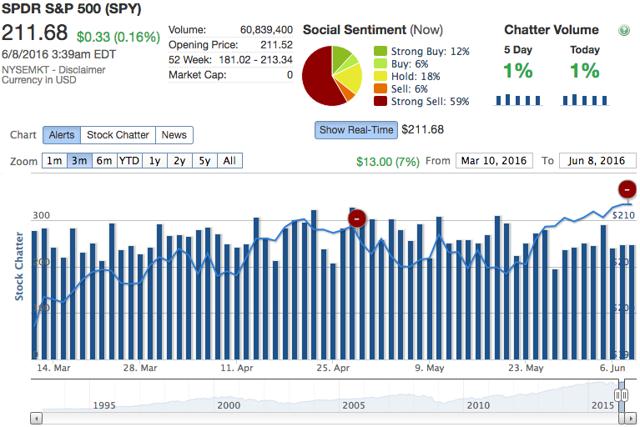 Influencer of the Day

FEATURED SENTIMENT LEADER:$ACAD
$ACAD Social Sentiment and Chatter Volume
45% Strong Buy
Acadia Pharmaceuticals Inc.
$ACAD is a biopharmaceutical company focused on developing and commercializing innovative therapies for neurological and related central nervous system (NYSE:CNS) disorders. The FDA approved Acadia's lead drug pimavanserin (Nuplazin TM) on March 30 th for the treatment of Parkinson's disease psychosis (NASDAQ:PDP). Additionally, $ACAD is hopeful that pimavanserin can be expand its effectiveness to treat other neurological and psychiatric indications such as Alzheimer's disease agitation and Schizophrenia.
PDP affects roughly 40% of the 1 million Parkinson's patients in the United States. It is characterized by hallucinations and delusions that severely affect daily life and only worsen over time, leading many Parkinson's patients to move into a nursing home.
With no other approved treatment on the market, Acadia has a promotional campaign underway and will be presenting at the Goldman Sachs 37 th Annual Global Healthcare Conference today at 3:20pm. $ACAD will be an interesting company to watch as there is a lot of buzz about a potential takeover in the near future.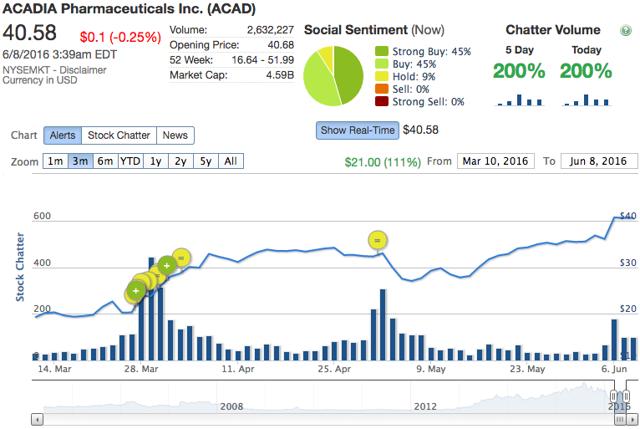 How Social Media is Predicting the Stock Market:
Disclosure: I/we have no positions in any stocks mentioned, and no plans to initiate any positions within the next 72 hours.