*You can't submit an empty article!
Market Morning Sentiment - June 20th
TRENDING:$IGN |$AAPL |$SPY |$CSCO |$VRX
US stocks fell across the board Friday as the S&P500, DJIA and Nasdaq closed down 0.33%, 0.33% and 0.92% to finish the week down 1.2%, 1.1% and 1.9% respectively. WTI crude oil rose 3.8% from $46.21 per barrel to $47.98 per barrel to finish the week down 2.2%. The US dollar index fell slightly and Treasury yields declined for the third straight week, nearing a 4-year low.
All eyes will be on the EU referendum vote on the UK's membership, which is set to take place on Thursday. According to polls, support has been gaining for the 'leave' camp, an outcome that many economists say could wreck havoc on the global markets and drive the UK into a recession.
Market sentiment on the S&P500 has turned slightly more positive as a result of decreased expectations of an eventual interest rate hike in 2016, but still remains negative. Nervousness about a Brexit and the concerns surrounding the strength of the US economy will likely restrict the upside of markets going forward.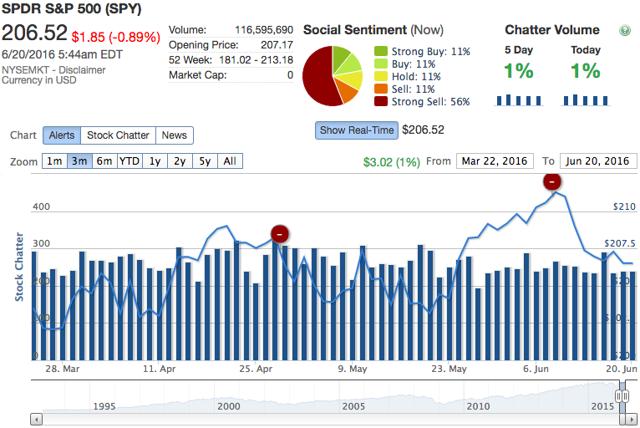 Influencer of the Day

FEATURED SENTIMENT LEADER:$AMD
$AMD Social Sentiment and Chatter Volume
91% Strong Buy
Advanced Micro Devices Inc.
$AMD is a global semiconductor company that designs and integrates technology that powers millions of intelligent devices including PC's, game consoles, and cloud servers. Over the last 45 years, $AMD has built a strong foundation of innovation and, among other things, was the first company to: build an x86 dual core processor, break the 1GHz GPU barrier, bring APU's to market and bring high bandwidth memory to market.
Helping to boost sentiment on Advanced Micro Devices Inc., were two analyst upgrades last week from Jeffries and Canaccord Genuity. Further driving sentiment is the anticipation of new product releases, growth in immersive platform segment, graphics momentum, and a plan to monetize its IP including some 10,000+ patents to help deal with its debt load.
With respect to the immersive platform segment, 6.3 million virtual reality (NYSE:VR) headsets are expected to ship in 2016. By 2020, there is expected to be over 200 million VR headsets worldwide. $AMD boasts the only products that support all major VR platforms giving them a major advantage over their competitors in the race for market share in the growing VR industry.
$AMD is also expected to release"Zen" its new high-performance core processor in October. Zen is predicted to boost $AMD back into the forefront of the desktop segment, an area that is currently dominated by Intel.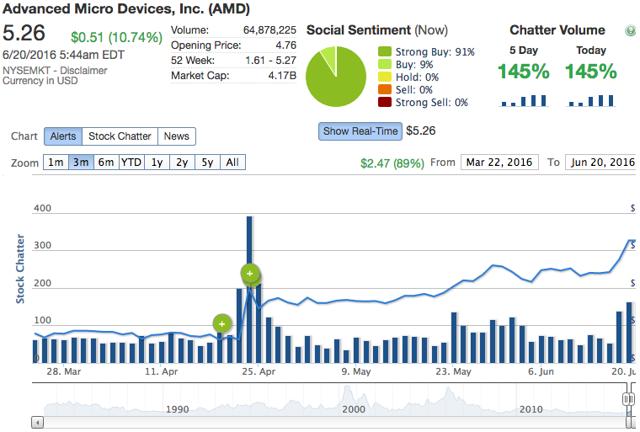 Legal Disclaimer/Disclosure: This is not a solicitation to buy or sell stock. No information contained should be construed as investment advice. A licensed financial advisor should be consulted prior to making any investment decisions. Stock Social Inc, and/or its associates may or may not own securities of the companies mentioned herein. The author makes no guarantee, representation or warranty and accepts no responsibility or liability as to its accuracy or completeness. Expressions of opinion are those of the author only and are subject to change without notice. No warranty, liability or guarantee for the current relevance, correctness or completeness of any information provided within this report and will not be held liable for the consequence of reliance upon any opinion or statement contained herein or any omission. Furthermore, we assume no liability for any direct or indirect loss or damage or, in particular, for lost profit, which you may incur as a result of the use and existence of the information provided.
Disclosure: I/we have no positions in any stocks mentioned, and no plans to initiate any positions within the next 72 hours.