Market Morning Sentiment - June 21st
TRENDING:$IGN |$SPY |$AAPL |$CSCO |$TSLA
US stocks bounced back on Monday as the S&P500, DJIA and Nasdaq gained 0.58%, 0.73% and 0.77% respectively. US Treasury yields logged their largest daily increase since May 18 amid the stock rally. Oil benefitted from a weaker dollar (US dollar index down 0.6%) as the price of WTI crude rose 2.8% from $47.98 per barrel to $49.37 per barrel.
Sentiment concerning a Brexit has shifted back towards the 'stay' side over the weekend. A poll released on Monday that was commissioned by The Telegraph indicated that 53% of voters polled would vote to 'stay', while 43% would vote to 'leave'. With more polls set to come out before the Brexit vote on Thursday, markets will likely remain fragile as sentiment can change overnight with the release of a new poll.
Fed Chair Janet Yellen's biannual testimony before Congress as well as her address to the Senate Banking Committee begins today. She will speak to the House Financial Services Committee on Wednesday.
Market sentiment on the S&P500 has turned slightly more positive as a result of decreased expectations of an eventual interest rate hike in 2016, but still remains negative. Nervousness about a Brexit and the concerns surrounding the strength of the US economy will likely restrict the upside of markets going forward.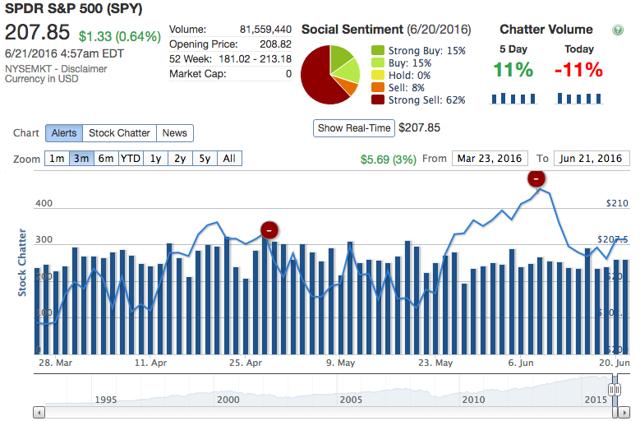 FEATURED SENTIMENT LEADER:$NVAX
$NVAX Social Sentiment and Chatter Volume
80% Strong Buy
Novavax Receives Social Media Buy Signal Alert
$NVAX is a clinical stage biopharmaceutical company that is focused on discovering, developing and commercializing vaccines to prevent a broad range of infectious diseases. Using its proprietary nanoparticle vaccine technology platform, $NVAX is building a robust product pipeline and plans to continue to leverage this technology to create a global infectious disease company.
Novavax's lead product candidate (RSV F Vaccine) is currently undergoing Phase III clinical trials as a vaccine for respiratory syncytial virus (RSV). Currently the only approved prescription medication for the prevention of serious lung disease caused by RSV infection is AstraZeneca's ($AZN) Synagis medication, which needs to be taken monthly and is too expensive for a great deal of people.
In the US alone, RSV infects approximately 15 million people per year and is a common cause of infant and elderly hospitalizations. The FDA has granted Fast Track Designation for $NVAX RSV F Vaccine for the protection of adults 60 and older as well as for the protection of infants via maternal immunization. $NVAX is expected to announce Phase III results for its RSV F Vaccine sometime in the third quarter.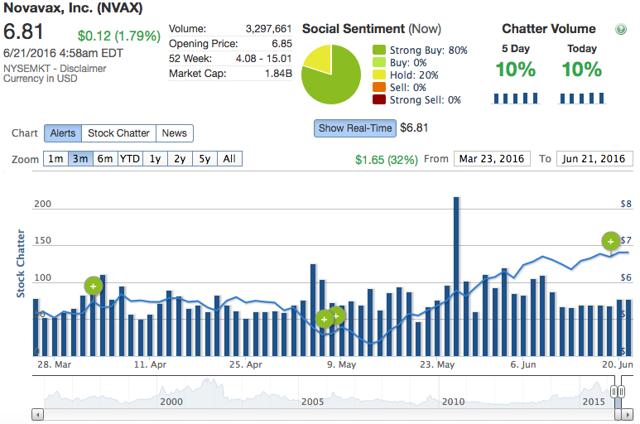 Disclosure: I/we have no positions in any stocks mentioned, and no plans to initiate any positions within the next 72 hours.