Market Morning Sentiment - June 22nd
TRENDING:
US stocks rose for the second straight day on Tuesday as the S&P500, DJIA and Nasdaq gained 0.27%, 0.14% and 0.14% respectively. US Treasury yields also rose for the second straight day. The US dollar strengthened and the price of WTI crude fell 1.06% from $49.37 per barrel to $48.85 per barrel.
Fed Chair Janet Yellen testified before Congress and the Senate Banking Committee on Tuesday and reiterated that the Fed's cautious approach remains appropriate. She noted that the FOMC is monitoring the Brexit vote very closely as a victory for the 'leave camp' would pose a significant risk to the US economy and the stability of global markets. In a somewhat rare statement from a Fed Chair regarding the prices of equities, Janet Yellen said,
"Forward price-to-earnings ratios for equities have increased to a level well above their median of the past three decades. Although equity valuations do not appear to be rich relative to Treasury yields, equity prices are vulnerable to rises in term premiums to more normal levels, especially if a reversion was not motivated by positive news about economic growth."
Market sentiment on the S&P500 has turned slightly more positive as a result of decreased expectations of an eventual interest rate hike in 2016, but still remains negative. Nervousness about a Brexit and the concerns surrounding the strength of the US economy will likely restrict the upside of markets going forward.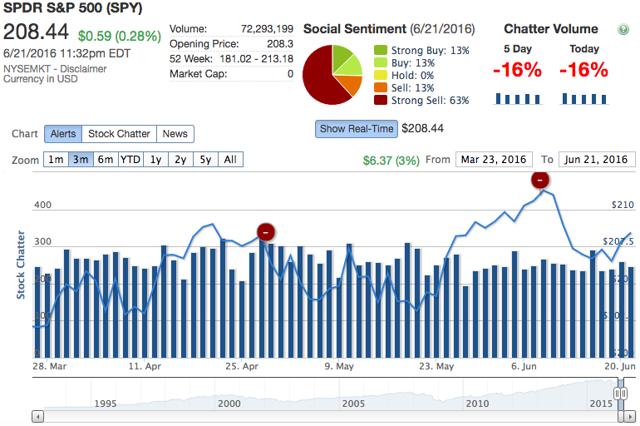 Influencer of the Day

FEATURED SENTIMENT LEADER:$OPK
$OPK Social Sentiment and Chatter Volume
65% Strong Buy
Opko Health Inc. Chatter Volume and Positive Sentiment Increasing
$OPK is a diversified healthcare company with a diagnostics business, biologics business, production and distribution assets, and a pharmaceutical business.
On June 21 st, $OPK announced that the FDA had approved its drug Rayaldee to treat secondary hyperparathyroidism (SHPT) associated with Vitamin D deficiency in stage 3-4 chronic kidney disease. It is the first FDA approved therapy to treat this condition. The Phase III trial results showed that Rayaldee corrected Vitamin D insufficiency in over 80% of patients as compared with less than 7% of subjects who received a placebo.
Vitamin D deficiency results in too much of the parathyroid hormone being secreted. If this hormone is persistently elevated for too long it not only weakens bones, but can also lead to the calcification of vascular and renal tissue, which can be life threatening. There are an estimated 9 million patients who could benefit from Rayaldee treatment.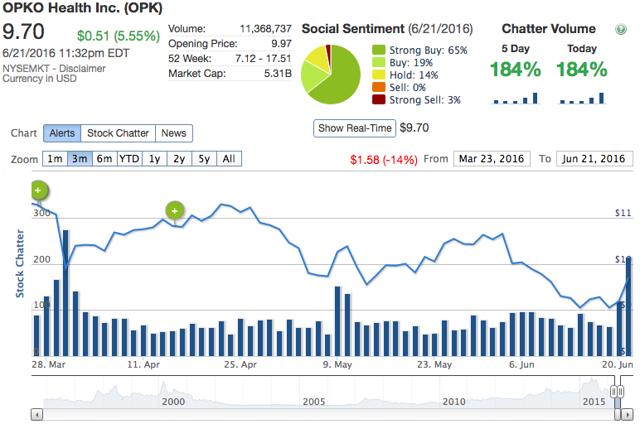 Legal Disclaimer/Disclosure: This is not a solicitation to buy or sell stock. No information contained should be construed as investment advice. A licensed financial advisor should be consulted prior to making any investment decisions. Stock Social Inc, and/or its associates may or may not own securities of the companies mentioned herein. The author makes no guarantee, representation or warranty and accepts no responsibility or liability as to its accuracy or completeness. Expressions of opinion are those of the author only and are subject to change without notice. No warranty, liability or guarantee for the current relevance, correctness or completeness of any information provided within this report and will not be held liable for the consequence of reliance upon any opinion or statement contained herein or any omission. Furthermore, we assume no liability for any direct or indirect loss or damage or, in particular, for lost profit, which you may incur as a result of the use and existence of the information provided