Following the UK's decision to leave the EU on Friday, over $2 trillion has been wiped off the world markets. But for every seller, there is a buyer, and as sentiment turns negative on some areas, other sectors and companies benefit. Either long or short, what are proving to be some major profit opportunities post-Brexit?
Short GBP/USD
The GBP/USD has fallen over 10% since the Brexit vote on Thursday. But has it bottomed out?
With markets plunging and economic and political uncertainty on the horizon, there's going to be an immediate slowdown of growth in the UK. After David Cameron steps down as Prime Minister, a new leader needs to be chosen and then the 2-year process to withdraw from the EU will begin. That means only 2-years to settle outstanding bills with the EU, negotiate new trade deals with dozens of countries, sift through thousands of EU regulations and decide which to keep, and figure out how migration will work. All this uncertainty about the future discourages companies from making new investments. Additionally, major corporations whose headquarters are in the UK and who conduct significant business with the EU may move their operations to a member country. All this will put continued downward pressure on the GBP in the near term.
The ETFS 3x Short GBP Long USD (SGB3) provides leveraged exposure to GBP relative to USD. It's up over 30% since the Brexit.
Profit from volatility
Volatility has been extremely high with uncertainty surrounding the impact of the Brexit, political uncertainty in Britain, ambiguity about when the Fed will institute its next rate hike, and the US election later this year. Buying an ETN like$TVIX is a direct way to profit from this volatility. Shares of $TVIX are up 33% in the last month and were alerted as having upside momentum on Friday.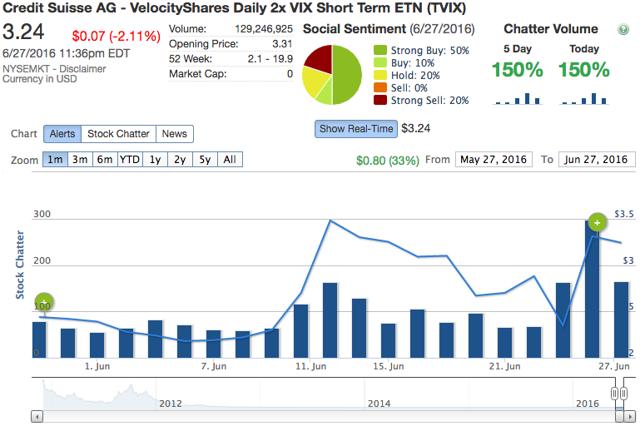 US REIT's
US real estate investment trusts (REIT's) will benefit greatly as investors continue to seek safety in US assets. With yields on US Treasuries dropping and expectations of a rate hike this year essentially diminished, REIT's are a safe place to park money while also generating yield and price appreciation. Continuing low rates also offers the opportunity to lock in both new and existing mortgage debt for longer terms. The Vanguard REIT Index Fund($VNQ), net lease REIT Realty Income($O) and the National Storage Affiliates Trust($NSA) have all been on the rise.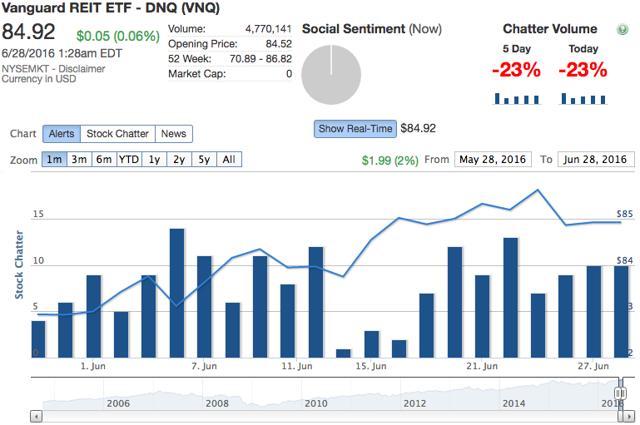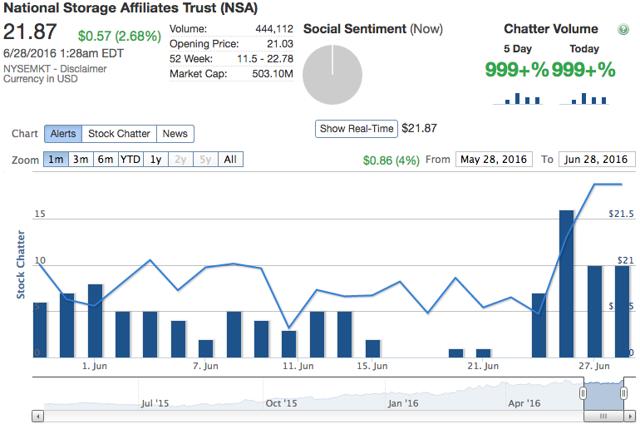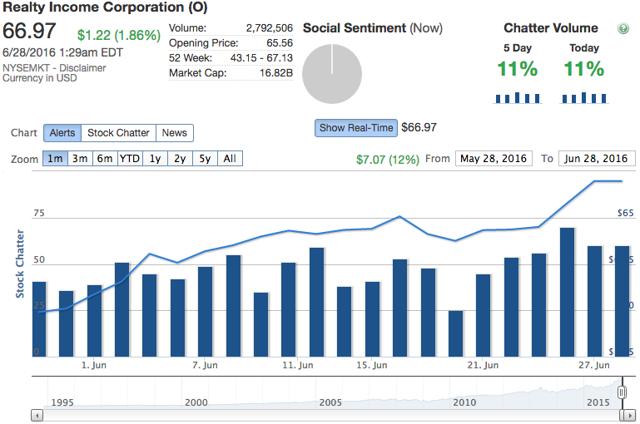 European Banks
European banks such as Barclays($BCS) and the Royal Bank of Scotland($RBS) are down nearly 40% since the Brexit. There still could be some room until they reach a bottom and a short play could still have some legs. That being said, they appear to be oversold and will likely experience a correction before the UK actually leaves the EU, which is at the earliest sometime in 2018.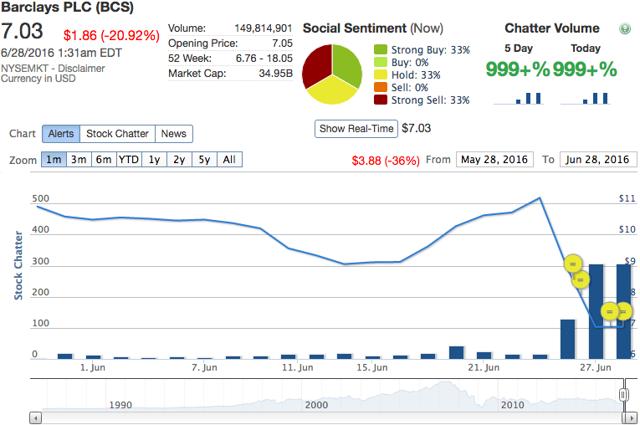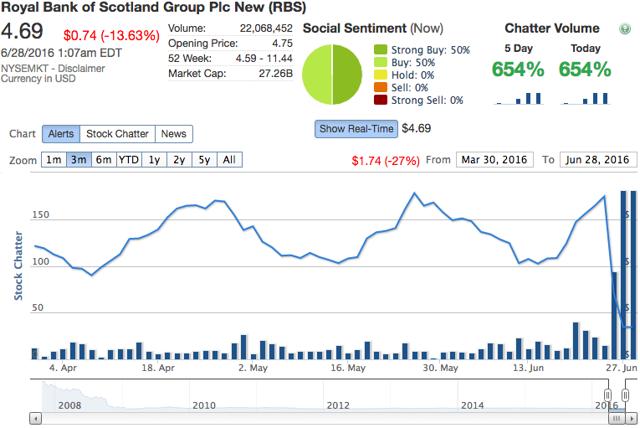 Gold
The traditional safe haven during times of uncertainty, gold has risen to a 2-year high closing at over $1,300 following the referendum. Gold often rallies during times of market turmoil, as most recently evidenced in 2011 when it hit an all-time high above $1,900. With the possibility of other countries exiting the EU, and deflation more of a concern than inflation, SPDR Gold Trust($GLD) and gold miners such as Barrick Gold Corp.($ABX) could see a strong uptick in share price performance as the price of gold increases.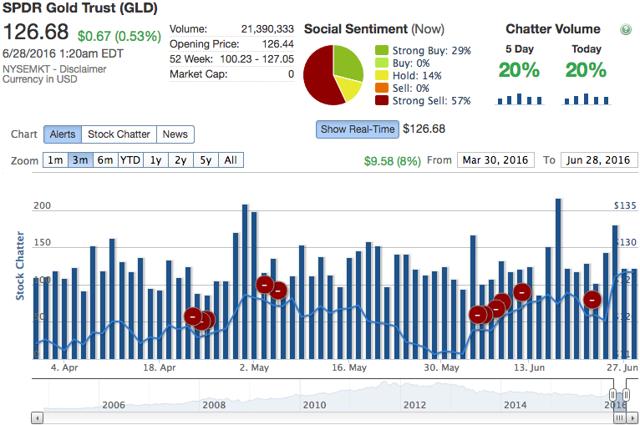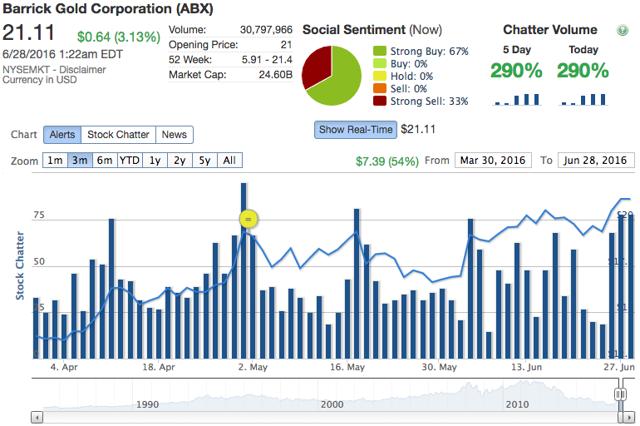 Legal Disclaimer/Disclosure: This is not a solicitation to buy or sell stock. No information contained should be construed as investment advice. A licensed financial advisor should be consulted prior to making any investment decisions. Stock Social Inc, and/or its associates may or may not own securities of the companies mentioned herein. The author makes no guarantee, representation or warranty and accepts no responsibility or liability as to its accuracy or completeness. Expressions of opinion are those of the author only and are subject to change without notice. No warranty, liability or guarantee for the current relevance, correctness or completeness of any information provided within this report and will not be held liable for the consequence of reliance upon any opinion or statement contained herein or any omission. Furthermore, we assume no liability for any direct or indirect loss or damage or, in particular, for lost profit, which you may incur as a result of the use and existence of the information provided.