Market Morning Sentiment - June 28th
Stocks continued their loses Monday following the Brexit as the S&P500, DJIA and Nasdaq plummeted 1.81%, 1.50% and 2.41% respectively.
After shedding over $2 trillion on Friday, global equity markets lost another $930 billion to mark one of the largest 2-day losses in history.
The British Pound also continued its decline as it fell 3.5% to its lowest level in 31 years. The GBP was downgraded by Fitch Ratings and S&P Global Ratings who both maintain a negative outlook citing a slow down in short term GDP growth. As investors seek safety in US assets, the USD has strengthened and while US Treasury yields have fallen to their lowest point in 4 years.
Of the many ripples that will flow from the Brexit decision, increased volatility is a big one. After jumping nearly 50% on Friday, the CBOE Market Volatility Index, which essentially gauges the level of fear in financial markets, dropped 10% on Monday. The Brexit decision all but assures that there will be no rate hike from the Fed this year, as they will look to keep an accommodative policy to boost liquidity.
Market sentiment on the S&P500 has increased slightly from Friday, going from 63% strong sell to 53% strong sell. As the result of the Brexit vote sets in and markets continue to react, expect high volatility and look for safer assets such as gold to increase.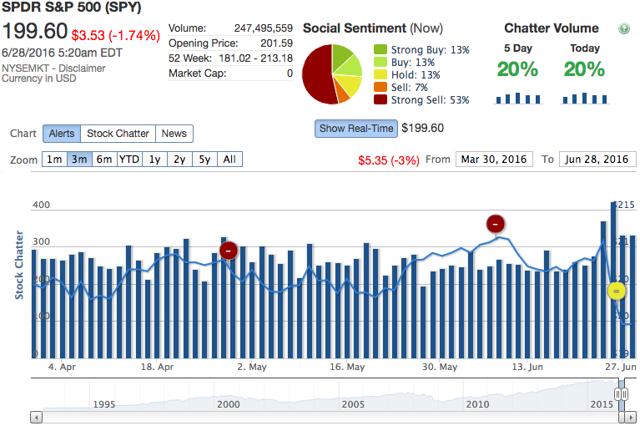 FEATURED SENTIMENT LEADER:$GEVO
$GEVO Social Sentiment and Chatter Volume
80% Strong Buy
Gevo Inc.
$GEVO is a leading renewable energy and biofuels company developing bio-based alternatives to petroleum-based products using a combination of synthetic biology and chemistry. The company mainly produces isobutanol which as broad market applications as a solvent and gasoline blendstock that can help refiners meet their renewable fuel and clean air obligations. Isobutanol can be further processed into jet fuel and feedstocks for the production of synthetic rubber, plastics and polyesters.
Despite a large market selloff following the Brexit, shares of $GEVO are up over 8% since the vote and received a significant event spike in sentiment on Sunday. $GEVO already has arrangements with the US Military as well as Alaska Airlines, but most recently inked a deal with Musket Corporation to supply isobutanol for gasoline blending. Learn more about $GEVO strategy, market drivers, and partners here.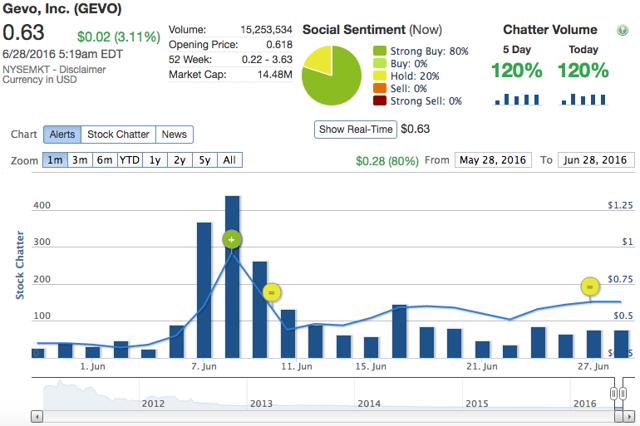 Legal Disclaimer/Disclosure: This is not a solicitation to buy or sell stock. No information contained should be construed as investment advice. A licensed financial advisor should be consulted prior to making any investment decisions. Stock Social Inc, and/or its associates may or may not own securities of the companies mentioned herein. The author makes no guarantee, representation or warranty and accepts no responsibility or liability as to its accuracy or completeness. Expressions of opinion are those of the author only and are subject to change without notice. No warranty, liability or guarantee for the current relevance, correctness or completeness of any information provided within this report and will not be held liable for the consequence of reliance upon any opinion or statement contained herein or any omission. Furthermore, we assume no liability for any direct or indirect loss or damage or, in particular, for lost profit, which you may incur as a result of the use and existence of the information provided.