Market Morning Sentiment - June 29th
Stocks bounced back Tuesday after losing $3 trillion on Friday and Monday combined to mark the largest two-day rout in history. The S&P500, DJIA and Nasdaq rose 1.78%, 1.57% and 2.12% respectively.
The British Pound rebounded slightly, gaining nearly 1% on the USD after dropping 12% the previous two days. Gold fell 0.5% and US Treasury yields rose off the 4-year low made Tuesday as some of the initial shocks of the Brexit subside.
Of the many ripples that will flow from the Brexit decision, increased volatility is a big one. The CBOE Market Volatility Index, which essentially gauges the level of fear in financial markets, dropped for the second straight day on Tuesday, erasing some of the gains leading up to the Brexit.
Despite the positive day, market sentiment on the S&P500 has turned more negative suggesting the reprieve may be short lived. As the result of the Brexit vote sets in and markets continue to react, expect high volatility and money to flow to the relative safety of US assets.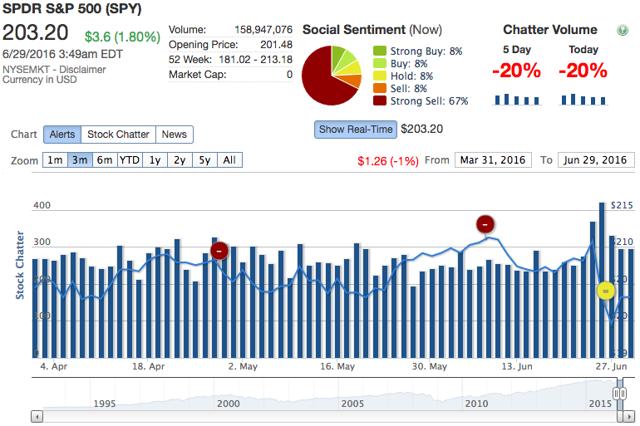 FEATURED SENTIMENT LEADER:$GILD
$GILD Social Sentiment and Chatter Volume
67% Strong Buy
Gilead Sciences Inc.
$GILD is a research based biopharmaceutical company that discovers, develops and commercializes innovative medicines in areas of unmet medical need. Its pipeline includes treatments for HIV/AIDS, liver diseases, cancer, inflammatory and respiratory diseases, and cardiovascular conditions.
What has sentiment accelerating on $GILD is the FDA approval of its new hepatitis C drug, Epclusa. It's the first oral, once a day treatment for all 6 major strains of the virus and is a combination of $GILD's Solvaldi treatment and a new drug velpatasvir. In a late stage study, between 95-99% of patients receiving Epclusa had no trace of hepatitis C in their blood 12 weeks after receiving treatment.
$GILD currently dominates the hepatitis C market generating sales in 2015 with its two older drugs (Solvadi and Harvoni) of $19.14 billion, but reported that sales in 2016 were decreasing due to increased competition. Epclusa is priced to take back market share and costs significantly less for patients with genotypes 2 and 3 who traditionally would have required more complex multi-tablet or injection regimens.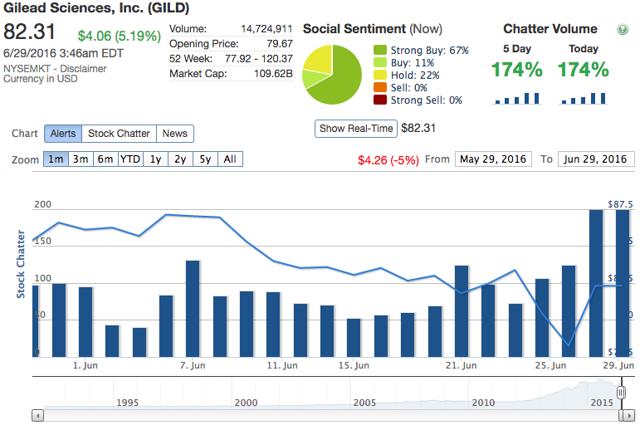 Legal Disclaimer/Disclosure: This is not a solicitation to buy or sell stock. No information contained should be construed as investment advice. A licensed financial advisor should be consulted prior to making any investment decisions. Stock Social Inc, and/or its associates may or may not own securities of the companies mentioned herein. The author makes no guarantee, representation or warranty and accepts no responsibility or liability as to its accuracy or completeness. Expressions of opinion are those of the author only and are subject to change without notice. No warranty, liability or guarantee for the current relevance, correctness or completeness of any information provided within this report and will not be held liable for the consequence of reliance upon any opinion or statement contained herein or any omission. Furthermore, we assume no liability for any direct or indirect loss or damage or, in particular, for lost profit, which you may incur as a result of the use and existence of the information provided.