Market Morning Sentiment - June 30th
Stocks rose for the second straight day Wednesday as the S&P500, DJIA and Nasdaq all finished up 1.70%, 1.64% and 1.86% respectively.
A surge in oil and financial stocks boosted markets higher as Brexit fear subsides for the day. A US Energy Information Administration report showed a sharp drop in domestic crude supplies, sending oil up 4.2% to close at $49.88 per barrel. Inventories have been falling for months without a corresponding rise in active oilrigs, which could help sustain a higher price for oil. Meanwhile, the GBP appreciated 0.7% relative to USD.
The CBOE Market Volatility Index, which essentially gauges the level of fear in financial markets, fell for the third straight day. It is now slightly lower than it was at the start of last week.
Despite the positive day, market sentiment on the S&P500 has turned more negative suggesting the reprieve may be short lived. As the result of the Brexit vote sets in and markets continue to react, expect continued high volatility as well as a flight of money to the relative safety of US assets.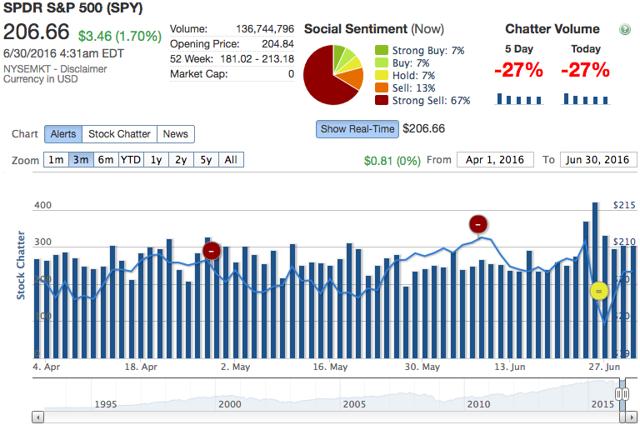 FEATURED SENTIMENT LEADER: $TSRO
$TSRO Social Sentiment and Chatter Volume
47% Strong Buy
Tesaro Inc. shares up over 100% after cancer drug trial success
$TSRO is an oncology focused biopharmaceutical company dedicated to improving the lives of cancer patients. On June 29 th, $TSRO reported that its drug niraparib significantly improves progression free survival for patients with ovarian cancer in its Phase III trial. There is currently no FDA approved therapy for ongoing maintenance treatment for patients with recurrent ovarian cancer following a response to platinum.
In patients with BRCA mutation, progression free survival for those treated with niraparib was 21 months, compared to 5.5 months for those on a placebo. In patients without BRCA mutation, who are more difficult to treat, progression free survival for those on niraparib was 9.3 months compared to 3.9 months for those on a placebo. $TSRO plans to submit a new drug application in Q4 2016.
Ovarian cancer is the 5 th leading cause of cancer deaths among women, with over 22,000 women diagnosed in the USA each year.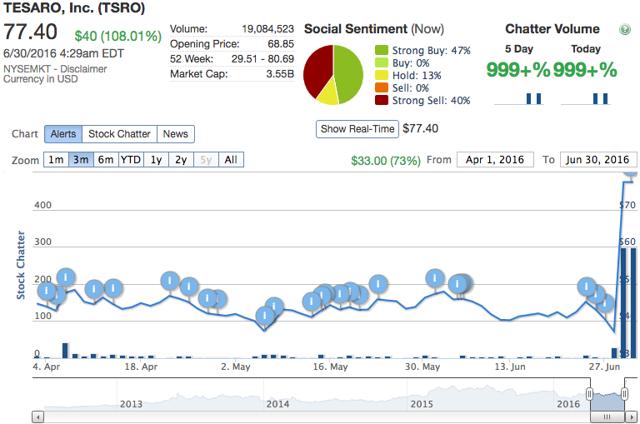 Legal Disclaimer/Disclosure: This is not a solicitation to buy or sell stock. No information contained should be construed as investment advice. A licensed financial advisor should be consulted prior to making any investment decisions. Stock Social Inc, and/or its associates may or may not own securities of the companies mentioned herein. The author makes no guarantee, representation or warranty and accepts no responsibility or liability as to its accuracy or completeness. Expressions of opinion are those of the author only and are subject to change without notice. No warranty, liability or guarantee for the current relevance, correctness or completeness of any information provided within this report and will not be held liable for the consequence of reliance upon any opinion or statement contained herein or any omission. Furthermore, we assume no liability for any direct or indirect loss or damage or, in particular, for lost profit, which you may incur as a result of the use and existence of the information provided.