Since its use in coins dating back to 600BC, gold has been used as a store of value and a method to hoard wealth. Flash forward 2,600 years and nothing has changed. During times of economic disruption and uncertainty people still turn to gold, increasing reserves and often driving up the price. The latest example of this came on August 1, 2011 when stock markets around the world fell due to fears of contagion of the European sovereign debt crisis. By August 23, 2011 gold had jumped 17% to reach an all time high of $1,900 per ounce.
There's reason to believe that we could see gold rise as it did in August 2011 as the Brexit has arguably had a bigger impact on markets than the European sovereign debt crisis. Over $3 trillion was wiped off global markets in the 2 days following the EU referendum vote, marking the largest two-day rout in history. Former Fed Chief Alan Greenspan said:
"this is the worst period I can recall since I was in public service, there's nothing like it…this has a corrosive effect which is not easy to go away"
Alan Greenspan was last in office in 1977, meaning he believes it's worse than the stock market crash of 1987 and worse than the financial crisis of 2008.
The fallout could even spur central banks to step up easing, depreciating currencies and favoring gold. With lower growth prospects and higher recession risks, traders now see a greater probability that the Fed will cut rates in upcoming meetings than raise them. High interest rates makes holding dollars more appealing, while low interest rates tend to favor gold. Adding to the market turmoil and uncertainty is the possibility that other countries might leave the EU as well, which would likely magnify current problems and make gold even more appealing.
It's a perfect storm for gold; it's up over 25% YTD including over 5% in the week following the EU referendum vote.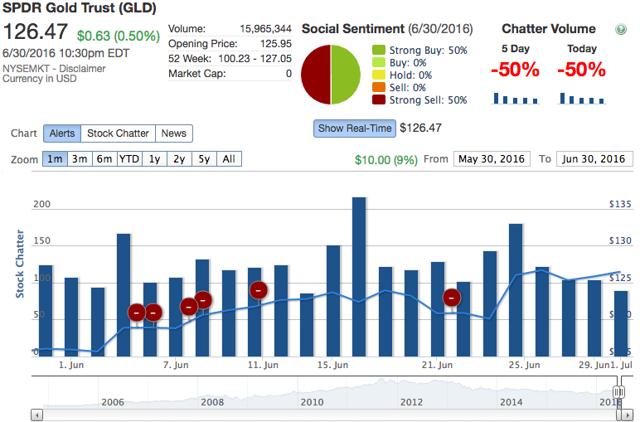 Legal Disclaimer/Disclosure: This is not a solicitation to buy or sell stock. No information contained should be construed as investment advice. A licensed financial advisor should be consulted prior to making any investment decisions. Stock Social Inc, and/or its associates may or may not own securities of the companies mentioned herein. The author makes no guarantee, representation or warranty and accepts no responsibility or liability as to its accuracy or completeness. Expressions of opinion are those of the author only and are subject to change without notice. No warranty, liability or guarantee for the current relevance, correctness or completeness of any information provided within this report and will not be held liable for the consequence of reliance upon any opinion or statement contained herein or any omission. Furthermore, we assume no liability for any direct or indirect loss or damage or, in particular, for lost profit, which you may incur as a result of the use and existence of the information provided.