Market Morning Sentiment - July 1st
Stocks rose for the third straight day Wednesday continuing their run as the S&P500, DJIA and Nasdaq all finished up 1.36%, 1.33% and 1.33% respectively. The best 3-day climb in 4 months for the indices brings them back to the level they were trading at last week before the EU referendum. The surge pushed the S&P500 and DJIA back into positive territory for the year.
S&P Global Ratings downgraded the long-term credit rating of the EU because of greater uncertainty following the UK's vote to leave the EU. S&P lowered its rating to "AA" with a stable outlook from "AA+" with a negative outlook.
The GBP fell Thursday to mark the biggest quarterly decline (-7.9%) in the currency since the last quarter of 2008 when it fell 19.3%.
Oil plummeted -3.2% to finish at $48.26 per barrel after finding resistance near the $50/barrel mark.
The CBOE Market Volatility Index, which essentially gauges the level of fear in financial markets, fell for the fourth straight day as fear subsides as investors wait for the next development.
Despite the positive day, market sentiment on the S&P500 heading into the long weekend has turned more negative suggesting the reprieve may be short lived.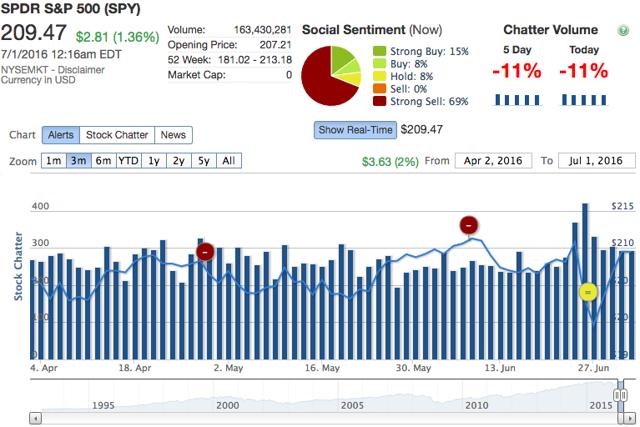 FEATURED SENTIMENT LEADER:$GALE$GALE Social Sentiment and Chatter Volume
28% Strong Buy
Galena Biopharma shares hit bottom following discontinuation of NeuVax study
$GALE is a biopharmaceutical company that focuses on the development and commercialization of targeted oncology therapeutics that address unmet medical needs. $ GALE has multiple mid-to-late stage clinical assets and is our top stock in both social sentiment volume and social chatter volume.
On June 29 th, $GALE announced the recommendation from the Independent Monitoring Committee (IDMC) that the P revention of R ecurrence in E arly- S tage, Node-Positive Breast Cancer with Low to Intermediate HER2 E xpression with N euVax T reatment (PRESENT) trial for its lead product candidate NeuVax be discontinued due to futility. Shares of $GALE dropped over 80% on the news to close Wednesday at $0.35. Yesterday $GALE shares bounced back slightly to $0.47.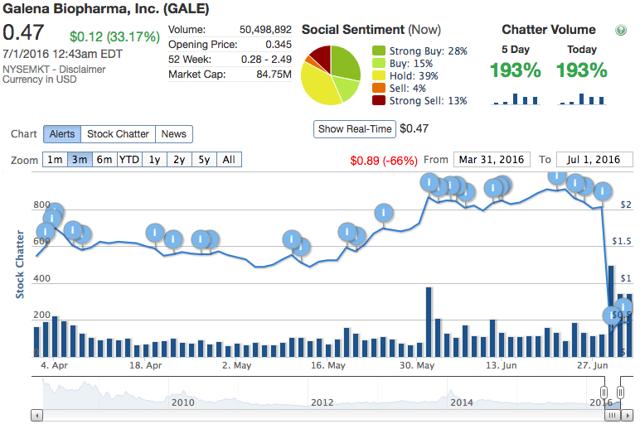 Weekly Review
Featured:$AVXL
Anavex Life Sciences was our featured sentiment leader on Monday after its drug Anavex 2-73 received orphan drug designation for the treatment of infantile spasms. Shares of $AVXL gained 34% throughout the week.
Legal Disclaimer/Disclosure: This is not a solicitation to buy or sell stock. No information contained should be construed as investment advice. A licensed financial advisor should be consulted prior to making any investment decisions. Stock Social Inc, and/or its associates may or may not own securities of the companies mentioned herein. The author makes no guarantee, representation or warranty and accepts no responsibility or liability as to its accuracy or completeness. Expressions of opinion are those of the author only and are subject to change without notice. No warranty, liability or guarantee for the current relevance, correctness or completeness of any information provided within this report and will not be held liable for the consequence of reliance upon any opinion or statement contained herein or any omission. Furthermore, we assume no liability for any direct or indirect loss or damage or, in particular, for lost profit, which you may incur as a result of the use and existence of the information provided.