Market Morning Sentiment - July 5th
While US markets were closed Monday to celebrate Independence Day, UK stocks dropped for the first time in five sessions. Coming off its 2016 high, the FTSE 100 fell 0.84% to close at 6522.26
Contributing to the decline was data that showed a decline in UK housing construction that caused housing shares to plummet.
Although US markets were closed, US stock futures still traded and inched higher on Monday as investors' focus continues to shift from Brexit worries to the possibility of more monetary stimulus from global central banks.
Gold extended its rally to 5-weeks jumping 1.1% to finish at $1354.20 per ounce. Silver shot up 5% to $20.57 an ounce. Prices of precious metals have advanced from haven demand after the UK referendum with silver outperforming gold's Brexit related gains due to its many industrial uses.
Upcoming this week on the economic docket is the release of the FOMC minutes from its June meeting on Wednesday and the non-farm payrolls report on Friday.
With economic and political uncertainty, a lack of clarity of what will happen next in the UK, and concerns about anemic global growth, market sentiment remains tilted towards the negative with investors opting for a cautious approach.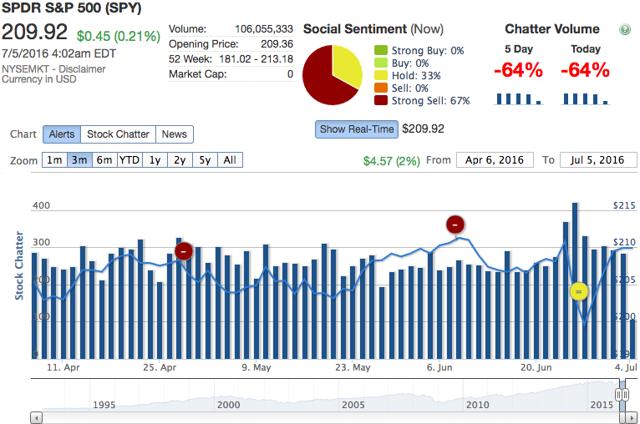 FEATURED SENTIMENT LEADER:$SLV
$SLV Social Sentiment and Chatter Volume
83% Strong Buy
iShares Silver Trust significant spike in sentiment, up over 13% since UK referendum
$SLV is an ETF that seeks to generally reflect the performance of the price of silver. The Trust is up over 40% YTD and over 13% since the UK referendum.
$SLV picked up a significant spike in sentiment alert on both Thursday and Friday as its shares jumped over 7% between the two days. Silver is treated as both a precious metal and an industrial metal and has consequently benefited from both characteristics. As a precious metal, its seen a sharp increase due to the 'flight to safety' that's followed the UK referendum; as an industrial metal its benefited from a rally based in part on expectations of more economic stimulus.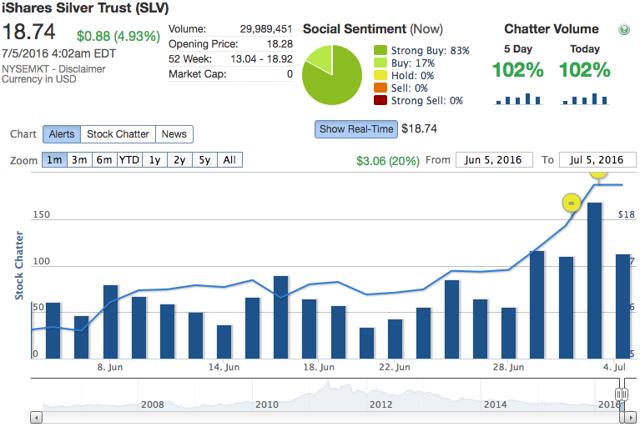 Legal Disclaimer/Disclosure: This is not a solicitation to buy or sell stock. No information contained should be construed as investment advice. A licensed financial advisor should be consulted prior to making any investment decisions. Stock Social Inc, and/or its associates may or may not own securities of the companies mentioned herein. The author makes no guarantee, representation or warranty and accepts no responsibility or liability as to its accuracy or completeness. Expressions of opinion are those of the author only and are subject to change without notice. No warranty, liability or guarantee for the current relevance, correctness or completeness of any information provided within this report and will not be held liable for the consequence of reliance upon any opinion or statement contained herein or any omission. Furthermore, we assume no liability for any direct or indirect loss or damage or, in particular, for lost profit, which you may incur as a result of the use and existence of the information provided.