Market Morning Sentiment - July 7th
The S&P500, DJIA, Nasdaq gain 0.54%, 0.44% and 0.75% respectively. Stronger than expected data from the non-manufacturing ISM report helped to boost equities higher. The USD softened
US Treasury yields rebounded slightly from record lows set on Tuesday.
The June FOMC minutes released today were a non-factor as it confirmed beliefs that the Fed will keep rates on hold.
API data released late Wednesday showed that US crude supplies dropped by 6.7 million barrels for the week ended July 1. Analysts expected a 2.6 million barrel decline. Oil finished higher on the day, ending at $47.91/bbl.
Upcoming on the economic docket is the release of the closely watched non-farm payrolls report on Friday. The report will help determine whether last month's week reading was an aberration or a sign of a growing weakness in the economy.
With economic and political uncertainty, a lack of clarity of what will happen next in the UK, and concerns about anemic global growth, market sentiment remains tilted towards the negative with investors opting for a cautious approach.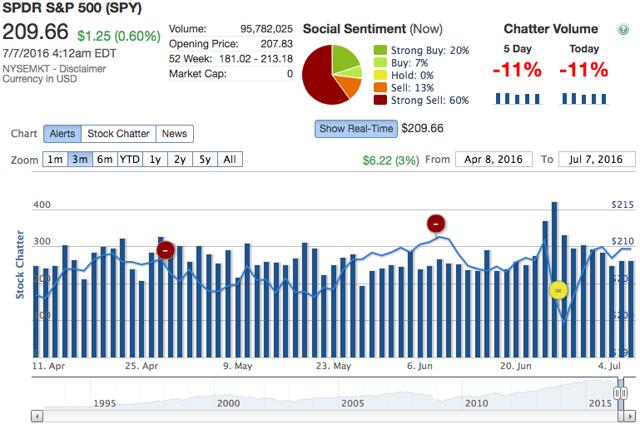 FEATURED SENTIMENT LEADER:$JRJR
$JRJR Social Sentiment and Chatter Volume
86% Strong Buy
JRJR Inc. significant spike in sentiment
$JRJR, formerly CVSL Inc., picked up two significant event spike in sentiment alerts, one on Wednesday and the other today. $JRJR is creating a diversified portfolio of direct to consumer companies with global reach, while decreasing overlapping costs and achieving efficiencies in operations and support.
$JRJR is a young company with only 3 years of operations under its belt but has already made numerous acquisitions. It's two biggest were the purchases of Kleeneze and Betterware in 2015, which essentially doubled the size of the company. With 9 portfolio companies, $JRJR has a solid base and can be more selective with acquisitions and focus on strengthening profitability.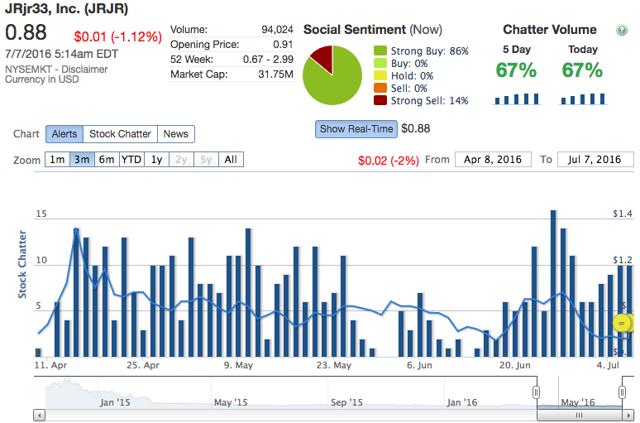 Legal Disclaimer/Disclosure: This is not a solicitation to buy or sell stock. No information contained should be construed as investment advice. A licensed financial advisor should be consulted prior to making any investment decisions. Stock Social Inc, and/or its associates may or may not own securities of the companies mentioned herein. The author makes no guarantee, representation or warranty and accepts no responsibility or liability as to its accuracy or completeness. Expressions of opinion are those of the author only and are subject to change without notice. No warranty, liability or guarantee for the current relevance, correctness or completeness of any information provided within this report and will not be held liable for the consequence of reliance upon any opinion or statement contained herein or any omission. Furthermore, we assume no liability for any direct or indirect loss or damage or, in particular, for lost profit, which you may incur as a result of the use and existence of the information provided.