Market Morning Sentiment - July 13th
US stocks continued to advance Tuesday as the S&P500, DJIA and Nasdaq rose 0.70%, 0.66% and 0.69% respectively. The S&P500 and DJIA settled at fresh all-time highs of 2,137.16 and 18,347.67.
Energy shares (+2.3%) led the gains with oil finishing up 4.6% at $46.80/bbl after OPEC revealed forecasts for higher oil demand and lower production next year.
Investors appear to have finally ruled out the possibility of a Fed rate cut this year after the strong jobs report showing that the US created 287,000 news jobs in June. The yield on 10-year US Treasury bonds logged its largest daily gain since May 18 th increasing 7.8 basis points to 1.512%.
Japan's Nikkei increased 2.5% as Prime Minister Shinzo Abe announced that a potential stimulus package could total JPY10 trillion.
UK Home Secretary Theresa May is expected to succeed David Cameron as Prime Minister today, cutting short months of potential uncertainty in the wake of the Brexit vote. The Bank of England is set to meet on Thursday for the first time since the EU referendum result. With given the negative expected impact on growth and interest rates at 0.5%, all eyes will be fixed on how and when they choose to ease monetary policy.
With economic and political uncertainty, a lack of clarity of what will happen next in the UK, and concerns about anemic global growth, market sentiment remains tilted towards the negative with investors opting for a cautious approach.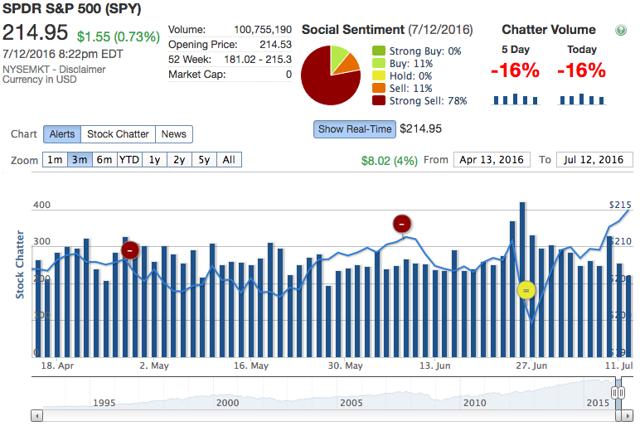 FEATURED COMPANY:$SAGE
$SAGE Social Sentiment and Chatter Volume
83% Strong Buy
SAGE Therapeutics Shares Jump on Postpartum Depression Drug Trial Results
$SAGE is a clinical stage biopharmaceutical company focused on developing and commercializing medicines to treat patients with life altering central nervous system (NYSE:CNS) disorders. Its lead product candidate SAGE-547 is currently undergoing both a Phase III trial for the treatment of super-refractory status epilepticus (SRSE), as well a Phase II trial for the treatment of postpartum depression.
Shares of $SAGE skyrocketed 37% Tuesday following the release of positive data for its phase II trial on postpartum depression. After 60 hours of treatment, the women who had received the drug achieved a statistically significant reduction in symptoms, compared with a placebo, on a standard depression scale used in clinical research. The difference in treatment began at 24 hours and maintained through the 30-day follow up. After 30-days, 70% of women receiving the drug were in remission.
"This is potentially one of the most important clinical findings in the pharmacologic treatment of postpartum depression to date. The rapid onset of action of this drug observed in the trial is unlike anything else available in the field to date. The data show the potential of the drug to provide relief from the debilitating symptoms of PPD, and to markedly decrease suffering in women who are severely affected." - Samantha Meltzer-Brody, M.D., M.P.H., and Primary Trial Investigator
If approved SAGE-547 would be the first drug on the market to treat postpartum depression, which affects around 10-15% of new mothers.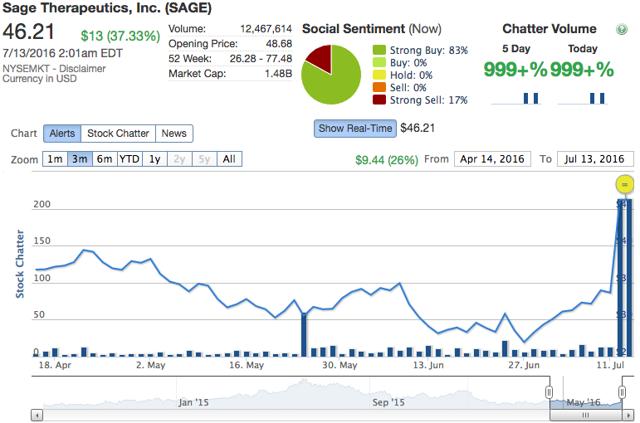 Legal Disclaimer/Disclosure: This is not a solicitation to buy or sell stock. No information contained should be construed as investment advice. A licensed financial advisor should be consulted prior to making any investment decisions. Stock Social Inc, and/or its associates may or may not own securities of the companies mentioned herein. The author makes no guarantee, representation or warranty and accepts no responsibility or liability as to its accuracy or completeness. Expressions of opinion are those of the author only and are subject to change without notice. No warranty, liability or guarantee for the current relevance, correctness or completeness of any information provided within this report and will not be held liable for the consequence of reliance upon any opinion or statement contained herein or any omission. Furthermore, we assume no liability for any direct or indirect loss or damage or, in particular, for lost profit, which you may incur as a result of the use and existence of the information provided.