Market Morning Sentiment - July 20th
US stocks ended Tuesday on a mixed note as the DJIA rose 0.14% while the S&P500 and Nasdaq lost 0.14% and 0.38% respectively. This marks the sixth straight session that the DJIA has finished at a fresh all time high.
Global markets tilted to the downside with European indices leading the losses. A below consensus reading of Germany's July ZEW Economic Sentiment Survey (-6.8; consensus: 9) helped pull markets lower. Further, the IMF added to the negative tone by lowering the UK's 2016 projected growth rate to 1.7% from 1.9%.
The US dollar index rose 0.48 to 97.05, gaining ground against the Euro and the GBP. The dollar also gained 0.7% against the loonie.
Housing starts soared 4.8% in June to a seasonally adjusted annual rate of 1.189 million (consensus: 1.135 million).
With economic and political uncertainty, a lack of clarity of what will happen next in the UK, and concerns about anemic global growth, market sentiment on the SPY is highly negative.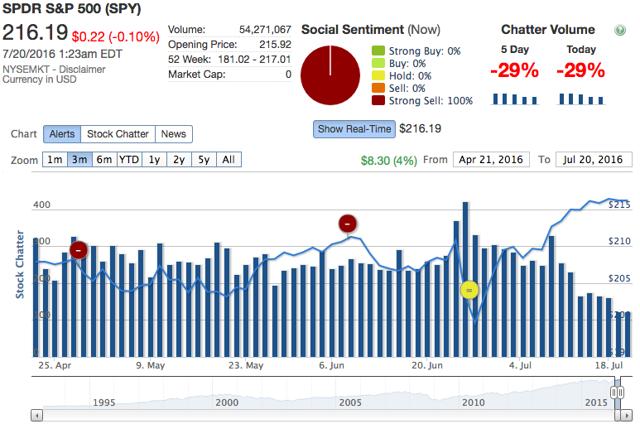 FEATURED COMPANY:$PGNX
$PGNX Social Sentiment and Chatter Volume
80% Strong Buy
Progenics Pharmaceuticals Shares Spike Over 35% in After Hours Trading Following FDA Approval of Constipation Drug
$PGNX is a biopharmaceutical company focusing on developing drugs to improve the lives of prostate cancer patients and their families. The company has a robust pipeline featuring pre-clinical and late-stage assets. Additionally,$PGNX utilizes partnerships and out-licensing deals with motivated drug developers to expand and complement their capabilities in the prostate cancer space.
Late Tuesday, Valeant($VRX) and$PGNX announced that the FDA approved the oral version of their drug Relistor. Progenics has licensed Relistor to Valeant, who plans to commence marketing of the drug in the third quarter of 2016.
Relistor is used to treat opioid-induced constipation (NYSE:OIC) in adults with chronic non-cancer pain. Before Relistor Oral, the only delivery method of Relistor was through subcutaneous injection. Tuesday's approval represents a huge step forward for the field of pain management, offering a more convenient option to patients suffering from OIC.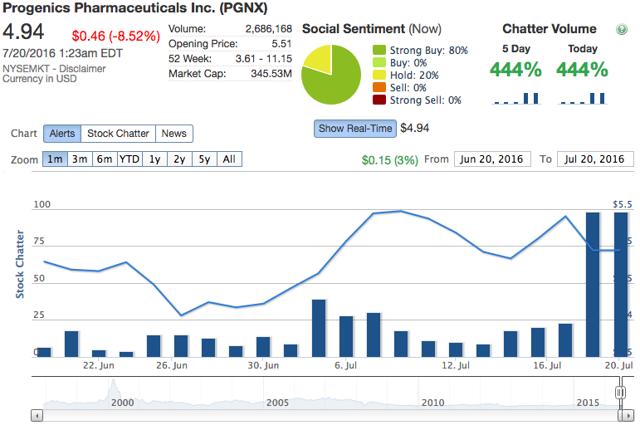 Legal Disclaimer/Disclosure: This is not a solicitation to buy or sell stock. No information contained should be construed as investment advice. A licensed financial advisor should be consulted prior to making any investment decisions. Stock Social Inc, and/or its associates may or may not own securities of the companies mentioned herein. The author makes no guarantee, representation or warranty and accepts no responsibility or liability as to its accuracy or completeness. Expressions of opinion are those of the author only and are subject to change without notice. No warranty, liability or guarantee for the current relevance, correctness or completeness of any information provided within this report and will not be held liable for the consequence of reliance upon any opinion or statement contained herein or any omission. Furthermore, we assume no liability for any direct or indirect loss or damage or, in particular, for lost profit, which you may incur as a result of the use and existence of the information provided.